Searching for an intensive outpatient program in NJ? First, it's important to understand the basics of intensive outpatient programs as a form of substance abuse treatment. People suffering from substance abuse must make the choice to pursue a life of sobriety. They often need professional treatment in order to do so successfully. There are many different styles of treatment, ranging from outpatient to residential (inpatient) facilities. Many may consider intensive outpatient programs (IOPs) during their search for substance abuse treatment.
Different methods of treatment offer different benefits for patients, and choosing the right treatment depends upon the patient's needs. An IOP treatment program offers some of the structure of more rigorous programs without imposing on outside responsibilities. At the Discovery Institute of New Jersey, one form of substance abuse treatment that we offer is through an IOP program.
What does IOP mean?
Again, IOP means intensive outpatient program. On a deeper level, an IOP is a higher level of treatment than a standard outpatient program and typically consists of 9 hours of clinical treatment during the week, usually spread over 3 to 5 days. Hence, intensive outpatient programs provide both structure and freedom.
Individuals interested in receiving intensive outpatient treatment should expect to engage in multiple forms of substance misuse treatment. This may range from multiple counseling techniques, holistic therapies, and life skills training. Usually, individuals in this kind of program don't need to detox beforehand. The reason being is that detox should be monitored 24/7 as members go through withdrawal.
What is considered outpatient treatment?
Outpatient treatment is any program where members at an addiction recovery center don't live there. Further, treatment can be done on a standard outpatient, intensive outpatient, partial hospitalization, or residential basis. The difference in these programs is the amount of time dedicated to the treatment and the level of immersion the addiction recovery center member experiences when enrolled in their recovery program.
Each style of treatment has specific advantages, and individuals with diverse needs can benefit from each program based upon their specific treatment goals and life circumstances at the time of their admission into rehab. The outpatient treatment programs offered by some drug and alcohol rehabilitation facilities are as follows.
Standard Outpatient Programs (OPs)
This is the least intensive level of treatment. OPs occur on a part-time outpatient basis in which the recovery center member attends clinical hours for one portion of the week. They may do this while maintaining a job, enrollment in school, or normal daily routines for most of the week.
Outpatient programs typically consist of about 1-2 clinical hours of treatment per week, in which clients attend group counseling and individual therapy sessions. During the rest of the week, members may live at home or in a sober living facility and are free to pursue employment, hobbies, and normal daily life.
The OP stage of treatment is ideal for clients who have completed a more intensive level of care, such as inpatient or intensive outpatient treatment. Outpatient treatment programs provide the continued recovery support clients need when they are transitioning back into "the real world" following full-time treatment.
Intensive Outpatient Program (IOP)
Intensive outpatient treatment programs are the middle ground between standard outpatient and partial hospitalization programs. This makes them perfect as a part of a relapse prevention plan. It can be beneficial as a part of a relapse prevention plan because it instills recovery skills. Often individuals in recovery face external triggers after inpatient treatment or a partial hospitalization program.
An intensive outpatient program gives enough support throughout the week to face triggers positively. Plus, it gives individuals the chance to put what they've learned during treatment to work. More intense programs may provide ample support, but not enough opportunities to practice skills in the real world. An IOP offers both.
Partial Hospitalization Programs (PHPs)
A partial hospitalization program is the most intense form of outpatient treatment program. Those in this type of program will spend the entire day around 5 times a week participating in treatment. Thus, they will likely not be able to dedicate time to many external responsibilities. A job or education would be difficult to maintain during a PHP, let alone other responsibilities outside of the program.
However, members of a PHP can leave the facility after completing treatment for the day. People who need substance misuse treatment, but are caretakers likely can't stay at a center 24/7. So, this may be a viable option for them.
How long are drug rehab programs?
Drug rehab programs typically last 30, 60, 90 days, or more depending upon the program. Those in inpatient treatment very well may stay in a program anywhere from six months to a year. As for intensive outpatient treatment, the program typically lasts 90 days. However, each member at an addiction treatment facility may need more or less time. That's why Discovery always tailors each treatment plan based on its members.
How much does outpatient alcohol treatment cost?
The cost of outpatient alcohol treatment programs in NJ costs depend on the facility, a person's insurance policy, and the type of outpatient alcohol treatment. Those in standard outpatient alcohol treatment programs in NJ will pay less than if they were in a partial hospitalization program. Additionally, many facilities, such as Discovery, offer financial assistance and payment plans for those paying out-of-pocket. So, how much does outpatient alcohol cost? There is no definite answer, but an addiction treatment facility can relay its particular costs.
What does IOP consist of?
Members attend intensive outpatient treatment programs part-time during the day or evening, attending group and individual therapy sessions. During non-treatment hours, patients may live at home or in a sober living residence.
Members can pursue part-time work or academic commitments in their free time and are often encouraged to attend regular recovery meetings through 12 step programs in the community. An intensive outpatient program is a step between residential treatment and outpatient treatment. These programs offer the benefit of continuing regular, frequent therapeutic addiction treatment for clients while also allowing them to slowly adjust to building a regular daily routine.
Intensive outpatient treatment is a great option for members who have recently completed inpatient treatment. They still need or desire immersive treatment and support as they re-assimilate into society and life outside of treatment.
All clients, regardless of how they came to choose Discovery Institute, are closely monitored and are randomly drug-screened on a weekly basis via urinalysis. This is done in order to ensure the safety and sobriety of the members of our community here. This includes our Intensive Outpatient Program in NJ.
IOP Group Counseling
Individuals in an IOP program will participate in group counseling. Group therapy is just as important as individual counseling in an IOP because it provides peer support. A support network is crucial in recovery as well as when a person completes an intensive outpatient program.
Addiction can be an incredibly isolating experience. People suffering from one may feel as though they are fighting an uphill battle alone. Group therapy or counseling lets individuals know they aren't alone in their struggles.
IOP Individual Counseling
Of course, each person in an IOP program arrives with a unique set of struggles. Thus, IOP individual counseling allows a counselor or therapist to help members reach their individual goals. While members will work toward achieving their individual goals during group therapy, it's impossible to give each goal the attention it needs as a group.
Specialized Addiction Counseling in Intensive Outpatient Treatment
An IOP program may involve specialized addiction counseling depending upon a member. For instance, a member may be suffering from a co-occurring disorder. A co-occurring disorder, dual diagnosis, or comorbidity is when someone has two health disorders at the same time. This includes mental illness and substance misuse disorders, which many individuals have together.
IOP treatment programs can tailor addiction counseling depending upon a member's mental illness. Often, individuals at an addiction recovery center struggle with a mood or anxiety disorder. Specialized addiction counseling can provide personalized treatment in this way. An intensive outpatient program for mental health and addiction can help individuals overcome simultaneous health disorders at the same time.
But specialized addiction counseling extends beyond co-occurring disorders in that it can be customized for different ages and for those who want to include family members. An intensive outpatient program for mental health and substance misuse can also incorporate these factors.
What level of care is IOP?
An intensive outpatient treatment program is a level 2 of care. There are five different levels of care defined by intensity and time commitment. These levels are:
Level 0.5: intervention methods early on
Level 1: standard outpatient treatment
Level 2: PHP and IOP
Level 3: inpatient treatments
Level 4: intense inpatient treatment with medical management
Main Benefits of an Intensive Outpatient Program in NJ
If you live in or near the New Jersey area, you may be wondering about the benefits of receiving treatment from an intensive outpatient program in NJ. The truth of the matter is that the best place to get treatment will vary from person to person. But, for you, our New Jersey rehab facility just might prove to be the most effective and helpful place for you to gain freedom from addiction.
It may be helpful to get treatment near home, especially if you plan to attend an intensive outpatient program for your recovery from substance abuse. As long as you have a safe home environment that is free from drugs and alcohol, will be supportive and conducive to your recovery, and offers you peace, you may be able to live at home while getting treatment through our IOP.
Why is outpatient care important?
Outpatient care is important because recovery is a lifelong journey. A substance use disorder is a chronic relapse disorder. This means that individuals suffering one will need to manage this disorder for the rest of their lives. Addiction management is a skill that needs to be practiced and honed just like any other skill. Outpatient care allows patients to practice these crucial skills as they work on overcoming their struggles. Without an outpatient program, individuals are likely to relapse.
Does insurance cover outpatient treatment?
Yes, it typically does. It's illegal for insurance to provide discriminatory coverage for other physical and mental illnesses over coverage for substance use disorders. That said, does insurance cover outpatient treatment? Every person's insurance policy is different. While it's likely a person's insurance will cover outpatient treatment, it's always best to check.
Often, finances are one of the main concerns people face when they are considering getting treatment for substance abuse problems. For many people, paying for treatment can be very difficult and even seemingly impossible. Since treatment can be expensive, many individuals feel that they will not be able to get the professional help they need.
But, here at Discovery Institute, we understand the concerns our clients may have regarding payment for treatment. So, we do our best to work with each one in order to ensure that treatment is both attainable and effective.
At Discovery, we accept most major insurances and even financial assistance for those who need it most. The insurances we currently accept include:
A Key Benefit of an IOP Treatment Program
If you have been looking for effective IOP programs in NJ, the Discovery Institute offers an intensive outpatient program for people suffering from drug and alcohol addiction. The program can be a step down after residential treatment, and can also be a place to start for people that have life and family commitments that don't allow them to take the time for residential treatment.
Intensive outpatient rehab programs address the same issues of addiction and recovery that residential treatment does. The key difference is that at the end of the day, clients return to their own homes or to their sober living residences.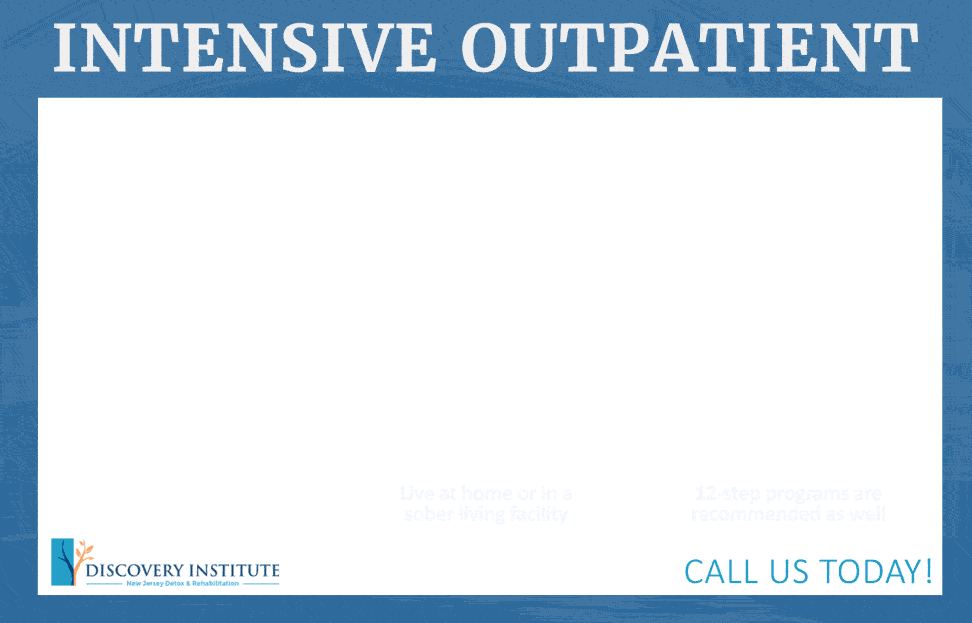 The Intensive Outpatient Program at the Discovery Institute
Discovery Institute's intensive outpatient program is good for members who have a solid support system at home that can aid in their recovery. It's also good for members who can't commit to inpatient, full-time treatment due to family, work, or school obligations. IOP also benefits those who need additional support and treatment after completing an inpatient rehab program.
Through a comprehensive medical exam, our doctors identify physical and mental conditions that require treatment alongside addiction treatment. In short, they will diagnose any co-occurring mood disorders that may impede recovery. It's important to identify and treat these issues to give our members the best possible chance at recovery.
The Discovery Institute for Addictive Disorders has a comprehensive outpatient program that includes both the intensive outpatient program (IOP) and the standard/traditional outpatient program (OP.) The intensive outpatient program provides nine hours of services per week while the outpatient program typically meets for one to two hours per week.
Our Outpatient Programs
Throughout the IOP and OP, clients usually participate in a variety of individual and group therapy sessions that promote recovery, healthy coping skills, emotional processing, communication, and self-esteem. Discovery Institute encourages involvement in 12 step fellowship meetings. These include Alcoholics Anonymous (AA) and Narcotics Anonymous (NA), alongside IOP and OP participation.
During these programs, members can experience psycho-educational lectures about the disease of addiction in order to gain a deeper understanding of what they are dealing with in their lives. In addition to these educational opportunities, individuals will have the chance to gain skills and get the support they need as they partake in group therapy sessions which have a strong emphasis on relapse prevention skill development.
Every individual who is suffering from addiction has a unique story and will require a specific and individualized approach to treatment. The journey through treatment should reflect this fact. All IOP and OP services, like every program at Discovery, are tailored to meet the individual needs of each client. Members range from those mandated to treatment through drug court and probation, to individuals who enter the outpatient program voluntarily.
What Are Signs That an Individual Needs an IOP for Substance Misuse?
Often, people who suffer from addiction are unaware of the extent of their problem. In other cases, individuals who have a friend or family member who is struggling may not see the entirety of the problem and may not notice the signs of addiction in their loved one's life.
Since these cases are not uncommon, it's best for individuals to be more aware of what it means to have a substance use problem and how this issue affects people, especially in cases of long-term drug or alcohol abuse.
When it comes to identifying an addiction problem, there are several signs which can indicate that an individual is struggling with substance abuse. Some of the signs may be evident while others may be harder to detect. In any case, however, it's best to check for these signs in order to make sure the substance use problem is brought to an end and the individual who is suffering gets the help he or she needs.
Those who are struggling with alcoholism or drug misuse may:
Experience behavioral changes.
Withdraw from friends and family, spending more time alone.
Frequently drink more than they intend to drink.
Use medication when it is not necessary or take larger doses than recommended.
Struggle with financial instability, frequently ask to borrow money, or steal cash.
Experience physical changes, such as weight loss, weight gain, or bloodshot eyes.
Suffer from sleep problems, such as excessive sleeping or lack of sleep.
Have difficulty keeping up with responsibilities at home, work, or school.
Struggle with depression, anxiety, and various personality changes.
If an individual shows any of these signs, it may mean that he or she is suffering from an addiction problem. If this is, in fact, the case, it's important for the person to get help immediately. A professional treatment program can assist people in becoming free from addiction.
Do I Need Inpatient or Residential Treatment Before Outpatient?
Inpatient addiction treatment is the most intensive level of care. Patients who are enrolled in inpatient or residential treatment attend clinical hours full time and live on campus at their treatment facility under 24/7 care by the clinical and professional staff.
This is recommended as the first step for most members. In order to be successful, it's highly recommended that members follow an aftercare plan post-treatment, through an IOP or OP program. This will allow them to continue receiving the support they need throughout their recovery journey. Luckily, Discovery offers both inpatient and outpatient treatment programs. 
Getting Started With an Intensive Outpatient Program in NJ
Many individuals throughout the state of New Jersey have found themselves suffering from substance abuse disorder. From alcoholism to heroin abuse, from cocaine addiction to prescription misuse, substance use disorders have taken over the families and lives of hundreds and thousands of people in NJ.
Thankfully, however, there are numerous addiction rehab centers throughout this state, including our facility here at Discovery Institute. Here at our treatment center, we are dedicated to helping the citizens and families in our area who have been negatively impacted by the effects of alcoholism and drug addiction.
We know that the individuals who come to us for help are struggling with very serious challenges. It's not always easy to find the best help possible for specific and individualized needs. But, at Discovery, our goal is to provide people with the assistance and guidance they need in order to successfully end the addiction in their lives.
What Makes Discovery Institute Special?
Our treatment center also provides services for individuals who are mandated to treatment due to DUI convictions. Our clinicians work closely with the Intoxicated Drivers Resource Center (IDRC).
At Discovery, we work to make aftercare arrangements for all of our members, in an effort to maintain continuity of care. Outpatient and intensive outpatient members are held accountable. Additionally, they're supported by clinical staff during treatment to ensure a smooth transition back into the community and normal life.
Discovery's outpatient staff also aids clients in need of housing, and all clients receive appropriate referrals for physicians and mental health practitioners after completion of treatment. If you need quality IOP services to support your recovery journey, please call Discovery to get in contact with us and learn more about how we can help!