Drug Rehab for Seniors
Addiction can affect anyone, and seniors are no exception. At Discovery Institute's rehab for seniors, we are specially trained to treat them for addiction.
Addiction does not discriminate. It has no regard for occupation, ethnicity, or even age. It can affect anyone, and older adults are no exception. Many older adults face the difficulties of substance dependence and addiction on a daily basis. Countless senior citizens are suffering from alcoholism and drug abuse and are in need of professional treatment.
The wonderful staff at Discovery Institute of New Jersey is committed to helping people overcome substance abuse and addiction. Our team understands the reality of addiction's impact on individuals of all ages. We know that this problem affects both younger and older individuals. So, our facility is equipped to serve and help young people as well as older adults.
Our drug rehab program for seniors is specially designed to treat this population for drug and alcohol addiction.
How Common is Addiction Among Older Adults?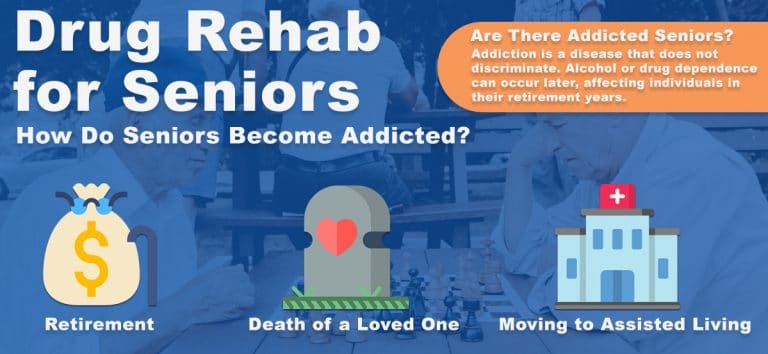 There are several types of addiction and substance use disorder. Sometimes, people become dependent on alcohol. As a result of this dependence, individuals may develop an addiction to alcohol. They begin to drink excessively without being able to control their alcohol intake.
In other cases, people may use medication in order to treat various illnesses and ailments in their bodies. After using prescription drugs for a while, some individuals become physically dependent on them. They may struggle and feel uncomfortable unless they take more medication. This can lead to the abuse of drugs, and eventually- addiction.
Finally, there is illicit drug use and addiction. People who use illegal drugs such as heroin or cocaine may become addicted to these substances fairly quickly. This is not only unhealthy, but it's also life-threatening.
According to the 2012 National Survey on Drug Use and Health, between 3.6% and 7.2% of individuals between the ages of 50 and 65 reported that they had been using illicit drugs. The Substance Abuse and Mental Health Services Administration (SAMHSA) reported that, in 2014, over a million people around 65 years old or older suffered from a substance abuse problem.
The Importance of Age-Specific Treatment
When it comes to getting treatment for substance abuse, it's important to understand that age-specific treatment is crucial to a successful recovery. Those who are in the process of recovering from addiction should receive the help they need in a setting that is conducive to meeting their needs. In other words, it's best for people to get treatment in a place that is both comfortable and effective.
Many times, older individuals have very different needs than younger individuals. Effective treatment programs take those needs into account. Many aged adults find themselves in need of professional help in order to get past a substance use problem. In these cases, it's best to locate a treatment center that will focus specifically on the situations and challenges an older individual might face throughout recovery.
People who are over the age of 65 often have needs that younger individuals simply don't have. The opposite is also true. This is where age-specific treatment comes in.
Peer Recovery
One of the best components of professional treatment programs is the fact that people who enroll in them can gain from their interaction with their peers. Individuals can learn more about their own journey as they hear from others in recovery.
It is often more helpful to spend time with individuals who can both understand and relate to you. This is certainly true for those in recovery from drug or alcohol abuse. While in treatment, people can develop a strong support system, consisting of fellow patients. This also allows the opportunity for accountability, which is critical in recovery.
Finally, age-focused treatment programs also allow individuals to receive care and support that focuses on their specific physical needs. It's likely that older individuals will have particular health concerns that may not be present in most younger adults.
Treatment programs that are designed to help seniors can accommodate older individuals better than other programs. This is because they are equipped with approaches that are best for such situations. For example, an older individual may have a health condition such as diabetes or high blood pressure. An age-specific treatment service can take the client's physical health needs into account during treatment.
Drug and Alcohol Rehab for Seniors
Again, addiction is a disease that does not discriminate. Alcohol or drug dependence can be late-onset, affecting individuals in their retirement years. But it can also persist throughout someone's lifetime, affecting him or her throughout younger years and into the older adult years.
Senior citizens who have drug and alcohol dependence can arrive at the diagnosis through either route, but treatment is necessary for both types of patients. Many life events can cause individuals to develop an alcohol or drug addiction later in life. Some events which might cause this problem to develop might include:
Retirement and the change in daily structure or change in income it brings
The death of a spouse, family member, or close friend
Movement into assisted living or a retirement home
Medical challenges or issues
Decline in physical or mental health as the result of aging
One of the biggest challenges about getting seniors the help they need is that admitting one has an addiction or alcohol problem is often very difficult, especially for people who may be deeply established in life and experience shame and embarrassment at the idea of asking for help.
In these cases, intervention from caring and supportive family members might be crucial in getting patients to enroll in an addiction treatment center's program. Help from loved ones and family members may be the first step in helping these clients begin their journey towards a happy and fulfilling life free from drugs and alcohol.
Identifying Some Signs and Symptoms of Addiction in Older Adults
It can be difficult to identify a drug or alcohol problem in senior citizens because addiction can be disguised as many of the physical and mental health challenges individuals naturally face as they age. If you are concerned about a loved one, there are some signs you can look out for that could indicate a drug or alcohol problem, including:
Loss of enjoyment of hobbies and activities
Isolation from family and friends
Recurring desire to be left alone
Taking more of their medication than is prescribed
Changes in eating or sleeping patterns
Anger, irritability, depression, or sadness
Other emotional changes
Consuming more alcohol than usual
Lack of personal hygiene or self-care
Abnormal bruises and chronic pain
Obsession with medication
Drug-related paraphernalia
If you have an older loved one and he or she is showing some of these signs, it's highly possible that the individual has developed a substance dependence problem. Many older adults struggle with alcohol use disorder and drug misuse. But, thankfully, there are resources and treatment programs available to help those who are bound by the chains of addiction.
These signs may indicate that a senior in your life has an addiction problem. If this is, in fact, the case, it's best to take action right away. You can speak with your family member or friend about getting help. But, if the individual is not interested, it may be time to stage an intervention. By joining with loved ones and professionals who can navigate you through the intervention process, you can help to bring the addiction problem to your loved one's attention. This will allow you to get the individual the help he or she needs.
CONTACT US
Find out how we can help
Our compassionate counselors are standing by to answer any questions you may have. After helping thousands of people over the last 50 years, we have the resources to help you and your family and all your individual needs.
Rehab for Seniors at the Discovery Institute
Once in treatment here at Discovery Institute, seniors will be able to feel comfortable and secure in our reassuring and positive environment. Our residential facility is modern and comfortable, with easily accessible amenities for all of our clients. We specialize in accommodating all of the specific medical needs of our clients.
Part of our admissions process at the Discovery Institute is an extensive medical exam conducted by our professional staff of doctors and nurses. During this intake exam, staff will assess the physical, mental, and emotional health of clients in order to create a comprehensive and effective individual treatment plan for each client. We understand that the senior population at Discovery has specialized needs, and we strive to meet them every day.
While at treatment, senior patients will be provided with:
Our doctors are aware that many of our senior patients enter treatment with outside physical ailments that require treatment. Our medical staff is equipped and trained to address all of these conditions, from chronic illnesses like diabetes and cardiovascular issues, to acute issues such as fractures and sprains. Clients' physical health will always be taken care of while they are in treatment at Discovery.
Many senior citizens are on medication regimens to manage illnesses and chronic conditions. Our doctors work with patients to evaluate their medications and adjust any that need to be changed. Case management services are available to help patients establish a routine in order to ensure that they comply with their medication regimen once they graduate from rehab at Discovery.
Emotional support and counseling
Emotional regulation is a skill that requires support and care in order to learn. Our therapists and counselors at Discovery are experienced in guiding patients through difficult emotions and feelings in a supportive way. While at Discovery, patients will receive excellent therapeutic care from our staff.
Addiction can strain important family relationships. At Discovery, we have a family counseling program that allows our clients and their loved ones to process emotions and experiences, set boundaries, and reconnect with one another in a therapeutic, safe environment.
Chronic illness affects many of our senior citizen patients. Our doctors and nurses along with our clinical staff work together to help patients establish healthy routines that prevent the onset of addiction-related illnesses and manage the symptoms of ailments that the patients may be currently suffering from.
Every interaction clients have with staff is done on a private, confidential basis. Clients will receive support and guidance through every aspect of their treatment in a manner that protects their dignity, space, and right to privacy.
Nutrition is an important aspect of healthy living and well-being that often gets neglected when a patient is engaged in active addiction or alcoholism. Meal planning and nutritional counseling are available at Discovery to help patients maintain optimal physical health inside and outside of a treatment setting.
24/7 access to doctors, nurses, and therapist
Our staff is always available to patients who need help with any issue, at any time of the day. We offer 24/7 assistance in order to ensure that we are always meeting all of our clients' needs.
While in treatment, senior patients will have opportunities to connect with peers who struggle with addiction issues in order to build sober support networks. These relationships will support them in their ongoing journey towards lifelong recovery from drugs and alcohol.
Patients are sent home from treatment with a comprehensive, long-term plan for recovery that will aid them in building a sober life outside of a clinical setting. This treatment plan is always individualized to cater to each client's needs.
Let Discovery Institute Help You and Your Family
If you or someone you love is an older individual who is suffering from substance abuse disorder, know that there is hope. Although it's challenging to overcome addiction, you or your older loved one can find complete freedom with the help of a professional addiction treatment program.
Senior citizens who struggle with addiction and alcoholism can get back to living the happy, healthy, and sober life they deserve. From the moment they enter our facility, we start planning a unique treatment plan for each person, which includes aftercare support and planning for long-term sobriety.
Here at Discovery Institute, we strive to effectively and compassionately treat senior citizens who struggle with alcohol and drug dependence so that they can build healthy, fulfilling lives when they leave treatment.
For more information about our services and treatment programs or to get started on the road to recovery, just contact us today.
Discover
Your Potential
Finding a life of happiness and sobriety is possible. You are not alone! All you need to do is take the first step.