Discovery Institute
Purpose
Statement
Provide the highest quality clinical care through evidence-based treatment practices and innovative supportive strategies to improve and heal the lives of individuals suffering from substance use disorder. It's our goal to lessen the adverse impact on families and society as a whole through providing a range of cutting-edge treatment modalities and individualized treatment plans for all of our clients and their families.
Vision and Philosophy
To be a national leader in the addiction treatment community by restoring happiness and purpose into the lives of those suffering from the disease of substance use disorder. This includes individuals, families, and our community as a whole.
It is the philosophy of Discovery Institute that an individual approach is imperative to the long-term growth and happiness of the individual, thereby requiring us to treat the "whole person" and every aspect of his/her behavior, belief system and lifestyle.
The client is not a burden; the client is our priority. We treat our clients and staff with respect and honor their contributions. We invest in the continuing growth, development and nurturing of our staff and they must exemplify our Purpose, Principles, Vision and Philosophies inside and outside of our community
Discovery Institute believes that treatment must effectively address both one's medical, mental, and spiritual health. Most often, an individual's path towards recovery is rooted in their struggles with relationships, family dynamics, social skills, and lack of mental health awareness. In our view, the goals of recovery are global – necessitating a total change in lifestyle that encompasses an individual's re-evaluation of values, attitudes, behavior, and social activities.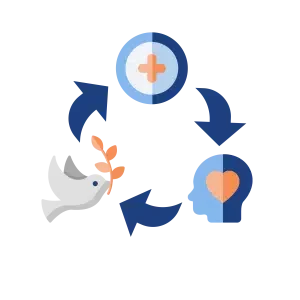 CONTACT US
Find out how we can help
Our compassionate counselors are standing by to answer any questions you may have. After helping thousands of people over the last 50 years, we have the resources to help you and your family and all your individual needs.
Honesty
We admitted we only have control over our actions, reactions & attitudes.
Hope
We believe that a power greater than ourselves will provide good orderly direction for ourselves and members.
Action + Acceptance = Faith
We are responsible to take the best action for our clients but accept the results as they may be.
Courage
We move forward in the face of fears. We let go of resentments and forgive others.
Integrity
Say what we mean, mean what we say; don't say it, mean and do what we say we are going to do
Willingness
We go to any length to improve ourselves and the lives of our clients
Humility
We are all equal, different yes, but no better than nor less than anyone else inside or outside of our community.
Responsibility
We own the consequences of our actions, reactions, and attitudes
Justice
We make amends to people we have inadvertently harmed.
Self-Discipline
We take care of ourselves and help our clients do so daily – physically, emotionally and spiritually
Service
We freely give of ourselves for the benefit of our clients and others
Synergy
We work together collectively for a purpose greater than ourselves