Aetna Insurance
Aetna health insurance policies generally offer coverage for various addiction treatment and drug rehab services. Read more about coverage below, or give us a call to speak with a representative about your options.

Aetna Health Insurance Coverage
Addiction treatment can be very expensive. But, through insurance companies and healthcare financial assistance providers like Aetna, you can help that you need without having to worry about the financial aspect of treatment.
Here at Discovery Institute, we help our clients to sort through the details of their insurance plans and the coverage their plans offer for addiction treatment. So, if you have a plan with Aetna, we've got some information that may prove to be helpful to you as you seek treatment for substance dependence.
Does Your Aetna Insurance Plan Cover Addiction Treatment?
Aetna, which has become a subsidiary of CVS Health Corporation, was founded in 1853 in Hartford, Connecticut. The company has been working to help individuals, families, and employers with benefits and insurance for decades. Aetna provides services to people in all 50 states of America.
Insurance coverage details will vary depending on the type of plan you have with Aetna. Still, many plans through this company offer coverage for the following services:
Addiction detox
Inpatient treatment
Outpatient treatment
Intensive outpatient program (IOP)
Partial hospitalization program (PHP)
CONTACT US
Find out how we can help
Our compassionate counselors are standing by to answer any questions you may have. After helping thousands of people over the last 50 years, we have the resources to help you and your family and all your individual needs.
Does My Treatment Need Come From an In-Network Facility?
Aetna insurance plans will vary as far as specifics are concerned. But, one of the things you should pay close attention to is whether or not your plan covers non-network healthcare providers.
Network providers are facilities that have an arrangement with Aetna. Your insurance plan most likely offers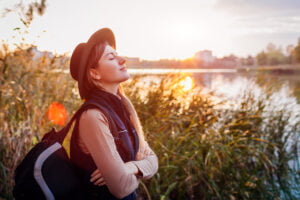 coverage for services from treatment centers within their network. Out-of-network (non-network) providers do not have an arrangement or agreement with Aetna and are not members of Aetna's network of healthcare providers. In many cases, insurance plans do not cover services provided by non-network providers; in other situations, insurance plans may provide some coverage but individuals may need to pay more out-of-pocket.
It's important to check with your insurance company to find out whether or not you should choose a network provider for your addiction treatment process. We can help you to find out here at Discovery Institute!
Aetna Coverage for Addiction Detox
Often, people who are addicted to substances like drugs or alcohol need clinical care and guidance in order to safely end substance use. In many cases, ending alcohol or drug use without professional and medical help can be dangerous and even life-threatening.
For example, it can be very difficult to withdraw from benzodiazepines. The symptoms of benzo withdrawal can be severe, so those who attempt to end benzo misuse on their own ("cold turkey") could experience very dangerous if not fatal results. This is why it is so important to have medical guidance and care throughout the withdrawal process.
Aetna will likely cover your detoxification from substance use. Still, it's best to speak with an Aetna representative to find out whether or not your detox process is covered, based on your plan. If the detox is proven to be medically necessary for your recovery, it's likely that you will have coverage.
Aetna Coverage for Inpatient and Outpatient Treatment
There are many different types of addiction treatment programs. They include:
Residential (inpatient)
PHP
IOP
Outpatient
Inpatient and outpatient programs are two of the most common types of addiction treatment.
When a person is enrolled in an inpatient addiction treatment program, it means that he or she will temporarily live at the rehab center until their program is over. Individuals in residential treatment attend counseling sessions which can help them to develop relapse prevention skills and establish healthy relationships and support systems of professionals along with others in recovery.
While in an outpatient program, individuals do not live at the treatment center. People in these programs may continue living at home or they may live in a sober living center. But, like those in residential treatment, people in outpatient programs attend therapy sessions and receive professional and medical treatment throughout their outpatient program.
In many cases, individuals first attend inpatient programs and then enroll in a PHP, IOP, or outpatient program. Whether you need to go to an inpatient or outpatient program, your plan may cover treatment, especially if you go to a network facility.
Services from in-network providers: These services may either be covered without coinsurance (you receive coverage after you meet your deductible). Or you may need to pay a copay.
Services from non-network providers: These services may not be covered at all by some plans. In other cases, you may be able to receive partial coverage. It's likely that pre-certification will be required when choosing an out-of-network facility for addiction treatment.
Treating Mental Health With Aetna Coverage
Many of those who struggle with addiction also suffer from mental and behavioral health disorders. This is referred to as a dual diagnosis. When a person has two or more disorders (addiction and 1 or more mental health disorders), he or she has what is called "co-occurring disorders".
Some of the behavioral and mental health disorders that may occur along with addiction are:
Trauma
Anxiety
Depression
Schizophrenia
Eating Disorders
Bipolar Disorder
Obsessive-Compulsive Disorder (OCD)
Post-Traumatic Stress Disorder (PTSD)
Attention-Deficit Hyperactivity Disorder (ADHD)
People may develop mental health disorders as a result of addiction. Or, they may become addicted to alcohol or drugs after a mental illness has already developed.
For example, the symptoms of mental health disorders often cause people to resort to alcohol or illicit drug use in order to cope with or escape from the effects of their behavioral disorder. Or, some individuals may become dependent on the medication they use to treat their mental health symptoms.
On the other hand, excessive substance use can actually cause certain mental health disorders to develop. For instance, a person may become clinically depressed as a result of alcohol or drug dependence.
How Mental Health and Addiction Relate
Addiction and mental health problems are very closely related and often intertwined in people's lives. Treating one problem without addressing the other will prove to be ineffective in the long run. It's especially unhelpful if the individual has been using alcohol or drugs in order to cope with the mental health disorder symptoms. It may just result in the individuals returning to substance use even after treatment because they haven't developed ways to cope with their symptoms in a healthy way.
This is why dual diagnosis programs are necessary when it comes to addiction treatment for those who have co-occurring disorders. Treatment programs that focus specifically on both mental health and addiction can help people to cope with the symptoms of their mental health challenges and help them to develop the skills that can help them to end substance dependence for good.
Your Aetna insurance plan may cover treatment that specializes in helping you deal with addiction as well as mental health disorders. Again, however, it's best to speak with the professionals at Aetna or here at Discovery Institute to find out exactly what your insurance policy will cover in regard to mental health care.
Let the Team at Discovery Institute Help You!
Discovery Institute is here to help you find freedom from the bondage substance use. Our mission is to walk with you every single step of the way. We understand that this is a difficult time for you; transitioning from a life of addiction to a life of sobriety is rarely easy. But, we fully intend to give you the support and care you need throughout your recovery journey.
So, if you are looking for the opportunity to overcome alcoholism or drug addiction, please contact us! You can call us today to learn more about our services and how we can help you.