Please find resources below to understand Naloxone and how it is used. For more information on the organization please see the Overdose Response Initiative page.
Naloxone is a prescription medication designed to help quickly reverse the effects of an opioid overdose. This drug is an opioid antagonist. It works by binding to the opioid receptors in the brain. Once naloxone does this, it can work to block and reverse the effects of opioid substances.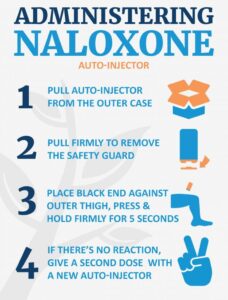 An individual who is experiencing an opioid overdose will likely show signs of slowed breathing. Opioid use can even cause an individual to stop breathing altogether, which may lead to extensive brain and internal damage or even fatality. When administered in a timely manner, naloxone can help to regulate breathing.
The effects of naloxone typically begin occurring within about 2-5 minutes. This fast-working prescription drug is not meant to replace medical attention. However, it can certainly assist and even save a person's life while awaiting professional aid and treatment.
Administering Naloxone
Naloxone can be administered in multiple ways. One form of naloxone is the auto-injectible EVZIO®. It is injected into the outer thigh area. The device used to administer this drug is fairly simple to use, allowing individuals to quickly, easily, and effectively help those suffering from an overdose. Once it activates, it provides verbal directions for the next necessary steps.
CONTACT US
Find out how we can help
Our compassionate counselors are standing by to answer any questions you may have. After helping thousands of people over the last 50 years, we have the resources to help you and your family and all your individual needs.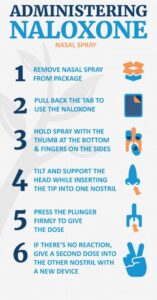 Another form of naloxone is NARCAN® Nasal Spray. As the name suggests, this form of naloxone is administered nasally. It is a method that is free of the use of needles and assembly is not necessary. The process is rather simple, although it can be life-saving. While the individual lies on his or her back, the person administering the NARCAN® Nasal Spray simply sprays the drug into one of the individual's nostrils.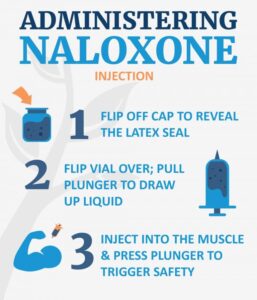 Finally, there is an injectable form of naloxone. It is important for people to receive professional training in order to administer this form of the opioid antagonist.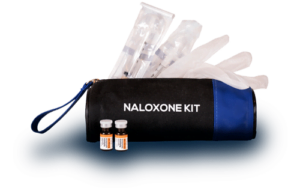 The Importance of Having Access to Naloxone
Naloxone has shown to be quite effective in the reversal of opioid overdoses. Those who are experiencing an overdose on either illicit or prescription opioids. Many pharmacies make naloxone available for purchase without requiring prescriptions. So, those who need to purchase it can do so fairly easily in many cases.
According to the National Institute on Drug Abuse (NIDA), naloxone is very safe and rarely (if ever) leads to any negative side effects. Since this is the case, it is extremely important for individuals to acquire and learn how to use naloxone to help family members or friends who may be using prescription opioids. After all, overdoses typically occur accidentally, especially in cases of prescription drug use.
On the other hand, the unfortunate truth is that many individuals suffer from opioid drug dependence. They may develop addictions to illicit opioids or begin to use prescription opioid drugs more than is recommended. As a result of these substance use disorders, many people suffer from opioid overdoses every year. This makes naloxone access all the more important and necessary.
The National Drug Court Institute (NDCI) states that about 1 in 5 people who use heroin will suffer from an overdose each year. Approximately 1 in 100 individuals will suffer fatal overdoses.
Thankfully, professional medical personnel can administer naloxone in emergencies. However, family members and friends of suffering individuals should also consider receiving training.
When to Administer Naloxone: Signs of Opioid Overdose
To know when it is necessary to administer naloxone, it is important to first be able to recognize the signs and symptoms of an opioid overdose. As mentioned before, individuals who are suffering from an opioid overdose may breathe much slower than usual or they may stop breathing completely. Other possible signs of overdose may include the following:
Gurgling
Snorting
Gasping
Clamminess
Blue or gray lips
Blue or gray nails
Inability to wake up
If these signs occur, it is possible that the individual is experiencing an overdose. Opioid overdoses can be life-threatening. So, it is critical to get help immediately if a person is suffering from an overdose.
Often enough, immediate action includes the use of naloxone. Its effects usually last for 30-90 minutes, so its impact is not permanent. But, this fast-acting prescription medication can help to reverse the effects of an overdose before medical assistance arrives.
Allow Discovery Institute to Help End Opioid Dependence
If you or someone you now uses opioid drugs regularly, it is important to know that the continued use of these drugs could be problematic. It can lead to an overdose, which may cause serious effects. Thankfully, however, Discovery Institute is here to assist those struggling with substance use disorders. Contact us today and allow our team to help you or your loved one today.