Residential Treatment
Are you or someone you love interested in learning more about residential treatment centers for addiction or mental health for men? Learn more about our inpatient rehab program and how we can help guide you to recovery.

Thank you for voting us
America's Best Addiction Treatment Center 2022
Two Years in a Row
Finding Residential Treatment Centers In NJ
Factors like insurance coverage, amenities, and programs offered can make some residential treatment facilities a match for some and a dealbreaker for others. The answer to what makes a facility one of the best residential treatment centers in NJ isn't straightforward. It's different for everyone.
Those searching for residential treatment centers in NJ might not know where to start. If so, we know it's easy to get overwhelmed with all the options. Plus, it's already difficult enough to find the drive to get help when struggling with an alcohol or substance use disorder. We've put together the most asked questions people ask about New Jersey residential programs to make the process a bit easier.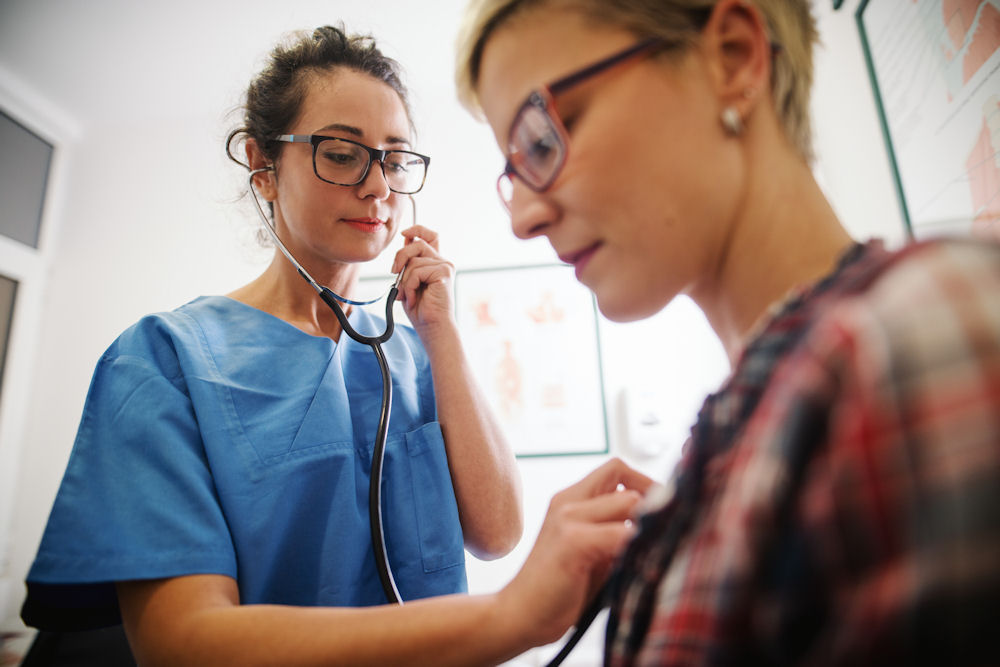 Top Questions About Residential Treatment Centers in NJ
What is a residential treatment center?
Residential care for drugs and alcohol provides 24/7 support and therapy for individuals struggling with a substance use disorder. Those who go through a residential drug program at Discovery Institute will live at an inpatient drug rehab in NJ (specifically Marlboro) during the duration of their treatment. Other names for this type of program include:
Residential drug program
Residential alcohol program
Inpatient drug rehab
Inpatient alcohol rehab
Residential drug treatment program
Residential recovery program
Inpatient program
While each case of substance use disorder is severe in its own right, certain cases are more severe than others. In less severe cases, outpatient treatment suffices in providing coverage to those being treated at their own homes. However, there are individuals whose addiction is so severe that they need more support and structure.
A residential recovery program provides an opportunity for people to live in a treatment facility for a period of time, almost like a hospital. While there, individuals will not only have constant support from medical staff but from their peers as well. This helps to ensure that all of their needs are met. There are numerous benefits for this type of inpatient program for drugs and alcohol.
What is the difference between residential treatment and inpatient?
As mentioned before, residential recovery programs and inpatient programs are interchangeable. However, the difference is that a residential recovery program is a type of inpatient program that is less structured. Those within a general inpatient program will have less free time and will live in a hospital-like environment. On the other hand, residential care allows members to stay in an accommodation closer to a home. It's important to factor these in when looking for an inpatient drug rehab in NJ.
Inpatient vs Residential Care
When it comes to inpatient vs residential care, there really is no better. Some individuals struggling with a substance use disorder may crave the structure that general inpatient care provides. Residents in the tri-state area with severe addictions, especially in cases where they have relapsed multiple times after prior addiction treatment, should opt for a true inpatient drug rehab in NJ. Then take a step down into a residential drug treatment program.
What is the difference between residential and outpatient treatment?
Essentially, inpatient treatment refers to someone being admitted to the treatment center and stay for an extended period of time. Outpatient treatment refers to someone attending therapy and other forms of treatment during the day, or in the evening, but reside at home.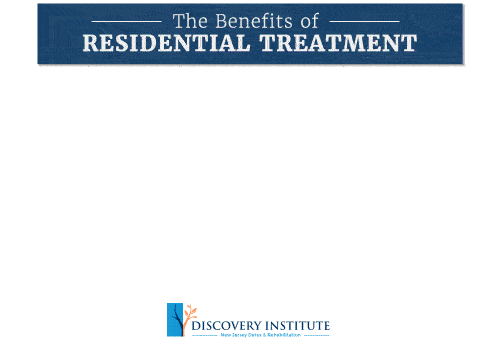 Inpatient treatment is considered to be the best form of care as it offers 24/7 support for anyone in the program. It's highly recommended for those struggling with a severe addiction or co-occurring disorder. Outpatient treatment is recommended for those individuals who have family or work obligations that require they stay at home.
There are also several forms of treatment that provide a bit more support than standard outpatient treatment. These include a partial hospitalization program and an intensive outpatient program. To find out which one will work best for you, it's important to research the benefits of each. You should also be speaking with an addiction treatment specialist to help guide you to your optimal recovery center.
How long are inpatient mental health programs for co-occurring disorders?
According to one study, inpatient mental health programs typically last up to 10 days. However, in New Jersey, they may last 30-48 days if it's court-ordered or involuntary. Mental health conditions that co-occur with addiction need to be evaluated by an addiction treatment specialist in order to give an accurate timeline. Everyone's treatment plan should be unique and customized.
A co-occurring disorder is when someone suffers from two or more disorders at the same time. This includes a substance use disorder along with a mental health disorder, which is very common. In fact, those with a substance use disorder are 50% more likely to suffer from a mental health disorder.
How long are drug rehab programs?
An inpatient drug rehab in NJ usually runs for increments of 30 days, 60 days, and 90 days. However, some people suffering from a drug and alcohol addiction may stay in a program for drug and alcohol treatment from anywhere from half a year to a full year.
That said, residential inpatient treatment is more open and flexible. Typically residents participating in these kinds of treatment services will stay for longer periods of time and may extend it if they don't feel ready to lose the constant support it provides.
Do residential treatment centers in NJ serve other areas?
Yes, a New Jersey residential drug program serves people from all different states. At Discovery Institute we undeniably have many members from New Jersey. However, we also have individuals from New York since it's part of the tri-state area. People in need of addiction treatment services come to us from all across the United States. Some insurance plans cover out-of-state addiction treatment, which gives individuals more treatment programs to choose from.
Does insurance cover residential treatment in New Jersey?
The answer may be yes or no depending on the type of insurance policy a person has. People with higher tiers of insurance may get more coverage for programs that offer inpatient residential care. Also, it makes a difference whether or not one's insurance is in-network with the long-term addiction treatment services facility. It's always best to get in contact with the addiction treatment facility to have them verify insurance. 
Discovery Institute in New Jersey works with several insurance providers including:
Does Medicaid pay for residential treatment in New Jersey?
Medicaid can pay for residential care for substance use disorders. However, not every inpatient drug rehab in NJ accepts Medicaid. Medicaid is a federal program that provides affordable health care services to those with low incomes. The United States government recognizes that drug and alcohol addictions are serious medical issues, not a lack of morals.
Programs Within Residential Recovery Centers in New Jersey
While every facility that offers addiction treatment services is different, most offer the same types of services. It's because they are evidence-based and proven to be most effective for those suffering from an addiction.
Addiction recovery centers often include the following programs for drugs and alcohol: 
Medical detox
Medication-assisted treatment
Individual and group therapy
Family and couples counseling
Holistic therapy
Life skills for overcoming a substance use disorder post-treatment
The first step in most treatment centers is to undergo medical detox. This is the point at which all the chemicals, toxins, and leftover substances are flushed from an individual's body. This step in the process can seem scary to many people because of the possibility of severe withdrawal symptoms.
Addictive substances change the brain, making those with a substance use disorder dependent upon them. So, when a person stops consuming the substances, he or she may experience withdrawal.
This can manifest itself in the form of: 
Hallucinations
Itching
Discomfort
Nausea
Vomiting
Anxiety
Depression
While those above are common withdrawal symptoms, at times they can be fatal. This is why it's so important to seek medical detox within the confines of inpatient care for drugs and alcohol. We at the Discovery Institute will be able to provide you with 24/7 medical care. We may be able to prescribe you helpful medicine to cope with withdrawal.
Many individuals attempt to go cold turkey, detoxing on their own. However, this is not only more likely to result in a relapse, but it can be extremely dangerous. Medical detox can help with co-occurring disorders. Again, sometimes members need medication-assisted treatment during detox to help with symptoms of mental illness. The team at Discovery Institute strives to make medical detox as comfortable as possible.
Medication Assisted Treatment
Medication assisted treatment is the use of medications to help individuals overcome their addictions. The types of medication one may be prescribed depend on the type of substance use disorder. Commonly prescribed medications during medication-assisted treatment include:
Alcohol Medication Assisted Treatment
Acamprosate
Disulfiram
Naltrexone
Opioid Medication Assisted Treatment
Buprenorphine
Methadone
Naltrexone
Medication assisted treatment is crucial for some. Without it, they may have adverse effects after their last dose. A doctor will prescribe members medications based on their needs and substance use disorders.
Individual and Group Therapy
While individual therapy is usually performed in some capacity in most treatments, it is also offered in inpatient residential care. This is very beneficial for anyone who is going through the recovery process.
Residential inpatient care for drugs and alcohol is a great place to pursue individual and group approaches to therapy. There are many different types of individual and group therapies that individuals can benefit from.
One type is cognitive-behavioral therapy (CBT). In CBT, the goal is to trace thought processes and identify any harmful coping mechanisms. Once that happens, the goal is to change thought processes into healthier coping methods.
Family or Couples Counseling
Family therapy helps provide support and teaches the family how to identify distinct behaviors and how they are affecting the rest of the family. The overall goal of this form of therapy is to help rebuild the foundation of the family and teach them how to communicate effectively with each other. Family therapy is an important tool at any residential treatment center.
The accountability that family or couples counseling provides is extremely helpful. When individuals are going through counseling together, supporting one another, it is much more difficult to relapse. When loved ones are with those struggling with addiction in therapy sessions, they can develop healthy assisting recovery.
Many now consider addiction to be a family disease. This is because people are never isolated when they deal with an alcohol or drug addiction. When individuals struggle with an alcohol or drug addiction, many don't know how to help since it is so stigmatized. This can make individuals feel guilty, ashamed, and afraid. They may also experience many other debilitating effects on their mental health.
Along with this, if people are not properly treated, their families may develop poor coping mechanisms. This is why many consider family treatment to be an important part of the recovery process.
Post-Treatment Tools
Perhaps one of the most indispensable parts of a residential treatment center occurs once a person leaves. The tools that people receive before and as people leave treatment are extremely helpful.
In treatment, individuals can learn how to avoid or be aware of their triggers. Triggers are the instances that occur which might tempt people to stray from their long-term goals of recovery. It can be friends who used to party with them. For some, triggers are places. Or, it might be negative feelings of shame, depression, isolation, and anxiety.
Knowing how to manage these triggers is one of the most important parts of abstaining from drugs and alcohol. Luckily, at the Discovery Institute, relapse prevention is one of the programs we offer.
CONTACT US
Find out how we can help
Our compassionate counselors are standing by to answer any questions you may have. After helping thousands of people over the last 50 years, we have the resources to help you and your family and all your individual needs.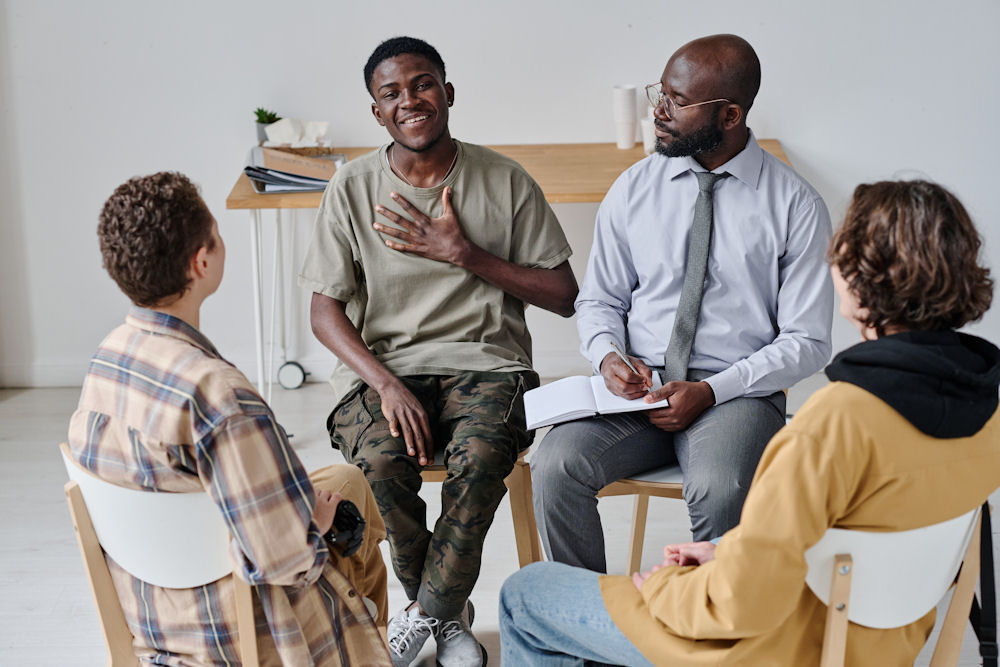 Follow-Up Care
Those in recovery need a group of people that will follow up with each other and hold one another accountable. They need to surround themselves with people who know and understand their deepest struggles. This helps people to see that they are far from alone while they encounter various challenges and victories along the road to recovery.
One of the greatest yet most challenging things about recovery is that it is a lifelong journey. Addiction is a chronic disease, so relapse is not uncommon. However, this means that a person's support system and relationships should be stronger than mere acquaintances. Thankfully, residential programs allow people to develop these relationships.
New Jersey's Addiction Statistics
Since 2004, there have been over 14,000 overdose deaths in New Jersey. In fact, drug overdose is the leading cause of accidental death in New Jersey. Along with this, the rate of heroin overdoses is three times the national average. Finally, there was a seven hundred percent increase in drug treatment admissions in the last decade. New Jersey is seeing a rise in substance abuse, and we need to know how to help.
The most commonly abused narcotic in New Jersey is heroin and other forms of opiates. Some call the rise of opioids an epidemic. The problem with opioids is much deeper and much less black and white than many think.
The top five counties for treatment admissions are as follows:
Ocean
Camden
Essex
Monmouth
Middlesex
On top of this, the most common age (by far) to be admitted for treatment is the 18-24 age range. It is no surprise that the ages with most encouraged binge drinking, partying, and general demeanor for quickly and massively consuming substances are the largest group to receive addiction treatment for drugs and alcohol.
Discovery Institute Provides a Long-Term Lasting Recovery
We at the Discovery Institute want you to know you are not alone. We are here for you and want to help you take the first step in the journey of recovery. Discovery Institute is one of the top residential treatment centers in NJ because of our evidence-based treatments paired with our compassionate team.
If you or someone you know is struggling with addiction, let us help. Recovery can begin with something as simple as a phone call. We are available with a specialist at all hours of the day. If you need anything, please reach out. You owe it to yourself, your future, and the people you care about to take your life back. It may seem difficult, but we want to be with you every step of the way. Contact us today for more information.