Magnacare insurance was founded in 1992 with the purpose of helping labor unions when it came to paying for radiology and laboratory services. Since then, it has expanded and now provides its clients with a full range of insurance coverage, including addiction treatment. Today, Magnacare serves members in New York, New Jersey, and Connecticut and offers health plans, medical management, and a network of more than 225 hospitals and 130,000 doctors.
At Discovery Institute, we are proud to partner with Magnacare in the battle against addiction. We want to make sure that their clients not only get the help that they need to overcome addiction, but that they are able to do so at a price they can afford. It is our belief that when it comes to addiction treatment, the focus should be on the treatment itself and not the money.
Depending on the Magnacare insurance plan that you have, you may be eligible for various treatment programs that we offer at little to no cost to you. In fact, Magnacare covers most addictions, including but not limited to:
Heroin
Cocaine
Alcohol
Prescription opioids
Benzos
Hallucinogens
Meth
Stimulants
What Does Magnacare Insurance Cover?
Addiction can affect all types of people in all walks of life. It doesn't care how much money you make, where you live, or what color your skin is. Additionally, no two people are alike and neither are their addictions. Because each person's addiction is unique to them, the treatment that they need is also unique to them and their addiction.
Magnacare understands that every person's addiction is unique to them and, as a result, their treatment has to be tailor-made for their specific needs. That's why they cover a wide variety of addictions and subsequent treatment plans for those addictions.
Magnacare understands that addiction is not a choice.
It is a disease just like the other diseases and ailments that they typically cover with their insurance plans. As a result, your treatment might be covered at little to no cost to you. If you are unsure about what is and isn't covered with your Magnacare plan you can reach out to your provider, or you can even reach out to us.
At Discovery Institute, we know that your top priority and focus should be getting the help you need and not how much it will cost. That's why we make a point to work with both you and your insurance company to get the treatment you need at a cost that you can afford.
CONTACT US
Find out how we can help
Our compassionate counselors are standing by to answer any questions you may have. After helping thousands of people over the last 50 years, we have the resources to help you and your family and all your individual needs.
What About Detox?
Detox is the first step on the long and sometimes difficult road to recovery. Detox is the process in which your body rids itself of the harmful substances that lead to your drug and alcohol addiction. Detox can take anywhere from a couple of days to a couple of weeks to complete based on a variety of factors such as length of addiction and how your body reacts to the detox process.
It is crucial that the entire detox process be done under 24-hour medical supervision and care. Because of this, it is highly recommended that detox be done at either a medical facility that provides detox services, a dedicated detox facility, or a treatment facility that does detox like Discovery Institute. Attempting to self-detox can be incredibly dangerous and even potentially life-threatening.
The good news for you is that you don't have to worry about making the potentially life-threatening decision of going to a detox facility or attempting it at home. With your Magnacare insurance policy, detox can be done at little to no cost to you out-of-pocket. In fact, depending on your policy, your detox treatment might even be covered in full.
Not sure how much your policy will cover? No need to worry about that either. You can either reach out to your insurance representative or just give us a call at Discovery Institute. We will take a look at your policy and see what is and isn't covered. Additionally, we will let you know if there will be any out-of-pocket expenses on your end before you enter treatment so there are no surprises.

Which Treatment Programs Does Magnacare Cover?
Once you have successfully completed detox, the next step is to begin addiction treatment. While there are many different types of treatment to choose from, the most common, and popular, treatment options are inpatient and outpatient treatment.
Inpatient treatment involves the patient living at the treatment facility for the duration of their treatment. Also known as residential treatment, inpatient treatment is the preferred treatment option by professionals because it allows the patient to go through treatment while under around the clock care and supervision. It also allows the patient easy access to a variety of different therapies including individual and group sessions. By living at the facility, it eliminates the risk of relapse occurring during treatment since there are no outside distractions or temptations.
Inpatient treatment might be preferred by treatment professionals, but it is just simply not possible for everyone. Some people react better to other forms of treatment, while others simply can't live at the facility for an extended period of time while they undergo treatment. They might have commitments that they can't abandon such as school or work or they might be the primary caregiver for their children and don't have anyone else to watch them. No matter the reason, for those who can't, or don't want to, go to inpatient treatment, outpatient treatment is a great option.
In fact, the ability to come and go is one of the major benefits of outpatient treatment for those that choose that option. They go to the facility during the day to go to their therapy sessions as well as other parts of treatment and then go home. Because there is no housing involved with outpatient treatment, the cost also tends to be significantly less than inpatient.
No matter which treatment option you prefer, with your Magnacare plan you are likely to be covered. In fact, most Magnacare plans cover both inpatient and outpatient treatment. Because of this, at Discovery Institute we are able to provide you with the treatment option that works best for you and your schedule. If you aren't sure which treatment option is best for you, or if you want to make sure you can afford treatment, contact us today. We will take a look at your insurance policy and let you know if there will be any out of pocket expenses and how much they will be.
Will My Insurance Cover Alternative Forms of Treatment?
Not everyone's addiction and subsequent treatment is black and white. Some people might suffer from both a substance misuse issue and a mental health condition. When someone is suffering from both a mental health issue and a substance use disorder issue, it's called a co-occurring disorder.
Magnacare knows and understands that many people entering treatment are doing so for more than just a substance misuse issue. That's why they provide coverage for a variety of other types of issues that someone might need to address when undergoing treatment, including co-occurring disorders.
At Discovery Institute, we are proud to offer a variety of holistic treatment options. Some of those holistic treatment options that we offer to our patients include:
Acupuncture
Nutritional therapy
Adventure therapy
If you aren't sure what your policy covers, or want to learn more about our alternative therapy options, you can reach out to us. We will answer any questions you may have and let you know what, if any, out-of-pocket expenses you might incur.
Is Magnacare An In-Network Provider?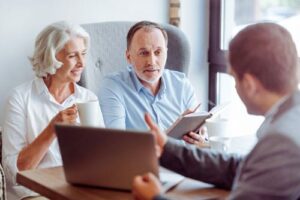 Discovery Institute is proud to partner with Magnacare as an in-network facility. What does that mean for you? Well, it means that we accept all types of Magnacare insurance plans. If you have an insurance plan Magnacare and are in need of treatment, you can come see us at Discovery Institute with the confidence of knowing that not only is your insurance accepted but that if there are any out-of-pocket expenses, that they will be lower than at an out of network facility.
Contact Us Today Regarding Using Your Magnacare Insurance Policy For Addiction Treatment
At Discovery Institute, we are proud to accept all Magnacare insurance plans. Should you have any questions about your insurance or the treatment programs that we offer, contact us today. We will answer any questions that you may have and get you on the road to recovery. We will also let you know about any out of pocket expenses you might incur during your time with us.