Rehab for Young Adults in New Jersey
At Discovery Institute of New Jersey, we approach each client at our rehab for young adults with a customized treatment plan based on their unique needs.
Substance abuse does not discriminate. It affects both the young and the old. And, no matter who you are or where you're from, addiction can completely change your life. Young adults are no exception to this. That's why young people need to seek help at a rehab for young adults that is focused around their specific needs.
Young adults are struggling with substance misuse throughout our country. From freshmen in high school to mid-twenty-somethings, the youth of America knows all too well how occasional and experimental substance use can lead to years of substance use and addiction.
Here at Discovery Institute of New Jersey, we approach each client at our rehab for young adults with a customized treatment plan based on their unique needs. Young adults make up one of the largest populations that seek help for addiction. So, we work to make sure that, when individuals come to us, they receive and find the treatment programs necessary to break the vicious cycle of addiction.
About Our Addiction Treatment Programs for Young Adults
For many young adults, consuming alcohol and drugs is a phase that occurs naturally as a part of growing up. Unfortunately, for many individuals, experimentation often develops into substance dependence and addiction.
Binge drinking and illicit drug use have increased among young adults in recent years. Prescription drug misuse has also steadily risen among this age group since the onset of the opioid epidemic in the United States.
Our rehab facility in New Jersey offers a safe and supportive environment. We offer treatment programs for young adults dealing with substance abuse and mental health disorders. The levels of care we offer include residential treatment and outpatient programs. We also offer dual diagnosis treatment, holistic treatment, and relapse prevention services. Our addiction counseling programs include family therapy, support groups, and more.
The Prevalence of Substance Abuse in Young Adults
Unfortunately, many individuals begin to experiment and toy with the idea of drug and alcohol use long before they become adults. High schoolers get drugs from friends who somehow get them from dealers. They drink alcohol before they're of age. And, as a result of this substance use, many individuals develop addictions by the time they are considered adults.
But, there is hope through young adult drug rehab. An addiction treatment program that focuses on helping younger individuals can be more effective than generalized treatment methods. Rehabilitation for young adults focuses on the needs of youth, having the understanding that these needs may be much different from the needs of older individuals who suffer from addiction.
We believe that those who come to us for help can become free from addiction. There is hope for each one and we work to make sure each individual finds that hope. Our team specializes in getting our patients the guidance and help they need so that they can build a sober and successful future.
The Importance of Age-Geared Treatment Services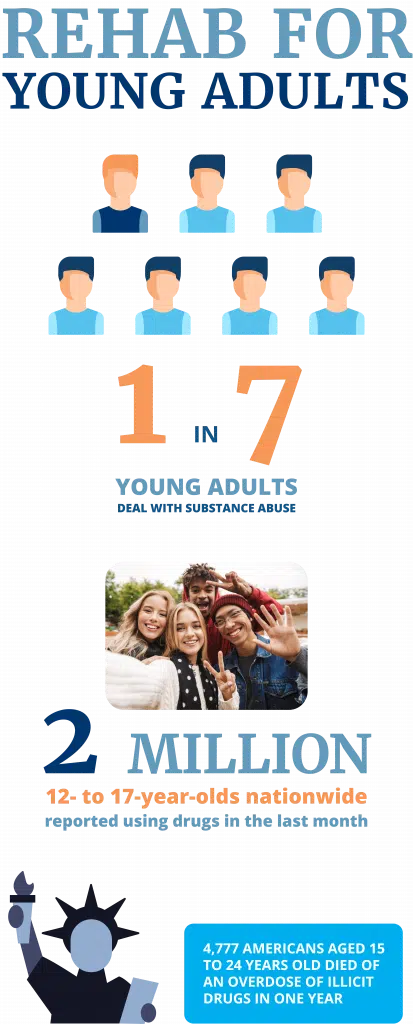 Addiction has a varied impact on adults in every age group because of the differences of effects within each demographic. Both the broadest sense and the most narrow sense of this are accurate. For instance, substance use often has different effects on young adults than it does on elderly people.
Age can also affect what elements contribute to a person's development of substance addiction. For instance, a young adult may be more prone than an older adult to give in to peer pressure and use alcohol and drugs.
Additionally, adolescents who are still growing physically and cognitively may experience the impacts of drug abuse differently than older adults. Substance abuse can lead to the development or exacerbation of pre-existing mental illness. On the other hand, mental health issues can lead to drug and alcohol problems as a means of coping and managing symptoms if left untreated.
An age-focused or age-geared treatment facility, such as rehab for young adults, is required for all of the aforementioned reasons. Therefore, young men and women who suffer from substance use disorders (SUDs) should seek help as soon as possible.
The Addiction Treatment Process
The road to addiction recovery is fraught with difficulties and barriers. It may be challenging for some people in recovery to deal with the root of their problems on their own. Such people might even be aware of their challenges in preventing relapse from occurring.
A treatment facility should support young adults in recovery, by being provided with the tools and resources they need to break free from addiction and maintain that freedom. The right rehab for young adults will teach relapse prevention techniques to help people manage their cravings and urge to use during and after treatment. Even people who are recovering and need to move forward in life should gain confidence from a treatment facility.
Our levels of care at Discovery Institute come into play in this situation. We strive to assist each patient individually at our facilities. Our patients who are in recovery can start to acquire the tools they need to design a better, new way of living for themselves through various levels of care, including residential treatment and outpatient rehab programs we provide.
By offering young adults a continuum of care through effective treatment approaches for addiction and mental health disorders, we have achieved successful recovery outcomes.
Extreme secrecy
Isolation and social withdrawal
Intense, frequent mood swings
Loss of interest in hobbies and activities
Presence of drug paraphernalia or drugs
Distancing themselves from family and friends
Moodiness (irritability, anger, depression, anxiety)
Poor performance in school (poor grades, disrespect, etc.
Loss of relationships with friends or changes in social groups
Financial problems, frequently needing to borrow money
Loss of a job or abandonment of an extracurricular activity
Symptoms of drug withdrawal, such as nausea, diarrhea, flu-like symptoms, shakes or tremors, and restlessness
CONTACT US
Find out how we can help
Our compassionate counselors are standing by to answer any questions you may have. After helping thousands of people over the last 50 years, we have the resources to help you and your family and all your individual needs.
If you have seen any of these signs in a loved one's life, he or she may be struggling with an alcohol or drug problem. The young adult in your life may have become addicted to drugs or alcohol and may not know how to break free.
You can help by performing an addiction intervention. This could help to convince your friend or family member to reach out for help.
To overcome addiction, young adults need to seek help at a professional addiction treatment center. Finding the right rehab program is the first step to effectively addressing their dependence on substances, and helping them to live a healthy and sober lifestyle.
For Parents With A Young Adult Struggling With Drug Abuse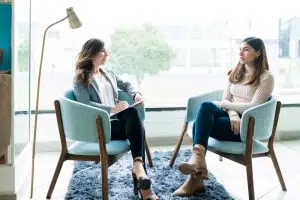 Often, parents notice the signs of substance abuse in their children's lives but they are unsure about how to help. Perhaps you've seen some signs in your child's behavior and actions. No doubt, you are experiencing quite a few emotions, including anger, confusion, and intense fear.
We've successfully helped parents of young adults help themselves and support their children through recovery. Our substance abuse treatment centers are here to guide you through this difficult time.
We're aware of the difficulties a young adult may experience while seeking rehabilitation. Therefore, our team supports each patient individually—including the young ones—as they overcome their challenges.
You may be confident that when you engage in our treatment program here at Discovery, your recovery will come first. To help you transition to a life of recovery, our caring team will work alongside you. From the very beginning, until you finish your treatment and start your new life, we will be there every step of the way.
Recover Today at Our Rehab for Young Adults
Even if the effects of their substance abuse aren't irreversible, many young people who suffer from addiction may find that the impact of years of alcohol or drug abuse can cause much suffering in their older years. But this does not have to be your story.
The time to get assistance if you are a young adult struggling with addiction and mental illness is now. We at Discovery Institute are aware that looking for addiction therapy can be overwhelming. When seeking help for their substance use disorders, some adults even get anxious at the mere prospect of doing so. Others could have anxiety out of fear that they will be treated unfairly rather than with compassion or understanding.
It's crucial to keep in mind that there is never a better time to start seeking treatment if you have been battling alcoholism or drug addiction. Addiction and mental illness can have a profound impact on one's life and, in many instances, pose a serious threat to it. Contact us today to begin your journey to recovery.
Discover
Your Potential
Finding a life of happiness and sobriety is possible. You are not alone! All you need to do is take the first step.