Opiate Detox
Here at Discovery Institute, we are committed to making sure our patients receive the care and guidance they need throughout their Opiate detox and recovery journeys.
What are Opiates?
Opiates are a class of drugs that can be synthetically generated in labs or naturally extracted from the poppy plant, hence the name. They can be ingested or injected, depending on how it is used. Most opiates include legal painkillers, such as morphine, oxycodone, and codeine, any of which can be prescribed by a physician. Unfortunately, in many cases, opiate use can lead to substance abuse, leaving individuals in need of professional treatment.
However, there are some dangerous illicit drugs that use opiates as an active ingredient, such as heroin. In either case, opiates are highly addictive substances, and opiate detox can be exceptionally difficult.
Opiate Effects on the Brain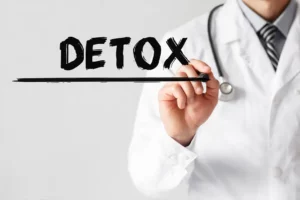 Although many people believe that opiates are simply a class of drugs, the body actually produces opiate-like chemicals on its own. In fact, the opiate receptors that are responsible for a lot of regular bodily sensations.
The brain makes chemicals that produce effects that are similar to the effects of opiate drugs.
They assist in the regulation of sleep, mood stabilization, and the receiving and processing of "feel good" chemicals; but the opiate receptors are best known for their part in pain relief. When you suffer a minor injury, your brain releases naturally produced opiates to manage the pain until it goes away.
This is why injuries stop hurting over time. However, the chemicals that the brain naturally produces for pain relief are significantly less powerful than the opiates that are used in drugs. Consequently, an addiction to opiate drugs has extreme effects on the brain; and on the body.
Over time, if the brain becomes dependent on the high volume of "feel good" chemicals present in opiate drugs, it will eventually be unable to produce those same natural on its own, rendering the opiate receptors for natural pain relief useless. As a result, the body can experience severe symptoms of withdrawal.
Opiate Prescription Medications
Since opiates are natural pain relievers, it makes sense that the prescription drugs that contain them are prescribed for post-surgical pain management or chronic pain conditions. However, they can be just as dangerous as any illicit opiate if they're handled improperly.
Any opiate drug has the potential to lead to an addiction problem, even if they were acquired legally. Many opiate drugs can be found in drug stores and are prescribed by doctors. Some of the legal forms of opiate drugs include:
Codeine
Fentanyl
Morphine
Naloxone
Oxycodone
Carfentanil
Meperidine
Methadone
Hydrocodone
Oxymorphone
Buprenorphine
Hydromorphone
There is also a well-known illicit opiate called heroin. Not only is this drug illegal, but it's also harmful, dangerous, and even deadly.
If you or someone you know uses any of these drugs regularly, it's important to use caution. In many cases, people who use these substances for a while eventually grow dependent on them. As a result, many individuals develop addictions.
Opiate abuse often causes serious changes in a person's life. So, it's best to know the symptoms and signs of opiate addiction so that you can get help as soon as you notice any possible signs of abuse.
Signs of Opiate Abuse
Unlike many other drugs, opiates can be obtained over the counter. Since this is the case, it can sometimes be hard to determine if you or someone you love is suffering an opiate addiction problem.
Opiates have many different effects on people who use them. The short-term effects of opiate use often occur with initial use; they don't usually linger. But, there are also long-term effects, which often affect people after excessive and extended opiate drug use.
Short-term effects of opiate addiction include:
Nausea
Euphoria
Confusion
Constipation
Drowsiness
Slowed breathing
Constricted pupils
Sporadic loss of consciousness
Some of the long-term effects of opiate use are:
Tuberculosis
Collapsed veins
Depression
Drowsiness
Hyperalgesia
Liver damage
Lung disease
Irregular breathing
Clogged blood vessels
Psychomotor impairment
Septic pulmonary embolism
Weakened immune system
In order to get past an opiate addiction, individuals need to go through the best opiate detox program for them. They also need to receive treatment for substance abuse.
Overcoming Opiate Abuse Through Medical Opiate Detox
There are many different methods for ending opiate abuse. However, there is one which you should avoid at all costs: quitting "cold turkey". This phrase is used to describe a sudden end to substance use. It doesn't involve a professional treatment program and individuals do not get medical care when quitting cold turkey.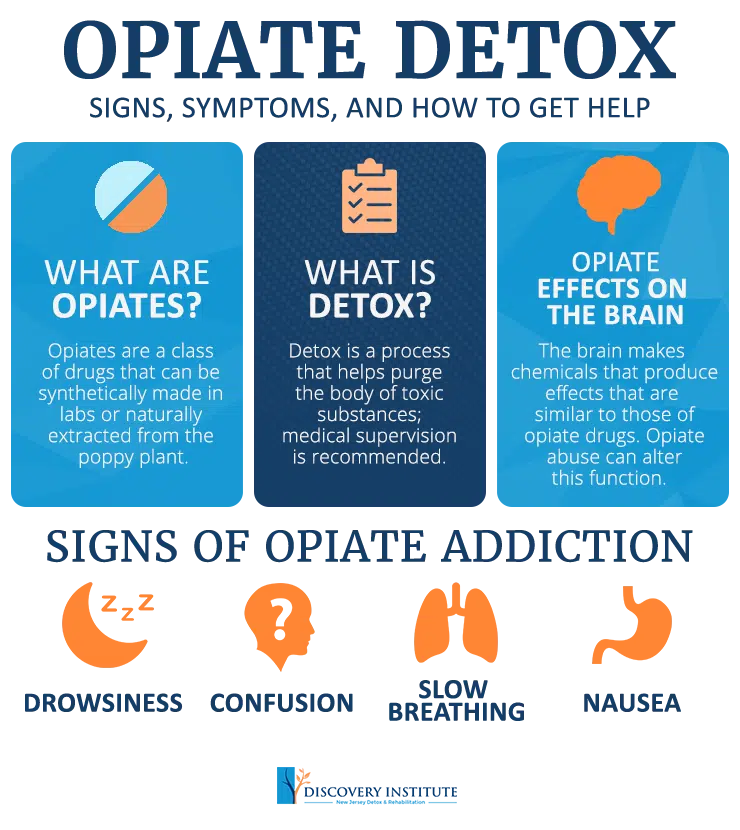 Many people opt to end opiate abuse this way because, in essence, it's free and seems easy. A lot of people feel that this method is less time consuming as it doesn't require lengthy treatment or a stay at a residential drug rehab facility.
But, despite the common belief that it's easy to quit opiate use this way, this method is extremely harmful and can lead to serious and even fatal consequences.
Opiate withdrawal is far from comfortable or easy. Some of the symptoms of withdrawal include depression, anxiety, nausea, and muscle cramps and pains. Many individuals experience fevers, diarrhea, vomiting, and excessive sweating.
Since these symptoms can be so difficult to deal with, it's best to go through a drug detox program, under the supervision of medical professionals who understand the details of the detox and withdrawal processes.
New Jersey Opiate Use
If you have navigated to this page, most likely you are a resident of New Jersey. The purpose of this section is to remind you that you are not alone. Below we will be discussing some of the statistics regarding opiate use in New Jersey. Recovery is never something that happens alone, so while these statistics are unfortunate, we hope this motivates and encourages you that you are not alone in your recovery journey.
New Jersey Statistics
The most commonly abused narcotic in New Jersey is heroin or other forms of prescription opioids. Opioid abuse has seen a rise in the entire country, with some calling it an epidemic. Developing a dependency on opioids is far from black and white since many are simply prescribed to cope with injuries or pain. Others, who have become dependent on their prescription, have nowhere to turn without opioids. These individuals may feel no choice but to turn to heroin. Alongside this, drug overdose was the leading cause of accidental death in 2017.
Opiates were the primary drug amongst 71.4% of males and 28.6% of females aged 18-24. Heroin and other opiates also compromised a whopping 49% of all admittees in New Jersey in 2017.
Demographic Information
In New Jersey, the most commonly admitted individual were ages 35-44, followed by ages 25-29. This is contrary to the popularly held belief that young people are the primary perpetrators of drug abuse. The top five counties with the most admissions (from first to last) were Ocean, Camden, Essex, Monmouth, and Middlesex. Over 29% of the population had no insurance to cover their treatment. If you are a loved one, or someone struggling with addiction, please see our insurance page to review your current policy. 60% of individuals had Medicaid. Most of these patients received outpatient care (29%), while the highest specialized treatment was fro Opioid OP (11%). The living situations of those admissions in 2017 were as follows: 7% were homeless, 15% were dependents, and 78% were individual living. Of those individuals 83% were single or divorced, 12% were married, 1% were widowed, and 4% were separated.
Opiates in New Jersey Overview
Opioid overdose in New Jersey comprised around 3% of the total opiate deaths nationwide and numbered 2,685. For opioid treatment, around 87% needed treatment but did not receive it. The reason we put those two statistics back to back is to encourage you to seek treatment for yourself or your loved ones. It is never too late.
New Jersey has a higher average of opiate users (nationwide was 200 per 100,000, while NJ was at 300 per 100,000). New Jersey's total drug overdoses rose steeply from 2016 to 2017, and a majority of these involved opioids. In New Jersey, 44.2 people per every 100 persons have prescribed some form of opioids in 2017. All of this to say, you are not alone in this epidemic. We the Discovery Institute want to get you the treatment you deserve.
Medical Opiate Detox at Discovery Institute
Opiate detox is very uncomfortable, but it is better managed and more successful with medical supervision. When treated by doctors, those who undergo opiate detox usually go on medications like non-narcotic pain relievers and blood pressure regulators to wean their bodies off of the opiate drugs in their systems.
It's important to find the best opiate detox program for your needs. Fortunately, through detox programs, like the ones here at Discovery Institute, medical professionals can oversee the opiate detox process, ease symptoms, prescribe appropriate medications for pain relief, and provide all-around support for patients in recovery.
If you are looking to successfully complete an opiate detox, it's important to seek the support of medical professionals. Here at Discovery Institute, we are committed to making sure our patients receive the care and guidance they need throughout their addiction detox and recovery journeys.
We also offer several different opiate rehab options for you once you have successfully gone through detox. Depending on your individual situation, your treatment options will differ.
We work to make your road to recovery as comfortable as possible. Our mission is to see you through a successful treatment process that results in complete freedom from substance abuse and dependence.
For more information about our services, just contact us today. Let us help you begin the journey toward a new and healthier version of you! You can contact us here to learn more about our services.