Group Therapy for Addiction in Marlboro, New Jersey
At Discovery Institute of NJ, we provide all kinds of group therapy each day to make sure our clients have a well-rounded, complete approach to their care.
There are several possibilities if psychotherapy is something you're thinking about. Depending on the nature of your issue, group therapy for addiction in Marlboro, NJ may be the best for dealing with your worries and bringing about positive changes in your life.
Counseling is a daily part of addiction and mental health treatment in most programs. Each day our addiction specialists and mental health professionals make sure that our clients have a well-rounded, complete approach to their care. People from adolescents to adults experiencing substance abuse, stress, grief, trauma, depression, and anxiety, can benefit greatly from support groups to meet other group members to improve relationships, and gain support.
No two sessions are ever alike, but our clients will work with therapists, mental health professionals, and other participants to establish a sense of trust, respect, belonging, and support. Our goal is to foster a healthy group dynamic that supports the recovery journey of each individual involved through collaboration, advocacy, education, sharing, feedback, and positive emotional interaction.
At Discovery Institute in Marlboro, New Jersey, we provide a variety of therapy services including group counseling, to help individuals organize their conflicts with addiction and mental health, improve relationships with family members, improve self-esteem, etc. This type of therapy is support groups, process groups, and a social skills group, all in one.
What Is Group Therapy?
A small group of patients undergoes group psychotherapy, a highly effective kind of therapy, where they come together to support one another and themselves. There are many different techniques for group therapy, but they all focus on providing a friendly, coherent environment where people can talk about their personal, interpersonal, and social problems.
One or more psychologists oversee a group of five to fifteen patients during group counseling. Groups often meet once or twice a week for an hour or two. While some people exclusively attend groups, others also go to individual sessions.

Who Are Good Candidates For Group Therapy for Addiction?
Many groups are designed to target a specific problem, such as depression, obesity, panic disorder, social anxiety, chronic pain, or substance abuse. Other support meetings concentrate more broadly on enhancing social skills and assisting individuals in resolving a variety of problems like anger, shyness, loneliness, and low self-esteem. People who have lost someone—a spouse, a child, or someone who committed suicide—often find support in groups.
The Benefits Of Group Therapy for Addiction and Mental Health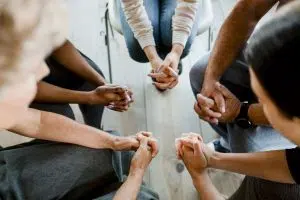 At first, it could seem scary to join a group of strangers, yet group therapy has advantages over individual therapy. In fact, according to psychologists, group participants are nearly always taken aback by how fulfilling the experience may be.
Groups can provide a sounding board and a network of support. Other group members frequently assist you in developing specific ideas for addressing a hard circumstance or life challenge and hold you accountable along the process.
Talking and listening to others regularly also aids in putting your issues in perspective. Many people struggle with mental health issues, but few are willing to talk freely about them with strangers. You could think you're the only one struggling a lot of the time, but you're not. Hearing others talk about their struggles and realizing you're not alone can be a relief.
Another significant advantage is diversity. People come from different origins and have distinct personalities, therefore they view the world differently. You can learn a variety of approaches for dealing with your worries by observing how other people resolve issues and effect positive change.
When individuals enter treatment for addiction, mental health issues, or both, many suffer from social and emotional isolation from family, friends, and society as a whole. Without the social skills necessary to function in group settings, patients are unable to adjust to or transition to the real world outside of treatment. They may also be unable to successfully hold a job or reintegrate into family and social dynamics.
That's why we emphasize the importance of group therapy and group dynamics here at Discovery Institute in NJ.
The Benefits of Group Therapy for Addiction in NJ
The benefits are wide-ranging, and they include:
What Happens During Group Therapy?
In group therapy, you can join together with others to discuss issues, gain a better understanding of your situation, and learn from and with one another. You will develop your relationships with others and gain new insights about yourself while working with a therapist. You will develop self-awareness and coping mechanisms for your worries.
Members try to communicate their struggles and aspirations, feelings, thoughts, and reactions as freely and honestly as they can during a normal session, which lasts between 60 and 120 minutes. You can ask the therapist about the services they provide, and groups can be attended both in person and online. Members gain knowledge about their difficulties and identities, but they also learn how to help other group members through therapy.
CONTACT US
Find out how we can help
Our compassionate counselors are standing by to answer any questions you may have. After helping thousands of people over the last 50 years, we have the resources to help you and your family and all your individual needs.
Individual Therapy vs Group Therapy
As you begin to consider treatment, it's best to learn more about what it entails. This includes the two main models of therapy for addiction. Both of these approaches to therapy are important components of the treatment process. But, individuals should be aware of the differences between these two models and the benefits each one offers.
As the names suggest, individual psychotherapy involves one individual and a therapist while group therapy involves multiple people and one or more therapists. So, the setting and environment of a therapy session will certainly vary depending on the type of therapy a person is involved in. However, both therapies offer people a safe and healthy space to speak about their experiences.
Another difference between individual psychotherapy and group therapy can be seen in the topics of discussion. Sometimes, what a person may discuss in a one-on-one therapy session may be different than what he or she talks about in a meeting.
Also, certain types of therapy approaches may be involved in one type of setting without being present in another. For example, cognitive-behavioral therapy (CBT) may be an approach that is used in individual therapy. But, group therapy models may not rely as heavily on this approach.
What Distinguishes Group Therapy From Self-help and Support Groups?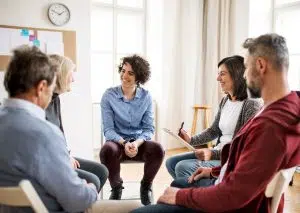 In contrast to support and self-help groups, group therapy offers opportunities for development and growth in addition to helping people manage their issues. With a focus on relationships, it teaches you how to get along with others better while receiving professional coaching.
Support groups, in contrast, which may or may not have professional leadership, assist people in coping with trying circumstances, but are typically designed to treat symptoms rather than address root causes. Similar to support groups, self-help groups frequently concentrate on a certain shared condition or circumstance and are typically not led by a licensed therapist.
Does Someone Need Both Individual and Group Therapy?
Group therapy can be employed as the main therapeutic strategy, in addition to individual therapy. How to best suit your needs should be discussed with your therapist.
At Discovery Institute, we prioritize individual treatment, but we also understand that recovery isn't possible without support and help. That's why we tailor our program to meet the needs of each patient who enters our program and provide therapeutic resources that help patients to learn to recover together.
Group Therapy At Discovery Institute Can Help You Recover
Depending on your treatment track, you may be introduced to different therapeutic groups than some of your peers. At Discovery Institute, we focus on helping each client individually. Since we offer an individualized and unique approach to treatment for each of our clients, depending upon your needs, some groups may be suggested while others may be mandatory.
We aim to provide our patients with a well-rounded approach to treatment to meet all of their needs, so your daily agenda of groups may differ slightly depending upon these specific needs.
Group therapy takes place daily, and much of the clinical portion of the day is dedicated to group-style therapeutic methods. Clients are among their peers and can discuss topics that are relevant to addiction and recovery to process emotions and heal.
Each group is facilitated by a licensed, experienced therapist who is trained in assessing group dynamics and fostering healthy communication. This is to ensure that patients get the most benefit out of each session that they attend.
If you or someone you know could use some help overcoming substance dependence, please reach out to us today. We are willing and available to offer the help necessary to end addiction. Please allow us to assist you or your loved one by calling us right away. Our team is ready to answer your call.