Thank you for voting us
America's Best Addiction Treatment Center 2022
Two Years in a Row
Addiction Treatment at Discovery
The residential rehab program here at the NJ drug rehabilitation center known as Discovery Institute gives clients the opportunity to leave the "real" world behind and focus on nothing but themselves for the length of their stay with us.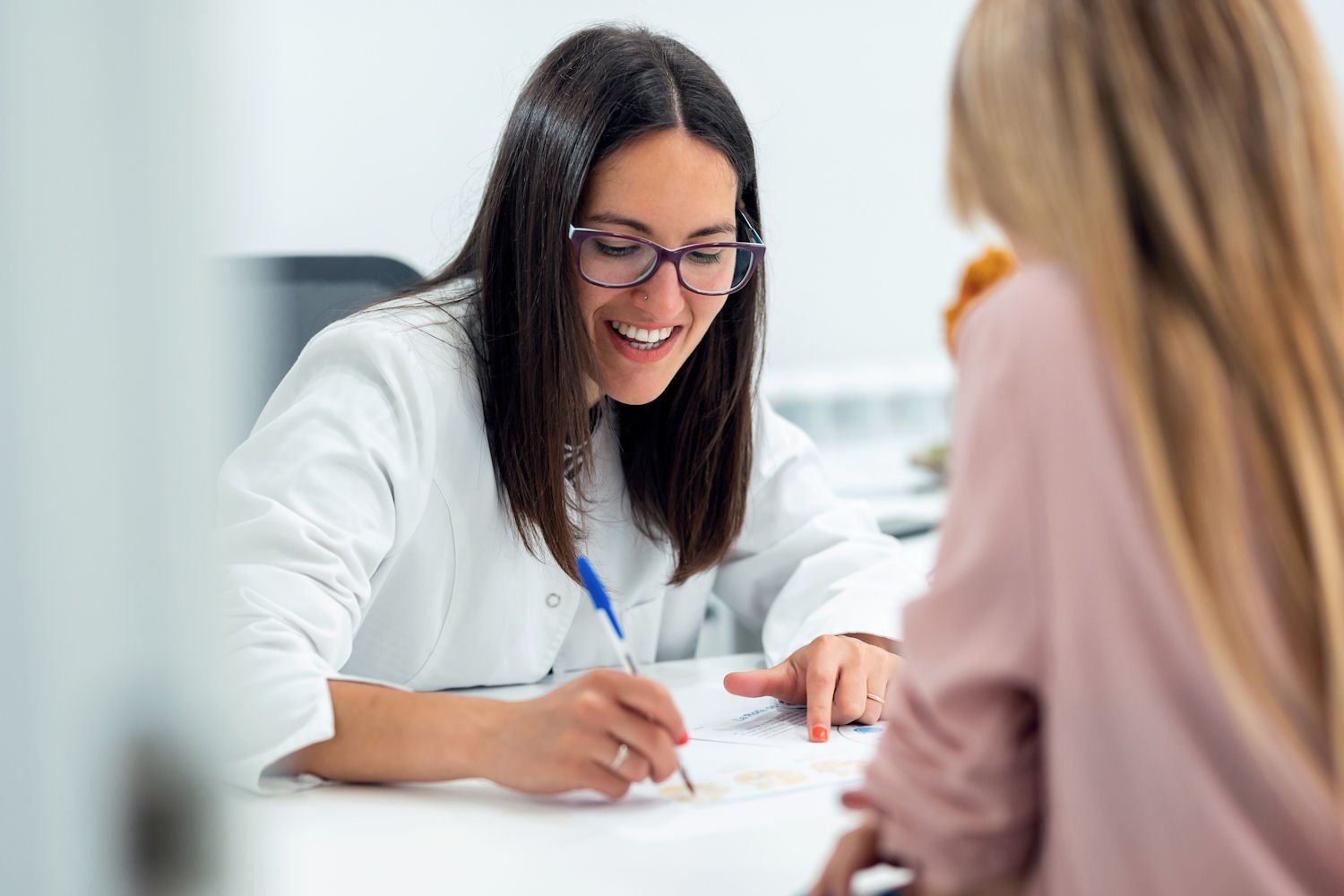 What Is Drug Rehab?
Drug rehab is a program that people that suffer from substance addictions enter to get clean and sober. It takes courage for an individual that suffers from a substance addiction to admit that he or she has a problem and needs to attend drug rehab to fix it. This is especially true for individuals that suffer from severe addictions, and thus, sometimes need convincing to receive help. Individuals with severe addictions that do attend drug rehab, should enter an inpatient or residential rehab program.
What is Residential Treatment?
Residential treatment means that the clients stay on our property for the duration of addiction treatment, including overnight. Many consider this the best route for patients that are early in addiction treatment to achieve meaningful recovery.
Staying in a residential addiction treatment program enables patients to focus wholly on recovery. Still, the patients know that they're in a supportive environment, surrounded by people with similar goals.
Benefits of Residential Treatment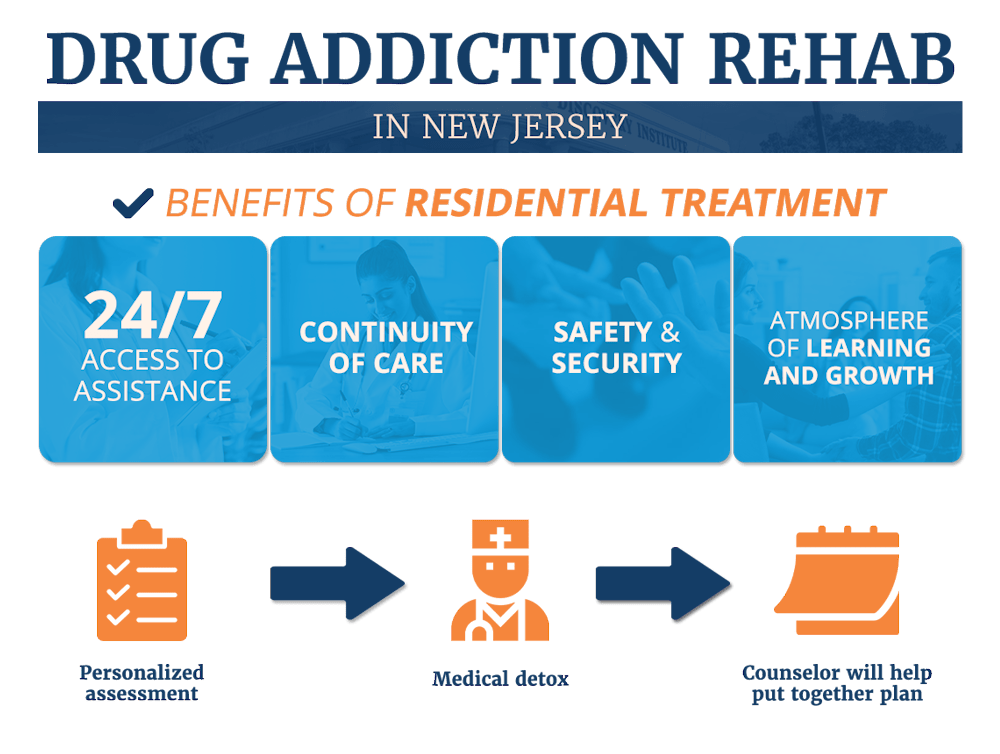 There are many benefits to residential addiction treatment. For one, patients can completely let go of their day-to-day worries and focus on themselves. The other benefits include:
24/7 access to assistance for your challenges – If you need a nurse or behavioral technician at 2 am, you can find one. It's an incredibly supportive environment for you to detox and re-learn how to live free from drugs and alcohol.
Continuity of care – Staying in residential care at a detox facility ensures that all of your treatment care professionals are collaborating with each other and are on the same page regarding your treatment plan. This allows for the creation and completion of a comprehensive, effective plan of treatment.
Safety, security, and support – A residential treatment facility is the safest place to be if you are having thoughts of using substances. With the 24/7 support offered in residential rehab, there is always someone to talk to if you feel an urge to drink or use drugs. Between peers and our specially trained, dedicated staff, you will always have someone to turn to. This is a huge benefit of residential rehab because when outpatient clients go home at night, there are many areas that test their ability to maintain their recovery. This can cause patients to fall short of completing the program.
More Benefits of Residential Treatment
An accountable and understanding environment – In inpatient addiction treatment, you are among your peers. Learning that you are not alone in your struggle with your substance use disorder can help you gain more confidence. You will be around people who are going through similar struggles and you can learn to rely on one another for support.
A healthy and helpful distance – Individuals who are in a residential program can get the help they need while being away from triggers and temptation. Residential rehab separates you from the challenges of day-to-day life that are outside of treatment. This means that you can get treatment away from the people, places, and things that may tempt you to get high or drunk. This complete removal of yourself from your normal life allows you to focus on yourself and develop the skills you'll need in order to avoid relapse once you transition back into "normal" life.
An atmosphere for growth and learning – Those who are in inpatient treatment are out of their comfort zone, which promotes growth. If you do as you have always done, you will get the same results. If you have tried to gain sobriety or live free from drugs on your own or in an outpatient program without success, you should consider residential rehab. It is possible that this change in treatment methods can make all the difference in your recovery journey.
Immersion in a recovery-oriented environment – In residential rehab, the main focus is recovery from alcohol and drugs. Without having to worry about outside stressors, such as work, patients can truly focus all of their energy on building a foundation for recovery from substance use disorders.
Residential Treatment At Discovery Institute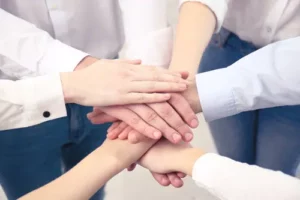 We believe that the more time you can commit to your recovery, the better your chances are of staying sober. This is especially true in the beginning. Luckily, the residential treatment program at the Discovery NJ drug rehabilitation center is a great place to start. We specialize in providing individuals with the coping skills and tools that people need to live a life that's free from drugs and alcohol.
What to Expect?
The idea of attending a NJ drug rehabilitation program that's residential often causes people to feel uncomfortable. Some even avoid getting addiction treatment altogether. This is because they're not sure what to expect when going through an inpatient addiction treatment process. But, alcohol and drug New Jersey rehabilitation programs are more helpful than not for those who are working to recover from substance abuse.
As the New Jersey drug rehabilitation center that's known as Discovery Institute, we work to make sure our clients feel safe and understood. We understand the importance of making recovery a process and a journey rather than a short-lived treatment program.
Since we want to make sure our clients get the most out of treatment at our New Jersey facility, we offer treatment in steps and levels, making sure that the process is best for our patients and has the elements necessary for meeting each individual's needs.
First Steps in Drug Rehab
Patients who enter our residential drug rehab program will first complete a detoxification process to ensure that their bodies and minds are clear of all mood or mind-altering substances. All clients will then undergo a thorough assessment that will include medical history, substance use history and patterns, mental health, physical condition, and treatment goals.
Our counselors and staff will use this assessment to create an individualized treatment plan for the patient. Residents of our program will be settled into their living quarters and will have an opportunity to meet their fellow patients. Following this, treatment will begin.
More About Treatment at Our NJ Drug Rehabilitation Facility
Addiction treatment at Discovery is holistic in nature. This means that we aim to promote the well-being of our clients physically, mentally, emotionally, and spiritually. To foster this, we offer a variety of treatment methods to our patients. This includes several methods of therapy, such as dialectical behavioral therapy, cognitive-behavioral therapy, and group dynamic therapy.
Patients will also participate in regular group therapy sessions as well as regular individual therapy sessions with their primary counselor. In these sessions, counselors will address many topics in order to help people to build strong foundations of recovery, including:
Trauma
Family history of substance use
Work and employment concerns, interpersonal relationships
Personal goals and ambitions
Coping skills
Patients are also assigned and encouraged to complete treatment work, such as journaling moods or creating lists of effective coping skills to use when presented with a trigger. We also offer alternative and holistic treatment methods, such as nutrition counseling, physical exercise options, and yoga.
Many of our clients find that beginning to develop a routine to care for their physical health has many benefits for their mental health as well. Yoga, for example, is instrumental in helping clients to achieve balance, inner peace, and to practice quieting the mind as a meditative practice. Our primary treatment goal for our patients is to help them to develop a routine and a lifestyle that's healthy and fulfilling without the use of substances like drugs and alcohol.
Why Choose Discovery?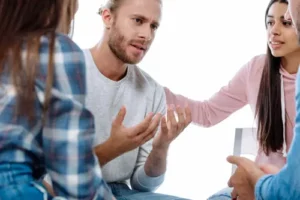 The New Jersey drug rehabilitation center that's known here as Discovery Institute has a history of providing high-quality addiction treatment. We strive to help our patients overcome substance use and all of its negative effects in their lives. In addition to assisting people in recovering from alcohol and drug abuse, we also help individuals to heal in other areas of their lives.
Rather than only treating the physical symptoms of drug use, we aim to help our patients achieve well-being at every level: physical, mental, emotional, and spiritual. Our compassionate team understands that addiction is not simply a combination of surface-level symptoms; it's a complex matter that should be addressed with multiple aspects in mind.
Dual Diagnosis Treatment
For one, individuals who struggle with substance abuse may also suffer from mental health disorders, such as anxiety disorder or post-traumatic stress disorder. This is known as a dual diagnosis, or co-occurring, disorder. Unfortunately, it's fairly common in cases of substance use.
In our supportive residential treatment environment, patients have access to time-tested, evidence-based treatment methods as well as holistic practices that address every aspect of their health. Patients who have a dual diagnosis (co-occurring disorders) also receive appropriate treatment from our specialized staff members, who are trained in addressing mental health disorders that occur alongside substance use disorders.
Every patient at Discovery is treated with dignity and compassion. This is because every member — from intake coordinators to counselors — strives daily to support patients in achieving long-term recovery from drugs and alcohol.
Individualized Care For Each Individual
Here at Discovery Institute, we understand that each of our patients is different. So, if you have been struggling to end an addiction problem in your life, rest assured that we will keep your personal and unique needs in mind throughout your treatment process at our NJ drug rehabilitation facility.
We know that you have a story of your own, filled with highs and lows. Our mission is to bring out the best in you and help you find your way to a life that is full, peaceful, and free of the pain that comes with addiction.
CONTACT US
Find out how we can help
Our compassionate counselors are standing by to answer any questions you may have. After helping thousands of people over the last 50 years, we have the resources to help you and your family and all your individual needs.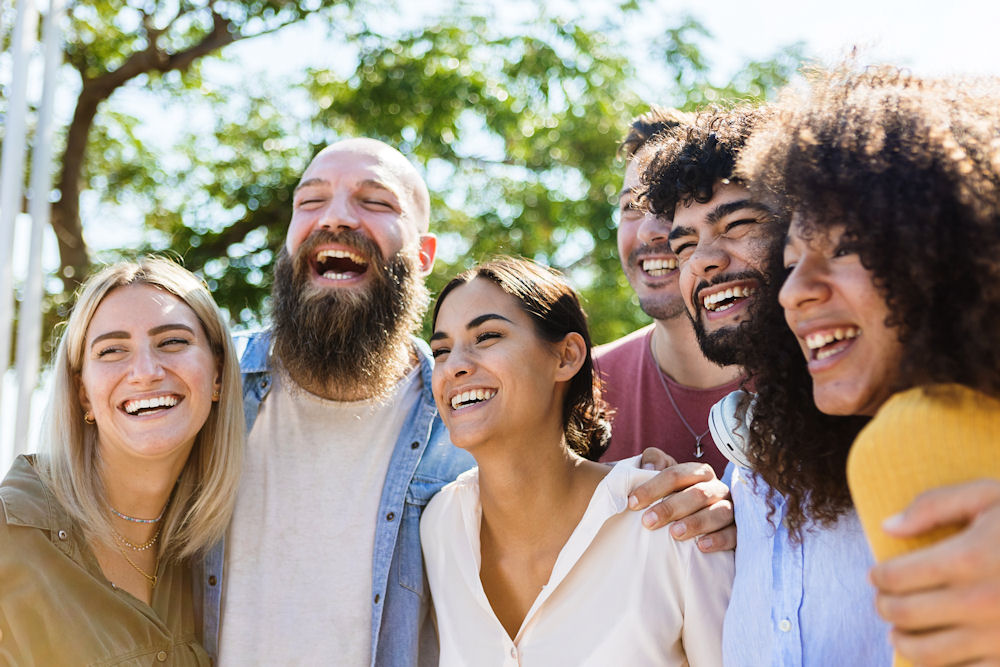 Guilt and Shame for Addiction
Many times, people who are suffering from substance dependence struggle with intense feelings of guilt and shame. They may feel guilty for the pain that their addiction has caused them and their families.
Some feel guilty because substance use prevented them from being there for their children, parents, spouse, or siblings. Many other individuals feel ashamed of their drug or alcohol use problems, feeling as though others blame or judge them.
People who are struggling with alcoholism or drug addiction problems often have difficulty acknowledging and moving past their mistakes. These emotions can prevent people from getting the help that they need.
You're Worth It
Sometimes, people who experience these feelings and thoughts feel as if they're not worthy of getting treatment. They think that they don't deserve to live a life that is full of happiness because of all the sadness that their substance use has caused. As a result, many individuals avoid reaching out for help.
Maybe you've been feeling guilty or ashamed. Perhaps you've been thinking that treatment isn't something you deserve. These emotions may have left you feeling hopeless and alone. But, the good news is that you are not alone.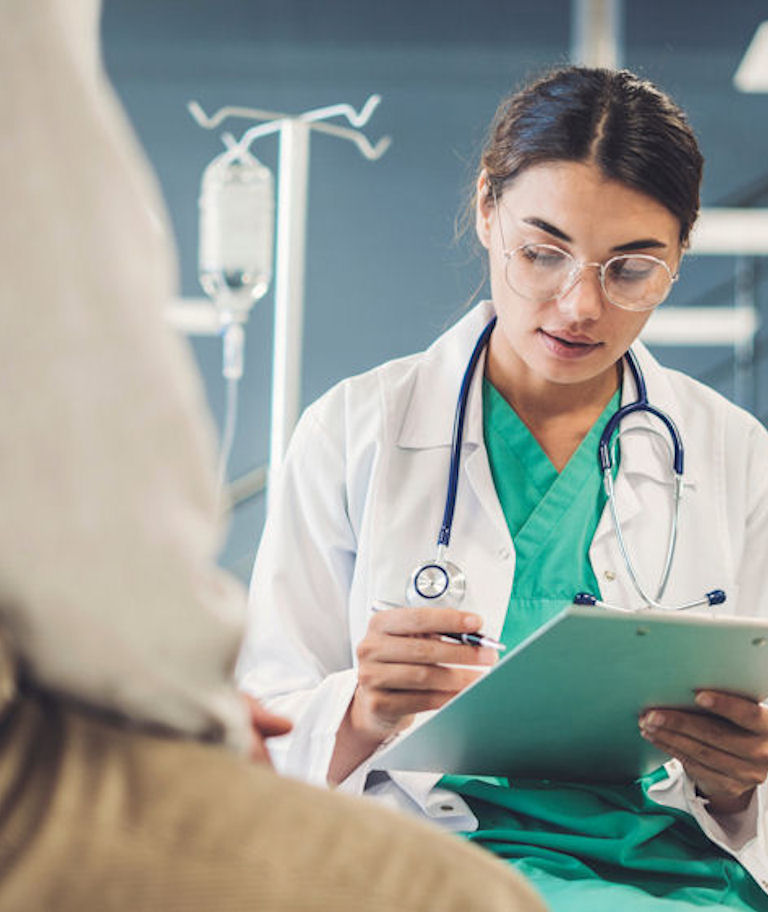 Hope for Addiction Recovery At Discovery Institute
No matter how long you've been suffering from substance dependence, there is hope for you. You can overcome substance dependence and stay free from it. All you have to do is reach out to us here at Discovery Institute today.
Rehab for drugs and alcohol is more than just a detox process to help end substance use. Although the detoxification process is absolutely necessary in order to recover from addiction, it's not the only important element in rehab for drugs.
Recovery is an ongoing process. It doesn't end when treatment is over. The journey to recovery is one that continues throughout the lives of those who are working to overcome substance abuse. In fact, the purpose of treatment is to help individuals continue to overcome the effects of addiction every single day.
So, while it's important for individuals to first detox from substance abuse, it's also best to learn more from the treatment process. When people go through professional treatment programs, they should also work to develop skills that will help them to avoid going back to a life of addiction when treatment is over. Relapse prevention skills are critical elements of successful recovery.
At our detox center in New Jersey, we monitor clients in the medical detox program at all hours of the day and night in the case of complications. A trained, licensed staff member is always available to patients to help make their stay as comfortable and as safe as possible.
Acute detox can last anywhere from a couple of days to a week or more, depending on the patient's medical status and the severity of their addiction. We keep a close eye on each patient to determine when they are ready to move out of detox and into regular treatment.
Get the Help You Need Today At Our NJ Drug Rehabilitation Center
If you or someone you know has been dealing with alcoholism or drug abuse, there's no time like the present to take a step toward freedom. It can be difficult to reach out for help; guilt and shame may be major obstacles in your life or in the life of your loved one. But, these issues can be overcome with the help from a professional New Jersey treatment center. Here at Discovery, we can walk with you as you work through your emotions to gain the freedom that you truly deserve.
At Discovery Institute, we use various therapy methods and treatment approaches that help individuals to gain the skills that they need. They need these skills to continuously avoid relapse and pursue a life of freedom.
We know that there will be challenges along the way. But, we are dedicated to walking with you as you move toward an addiction-free life. So, if you're ready to find the freedom you truly deserve by getting rehab for drug and alcohol addiction, contact us today!
Discover
Your Potential
Finding a life of happiness and sobriety is possible. You are not alone! All you need to do is take the first step.