Dialectical behavioral therapy, also known as DBT, is one of the many effective therapies approaches included in treatment. It may be beneficial for you to learn more about this approach and how it can help you as you work toward a new and healthier life!
When it comes to treatment for substance dependence, many people are unsure about what to expect. In fact, this uncertainty is a common reason why people may shy away from the idea of getting treatment. It can be difficult to take a step toward recovery when you're not sure what you will encounter. So, if you are currently struggling with discomfort about getting help for your addiction, know that there are others who are also dealing with these concerns. But, also know that making the choice to get help is the best decision you could make.
Still, it may be helpful to know more about treatment and what you can expect once you enter a rehab program. It's important to learn about the various types of therapy you may go through while in treatment. Having more knowledge about what you will encounter in treatment can prepare you emotionally, physically, and mentally as you begin your journey to recovery.
What is Dialectical Behavioral Therapy?
Dialectical behavioral therapy is a type of therapy that focuses on encouraging mindfulness. It's a type of cognitive behavioral therapy (CBT). The goals of DBT include the following:
To encourage people to focus on the "here and now"
To help individuals to understand and regulate their emotions
To develop coping skills in those who are recovering from addiction
To help people to develop and maintain healthy interpersonal relationships
Dialectical behavioral therapy utilizes 3 main elements of the process of dialectics. Firstly, this process uses the idea that everything is connected. Secondly, it adopts the belief that change constantly and inevitably occurs. Finally, this process holds that opposites can combine to create a better resemblance of what is true.
DBT was originally meant to help treat those who were suffering from borderline personality disorder (BPD) or suicidal ideation. But, it is currently a part of many addiction treatment programs.
Again, you may find that DBT is a part of your journey to recovery. Professional treatment programs often incorporate this kind of therapy as well as other types of behavioral approaches.
DBT: How Does It Work?
Dialectical behavioral therapy is very interactive. In other words, it requires individuals to engage in various activities in order to ensure success. While in therapy, they can expect to attend group therapy sessions. During these meetings, individuals can spend time with others who are also working through recovery. Therapy provides a safe and stable environment in which people can discuss their challenges and learn more about addiction in their lives and in the lives of others. 
These group therapy sessions also help individuals to develop interpersonal skills and successfully address their emotions. This is beneficial because addiction generally takes these abilities away from those who suffer from substance use. People who struggle with addiction often have trouble connecting with others and maintaining healthy relationships. It can be difficult to address these issues. But, therapy helps people to bring these challenges to light and address them in a healthy way.
In dialectical behavioral therapy, people can also engage in self-reflective exercises. Through one-on-one therapy, individuals can develop the skills they need in order to analyze and work through their emotions and feelings. Recovery should allow people to begin focusing on their own needs rather than the struggles of addiction. This is why it's so important for people to go through individual therapy. During these sessions, individuals can gain the skills they need in order to walk through recovery and avoid relapse. 
As mentioned earlier, DBT works to help encourage mindfulness. This is the act of being present, focusing on what's happening here and now. This can help to eliminate impulsive behaviors, regulate emotional responses, and inspire healthy thought processes.
A Deeper Look at the Goals of DBT: Support, Cognition, and More
Again, dialectical behavioral therapy is a type of cognitive behavioral therapy. CBT addresses unhealthy, negative, and harmful thought processes. These thinking patterns often occur in the lives of those who are suffering from addiction. They can cause people to think less of themselves or avoid taking care of themselves. For instance, a person who is struggling with alcohol use disorder (AUD) may think thoughts such as "I don't deserve to live a happy life. My addiction has torn apart my family and it's my fault." This way of thinking may lead to intense feelings of shame and guilt. These feelings can certainly stand in the way of recovery.
Cognition
CBT strives to help identify unhealthy thought processes and replace them with healthy and positive ones. Having positive and healthy thoughts can encourage people to focus on the present rather than the past. (This is not to disregard the importance of accountability and responsibility for past actions. Still, it's helpful to avoid feelings of guilt in order to move forward.)
Acceptance
Dialectical behavioral therapy focuses a lot on the importance of acceptance. While in recovery, individuals may struggle with thoughts of failure and feelings of shame. Sometimes, it can be hard to take a step in a new direction because of these emotions. But, the sooner individuals can develop a sense of acceptance and understanding for themselves, the sooner true recovery and healing can begin.
Acceptance involves and understanding and genuine care for oneself. So, those who are in recovery can benefit greatly from developing an acceptance for himself or herself. Also, acceptance is the act of accepting experiences of the past and focusing on the present. In other words, it's acknowledging the past while focusing on the present and building the future.
Support, Accountability, and Interpersonal Skills
Dialectical group therapy methods help to provide the support and guidance people need as they seek to end substance dependence. While working with a group of other recovering individuals, people can gain interpersonal skills, learning to effectively work with others.
Part of the main goal of any type of therapy, including DBT, is to help people to develop and implements skills that they can use even after treatment is over. Collaboration is a necessary skill, both in recovery and life in general. So, through group therapy approaches within dialectical group therapy, individuals can become more comfortable with a skill they will need during and after treatment.
Group therapy also provides people with 2 very important components: accountability and support. Those who are working to end substance use in their lives need to surround themselves with supportive people. Sometimes, people can get support from family members and friends. But, this isn't always the case; some individuals have no support system at home. Without the support of those around you, it may be hard for you to maintain freedom from addiction. But, in therapy, you can develop healthy friendships and connections with like-minded people. This includes therapists and other individuals who are in recovery.
Not only will these individuals help to support your journey, but they'll also help to hold you accountable. Accountability is one of the most important things an individual can have throughout recovery and a good support system can help to provide it. Support and accountability help people to stay on track and remain free from substance dependence.
Can Dialectical Behavioral Therapy Help Me?
When it comes to getting treatment for addiction, individuals may be unsure about where to start. They may wonder how to choose the right facility or the right program. It can be difficult to decide what's best. But, here at Discovery Institute, we work to help individuals through a unique and specific approach. Each person who comes to us has needs that their treatment program should address. So, we strive to make sure this happens.
Therapy is a critical part of addiction treatment. DBT is just one of the many types of therapy that can help individuals who are in treatment for substance use disorder (SUD). It can help to treat people who are struggling with addiction as well as the following disorders:
Anxiety
Bulimia
Depression
Bipolar disorder
Binge eating disorder
Post-Traumatic Stress Disorder (PTSD)
So, this type of therapy may be very helpful for those who may have a dual diagnosis consisting of a mental health disorder and a SUD.
Getting Treatment At Discovery Institute
Here at Discovery Institute, we understand the importance of moving forward. But, we also know that it takes time and patience to do so. Our team knows that many of those who come to us for help are struggling to overcome addiction and its negative effects on their lives. So, we strive to make recovery accessible and obtainable for each individual.
If you are struggling with addiction or co-occurring disorders, just reach out to us today. Allow us to help you find true freedom from substance dependence.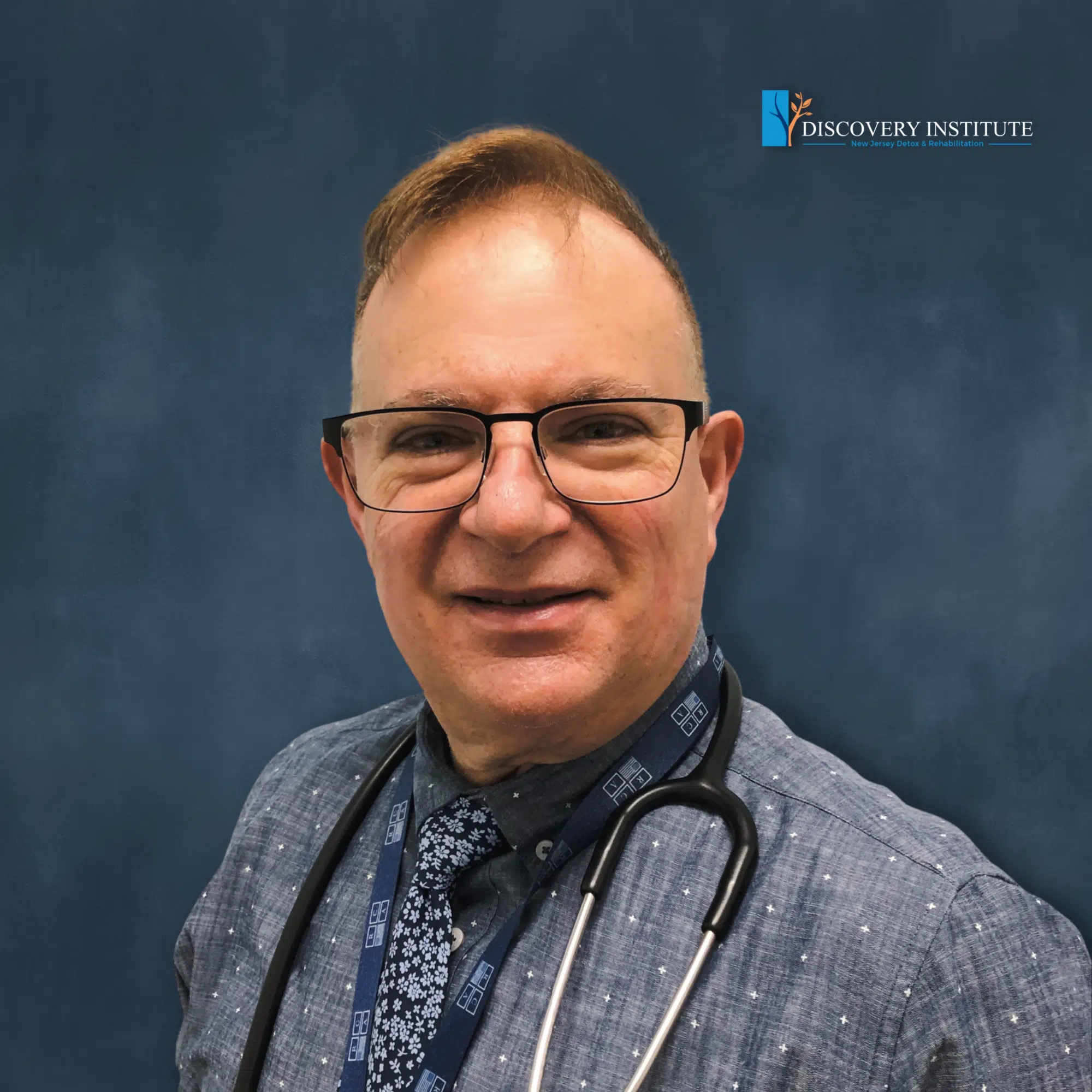 Dr. Joseph Ranieri D.O. earned his BS in Pharmacy at Temple University School of Pharmacy in 1981 and His Doctorate Degree in Osteopathic Medicine at the Philadelphia College of Osteopathic Medicine in 1991. He is Board Certified by the American Board of Family Medicine and a Diplomate of the American Board of Preventive Medicine Addiction Certification. Dr. Ranieri has lectured extensively to physicians, nurses, counselors and laypeople about the Disease of Addiction throughout New Jersey and Pennsylvania since 2012.