The common thought regarding rehab is that it is the end-all-be-all for addiction. Addiction should be seen as a treatable disease like any other. The stigma involved with addiction and treatment can be discouraging to those who wish to rid themselves of this disease.
Addiction is complex and subtle, so treatment and the language involved should mirror that. The success rate of rehab is always in question, considering that relapse is an inevitable part of the recovery process. Relapse should be considered a window into the unpredictable nature of addiction but that does not mean the person is unworthy of growth.
Multiple studies have demonstrated the benefits of receiving treatment, illuminating the drug rehab success rates. Drug treatment facilities are generally funded at the state and federal levels to combat the addiction crisis in our nation. Private or employed-backed treatment options are also available.
Those that begin and remain in treatment are at a higher likelihood of maintaining sobriety. Successful recovery requires self-accountability and finding others who empathize with your journey.Relapses have increased since COVID-19 invaded our global landscape.
The increased isolation and uncertainty of our times have led people to cope with these challenges alone. According to Medscape, drug overdoses have been the leading cause of injury-related accidents in the United States. Successful recovery is defined by the person's motivation and the quality of their support system to guide them.
The Success Rate of Drug Rehab
So, you've recently undergone an intervention for cocaine addiction and now you're wondering if rehab is for you. You weigh the success rate of rehab considering that a close friend of yours relapsed two years prior. However, the drug rehab success rate can be determined by many factors, including length of stay.
According to the National Institute on Drug Abuse, there are nearly 14,500 specialized drug treatment facilities offering behavioral therapy, medication, and other services in the United States. Conventional treatment programs offer 30 days, 60 days, 90 days stays but extended programs are available. Patients who spend up to 60-90 days of treatment have higher chances of recovery but these chances increase with these positive outcomes.
The continuum of care lays the foundation for receiving treatment throughout the recovery process. Addiction treatment programs can vary from inpatient, outpatient, medically assisted, and aftercare.
Detoxification
Detoxification is the preliminary step in the addiction treatment process. For the patient to fully receive the continuum of care, they must rid their bodies of the addictive substances or behaviors to start fresh. Inpatient treatment programs or residences offer the patient an opportunity to receive 24-hour care and a trigger-free environment.
Outpatient treatment programs are more flexible and defined by similar therapeutic practices to inpatient treatment. Medically assisted treatment is provided at a hospital or clinic, usually admitting opioid or alcohol-dependent patients. Aftercare is a treatment service that could include group therapy sessions and continuing support through peers and mentors.
Co-Occurring Disorders
Another factor that determines the success rate of rehab is individuals struggling with co-occurring disorders, which is a combination of a mental health and substance use disorder. Dual diagnosis treatment is designed to target the internal causes of addiction because treating one can only prompt the other to return. For example, if you have depression and a substance use disorder, treating the substance use disorder will not mean the anxiety will disappear.
The cost of treatment can be a deterrent in seeking support through recovery. Most insurance companies see rehab as a critical resource in the medical field of behavioral health, so payment options are available. Going into treatment today could prevent further social and financial impacts in your life among others. Addiction treatment should be accessible for all of those who seek to better themselves, regardless of the severity.
Which Is Better? Inpatient vs Outpatient Rehab Success Rates
It's difficult to effectively compare inpatient and outpatient treatment because the severity of the addiction dictates the treatment chosen. The standards for a successful run at a facility can be vague and most facilities don't follow up with their patients. Inpatient treatment is notable for keeping the patients in a 24-hour residence and upholding the responsibility of the patient.
The success rate of inpatient rehab could be attributed to the isolation from trigger factors in the patient and round-the-clock medical supervision. The duration of an inpatient rehab will typically be shorter in comparison, due to the amount of care and time dedicated to treatment. Outpatient treatment offers more flexibility and real-time applications for their patients to practice what they've learned. Outpatient treatment has a longer duration due to how the facilities portion out scheduled therapies.
How Is Treatment Success Defined?
Many factors define the success rate of rehab but success in rehab doesn't necessarily equate to a successful recovery. The language of "recovery" and "treatment" are often interchangeable, since recovery is defined by a life-long journey while treatment is through the therapeutic tools. Since addiction is a disease of the mind, it's hard to exactly pinpoint the true benchmarks of recovery. 
Facilities will define their version of success from their admissions. Treatment is defined by its ability to reduce the symptoms of addiction and provide alternative coping mechanisms to the patient through therapies.
Successful treatment outcomes could be defined by:
The ability to reduce cravings
Reduced use of addictive substances or behaviors
Improved physical and mental status
Improved legal and social status
Better employment opportunities
Offering continued support or services for long-term recovery
Building a peer and mentor network
A high nurse-patient ratio is a factor to look for in a credited treatment facility. The more attention and care you receive as a patient will directly influence the success of recovery. Medication can be beneficial to those experiencing deeply uncomfortable withdrawal symptoms as they seek treatment.
Medication along with therapy is a substantial tactic to permit long-term recovery. The success rates of rehab are defined by private companies. As a result, it can be hard to determine the actual success of the overall recovery of each patient.
A small portion of facilities keep this data and there are no guidelines for what that means. Finding an accredited facility that fits your needs is your best bet towards healing. The facilities that implement evidence-based treatment are more reliable at addressing the complications of addiction and you should thoroughly research the staff before admittance.
How Can You Identify Effective Treatment?
You can identify effective treatment from how well the components of your life improve over time. Each facility is going to provide you with different therapies and treatment practices, so it's important to look for one that fits your needs. Effective treatment is determined by how well it affects multiple aspects of the patient's life, including nutrition and education.
The more equipped the patient is to deal with their internal and external struggles, the higher the chances will be for their long-term recovery. Imagine a soldier being geared for war with all the possible training and tools at their disposal to combat their enemy.
Most people struggling with addiction do not seek treatment. The first step you made toward recovery was brave and now the clearing is stretched out for more lessons. Effective treatment is a better alternative to mass incarceration, where a patient has a stronger chance of evolving through therapies and medication.
What Are General Relapse Rates?
With 40-60% of individuals in recovery relapsing, it is not hard to imagine someone questioning the success rate of rehab. Relapse is best defined as returned use to an addictive substance or behavior after attempting to quit. The way addiction manipulates the brain relies on the repetition of pleasurable behaviors. These can include taking a drag from a cigarette or being rewarded chocolate for exercising.
A relapse might appear to be sudden within the support system of someone struggling with addiction. Relapse comes in phases and if you keep a close eye, you can pinpoint where you or a loved one are falling under. A freelapse is best defined by the unintentional use of a substance or behavior after committing to abstinence.
The emotional phase of relapse could begin with you withdrawing from others and suppressing intense emotions related to your recovery. You may not be thinking directly about using but the seeds are there — you might miss a meeting or lie about your feelings to a close one. The mental phase of relapse is where the thoughts of use have started to form and you interact with old thought patterns or people.
You might be reminiscing about the last hit you took or the party that you blacked out in freshman year of college. This phase usually prompts the physical stage, where you end up using "just this once". This phase is the most harrowing because the person is fighting two battles: to remain sober and to escape the temporary pain.
What Does Recovery Look Like After Treatment?
Recovery is an ongoing journey and the patient should be aware of this as they continue to embark. Someone struggling with addiction could find themselves participating in group therapy sessions for support along with individual therapy to address daily struggles. Since relapse emerges in phases, beginning emotionally, it's vital to understand your emotional state to prevent urges to use. Discovering a new hobby or group sport can serve as an excellent opportunity to develop self-confidence. Maintaining your relationships in your support system is crucial to recovery because you'll need people to lean on when the storm gets worse.
Recovery Begins with Discovery Institute
The recovery journey for any person can bring about some difficult choices and points of reflection. Discovery Institute offers a wide range of treatment options to suit your needs. Maintaining sobriety is a lifelong course but it does not have to be harsh. Relapse can be a great learning experience for those struggling with addiction. If you or a loved one are battling this disease, reach out to us soon.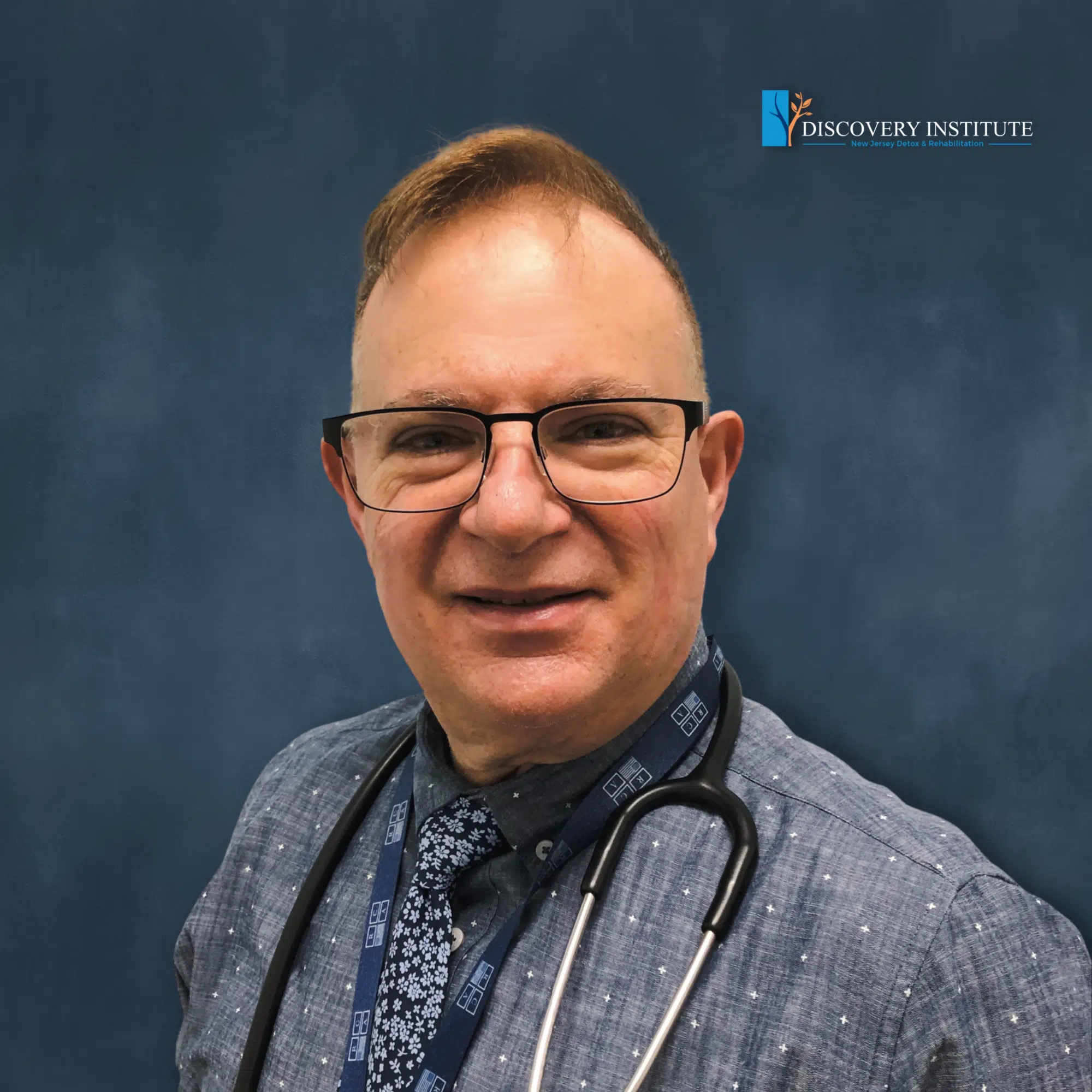 Dr. Joseph Ranieri D.O. earned his BS in Pharmacy at Temple University School of Pharmacy in 1981 and His Doctorate Degree in Osteopathic Medicine at the Philadelphia College of Osteopathic Medicine in 1991. He is Board Certified by the American Board of Family Medicine and a Diplomate of the American Board of Preventive Medicine Addiction Certification. Dr. Ranieri has lectured extensively to physicians, nurses, counselors and laypeople about the Disease of Addiction throughout New Jersey and Pennsylvania since 2012.