World Mental Health Day, October 10th
We all have the opportunity to help the world come together on World Mental Health Day. On this day we try to make a difference regarding the neglect of mental health in the past. World Mental Health Day offers the opportunity to make life-affirming changes and take action to improve mental health around the world.
By recognizing these illnesses and the effects they can have on people, we can slowly begin to make a difference together. Offering a helping hand to close relatives or friends can go a long way. The first International Health Mental Day took place 30 years ago. Since then, the push for awareness and mental health help has continued to rise.
A Closer Look at Mental Health
Information on mental health can be found on the internet, magazines, and newspaper articles. Around the world, people are continuing to make improvements to mental health systems. Learning and being informed about mental health issues can go a long way.
Fortunately, you can be a participant in this year's International Mental Health Day on October 10th. If you or a loved one is struggling with a mental illness, help is just around the corner. At Discovery, we believe that everyone deserves to live a healthier and better life, regardless of where you are. This is one of the main pillars of World Mental Health Day.
World Mental Health Day and the Pandemic
COVID-19 has completely changed our world in dramatic ways. We are living in difficult times as many people are indoors trying to quarantine. This quarantine and lack of contact can make getting help that much harder. But it's important to know that help is still available and achievable, even during quarantine.
Many people turn to drugs and alcohol to cope with stresses like COVID-19. There's a new level of paranoia that has caused fear, stress, and anxiety within many people and families. Social isolation has also contributed to the spike in mental or substance use issues in homes around the country. This is especially true if you lost anyone to the virus during these lonely times.
Does International Mental Health Day Help with Mental Health Stigmas?
There are certain negative stigmas around mental health. People may judge a person for their personal characteristics or traits. With this in mind, it's important to know that no one should be judged by how they think or feel. Stigmas can have negative effects on how people perceive getting help and necessary treatment.
World Mental Health day is meant to break this negative stigma and show that those struggling with mental illness are not alone. International Mental Health Day is helping to change negative beliefs and attitudes.Whether it is intentional or not, negative comments about your mental health hurt. However, this should not stop anyone from getting the treatment they need.
Are you being judged as dangerous, violent, or unstable just because you have substance use or mental issues?
Are you judging yourself?
Answering yes to any of these questions means this day is even more important for your mental stability.
Harmful Effects of Stigma
If you are being treated unfairly due to stigma, you may be experiencing one or more of the following.
Reluctance to ask for treatment or help
Feeling of having fewer opportunities for social activities, employment, or housing
Worried your treatment is not covered by your health insurance
Your friends, family, and co-workers do not understand what you are going through
Belief that you are unable to improve your situation or succeed
Suffering from harassment, violence, or bullying
Mental Health Statistics in the United States
Mental health statistics in the United States speaks volumes about the current state of mental health. Approximately 46.6 adults in the U.S. (over the age of 18) suffered from a mental illness in 2017. 18.9 percent of every adult in the U.S. (Roughly 22.3 percent of women and 15.1 percent of men) are currently suffering from mental illness.
Adults between the ages of 18 and 25 are affected the most at 25.8 percent. The percentage for adults (between 26 and 49 years of age) is 22.2 percent with people over 50 at 13.8 percent. Those who are mixed race were in the 28.6 percentage, white was 20.4, and Asian at 14.5.
Is Addiction Considered a Mental Illness?
What many don't realize is that substance use is considered a mental illness. This is because a person's normal priorities and desires change. A person may not be able to go to school, work, or sustain a good relationship with family and friends. These issues are a good indication of the importance of mental health awareness.
Celebrating Mental Health Day
There are many different ways of celebrating Mental Health Day. Helping to raise awareness regarding substance use and mental health awareness, and helping loved ones understand their mental illnesses are both great ways to help. Also thinking about one's own well being is part of today's event.
There are different things a person can do to push for a healthier mind. Exercise is a great way to improve both a person's physical and mental health. Spending time with your friends and family, painting, or writing in your journal are all ways to stay mentally healthy. If you or a friend is struggling with a mental illness, don't be afraid to speak with a counselor.
Going to a counselor offers support, guidance, and help, regardless of whether or not a person has mental illness symptoms. Stressful events can push people over the edge mentally. This is why it can be beneficial to speak to a professional.
Thinking of the bigger picture, there are many ways to raise awareness. While a person's mental health is important every day of the year, today we reiterate its importance. This is the reason why staying educated and informed can help others to seek help if needed. Today, don't be afraid to ask for help or reach out to a friend in need.
Symptoms Linked to Mental Illness or Addiction?
With drug addiction and mental illnesses, there are a number of specific symptoms depending on the drug. However, there is a common handful of behavior changes that can indicate a deeper problem. Some of these general signs include:
Changing behavior
Neglecting your hygiene and health
Refusing to ask for treatment
Impulsive or erratic behavior
Avoiding social activities or events you used to enjoy
Poor performance at work or school
Disillusioned thinking
Difficulty with your daily responsibilities and tasks
Suicidal thoughts or exhibiting suicidal behavior
Difficulty managing your finances
Types of Treatments Available for Mental Illness and Addiction
There are a number of effective treatment options for both a mental illness and addiction. Psychologists, physicians, counselors, mental health aides, and nurses are all available to help. Some treatment options may work better than others, so it's important to be informed of each of them. Let's take a look at some of the more common forms of addiction and mental health treatment.
A dual diagnosis occurs when someone is struggling with a substance use disorder and a mental illness. This type of condition typically requires intensive treatment (usually residential). Over time these two illnesses can begin to feed off each other, which only worsens the situation. A vicious cycle can occur where a person needs a substance to cope with their mental illness.
Residential treatment is a common type of intensive treatment. A person will receive care 24/7. Residential treatment includes a mix of individual, group, family therapy, and support. Treatment can take anywhere from 28 days to six months or more. Living in a treatment center allows for full support and effective treatment for long term sobriety.
Many times a person will receive help from licensed mental health workers to help them become and remain sober. A treatment center is available regardless of your age, type of substance use, mental health issues, personal trauma, and concerns. If you have previously received care, you might require residential treatment to help you succeed in long-term sobriety.
Outpatient treatment allows a person to live out their life while still getting treatment. This typically consists of weekly meetings (that last around 2-3 hours each). Outpatient treatment is great for moderate cases of addiction and mental illness. It is convenient and gives people struggling with addiction help while managing their life at home. For more severe cases of addiction or mental illness, inpatient treatment is prefered. Inpatient (residential treatment) provides full 24/7 help.
We're ready to help you towards a better future. Let Discovery be your guide to a brighter, and healthier mind and body. Contact us today to learn more about our treatment options and addiction resources.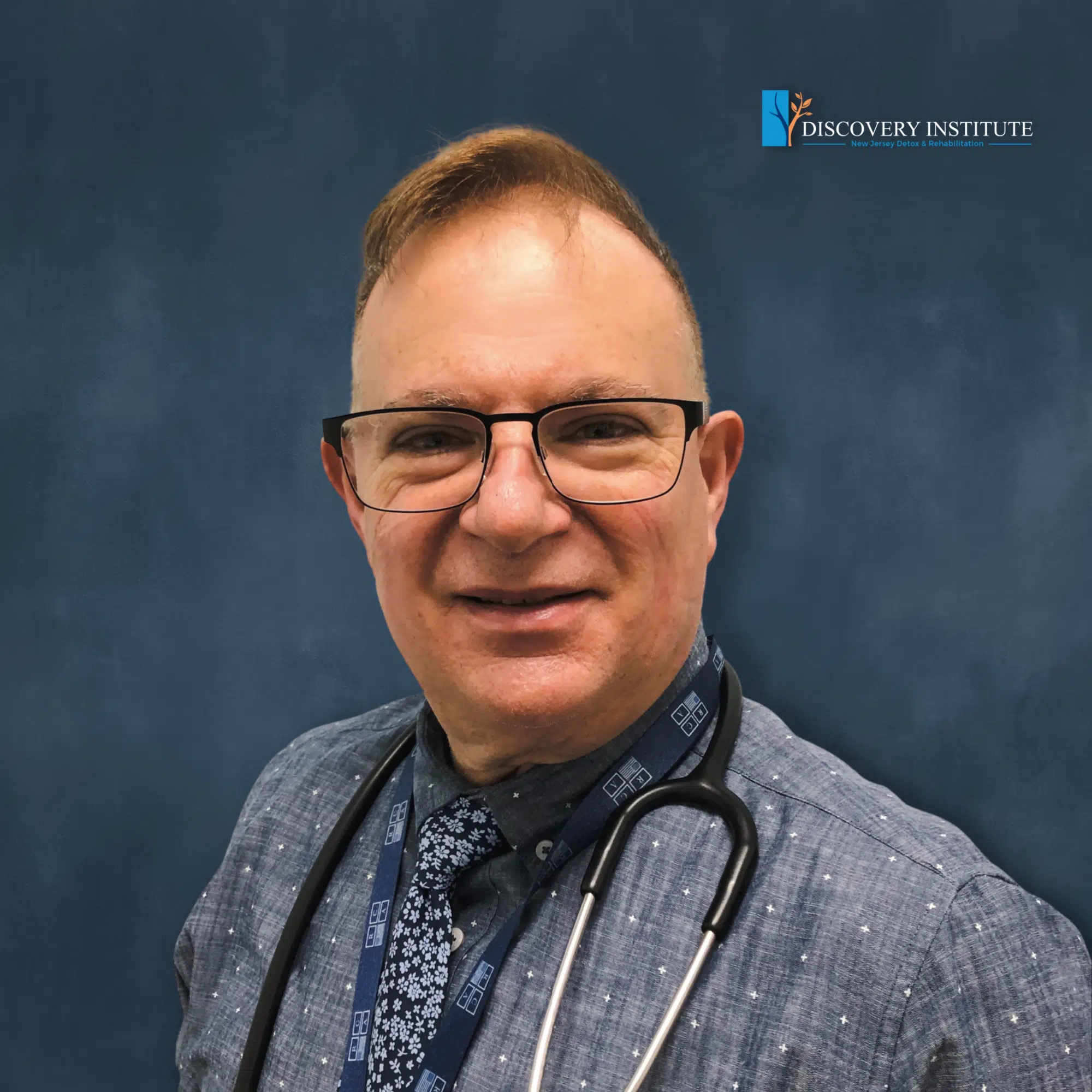 Dr. Joseph Ranieri D.O. earned his BS in Pharmacy at Temple University School of Pharmacy in 1981 and His Doctorate Degree in Osteopathic Medicine at the Philadelphia College of Osteopathic Medicine in 1991. He is Board Certified by the American Board of Family Medicine and a Diplomate of the American Board of Preventive Medicine Addiction Certification. Dr. Ranieri has lectured extensively to physicians, nurses, counselors and laypeople about the Disease of Addiction throughout New Jersey and Pennsylvania since 2012.