You're heading off to college for the first time. The excitement and anticipation of newfound freedom and independence are intoxicating. According to the New Jersey Department of Health and Senior Services Drug and Alcohol Abuse Report, the state has more than 60,000 drug treatment admissions annually. Of all treatment admissions, 42% reported heroin as one of the most commonly abused drugs, while 13% reported having a cocaine addiction, and 9% reported having a marijuana addiction.
In 2020, it's notable that one in every eight young adults had engaged in illegal drug use, and a significant 43% of college students were involved in drug abuse. In light of these statistics, it is critical to recognize and comprehend the risks involved. Peer pressure and the desire to fit in are powerful forces, especially at this stage of life. The pressure to engage in risky behavior in exchange for social rewards can lead even the most level-headed students down a dangerous path.
At Discovery Institute in Marlboro, New Jersey, our rehab facility explores the importance of peer pressure and substance abuse and provides treatment programs and therapy services to effectively manage behavioral health issues.
What is Peer Pressure?
As the summer draws to a close and August approaches, college students across the country are preparing to head back to school. While many people associate peer pressure and substance abuse with high school students, it is equally important to address these issues within the college student population.
Peer pressure is a form of social influence that can have a significant impact on the behaviors and decisions of college students. In a new environment, college students may feel the need to fit in and be accepted by their peers. This desire to belong can make individuals more susceptible to peer pressure, particularly when it comes to substance abuse.
Substance abuse among college students is a prevalent issue that can have devastating effects on individuals, their families, and the broader campus community. The availability and accessibility of alcohol and drugs, combined with the desire for social acceptance, can create an environment that encourages risky behaviors.
How Does Peer Pressure Contribute to Substance Abuse?
When it comes to substance abuse, peer pressure can be a significant contributor. Many individuals, particularly adolescents and young adults, may feel pressure to engage in substance use to fit in or be accepted by their peers. This pressure can come in various forms, such as direct persuasion or more subtle social cues.
In some cases, individuals may feel obliged to use substances to maintain their social status or reputation within a certain group. The fear of being rejected or excluded can be a powerful motivator for engaging in substance abuse, even if the individual may not have a personal desire to do so.
Additionally, peer pressure can create a sense of normalization around substance use. If individuals within a person's social circle are regularly using substances, it can create the perception that substance use is normal and acceptable behavior. This normalization can make it more difficult for individuals to resist the temptation to engage in substance abuse.
Furthermore, peer pressure can also play a role in shaping attitudes and beliefs about substance use. When individuals are constantly exposed to peers who engage in substance abuse, it can influence their perception of the risks and consequences associated with such behavior. This can lead to a skewed understanding of the potential harm that substance abuse can cause, further increasing the likelihood of engaging in such behavior.
It is important to note that while peer pressure can be a significant contributing factor to substance abuse, it is not the sole cause. Substance abuse is a complex issue that is influenced by a combination of genetic, environmental, and psychological factors. Addressing peer pressure alone may not be sufficient in preventing or treating substance abuse, but it is an important aspect to consider in comprehensive prevention and intervention strategies.
What are Some Ways People Experience Peer Pressure to Use Substances?
In today's society, there is a lot of peer pressure to use drugs and binge drink. It is far too easy to obtain both legal and illegal narcotics for recreational purposes. In the workplace, at school, in the neighborhood, or even at home, temptation can be present. Peer pressure can be direct, subtly applied, or harsh.
How Can Young Individuals Combat Peer Pressure and Drugs?
Peer pressure during the college years can be intense. Your friends suddenly have much more freedom and independence, and some may experiment with drugs or alcohol. How can you avoid following suit? Here are some tips to combat peer pressure and make healthy choices:
Receive Help for Addiction at Discovery Institute
Are you a young college student facing the challenges of addiction? At the Discovery Institute, we understand the unique struggles that young adults like you may encounter. Our specialized addiction recovery program is designed to provide tailored support, empowering you to overcome substance abuse and regain control of your life.
Through evidence-based therapies, individualized treatment plans, and a supportive community of peers, we're here to guide you on the path to recovery. Our dedicated team of professionals is committed to addressing the physical, emotional, and psychological aspects of addiction to help you achieve long-lasting wellness.
Whether you're dealing with alcohol, drugs, or any other addictive substances, our comprehensive program offers a safe and nurturing environment where you can heal and grow. Reach out to us today to embark on a transformative journey toward a brighter, substance-free future. Your healing begins here at the Discovery Institute.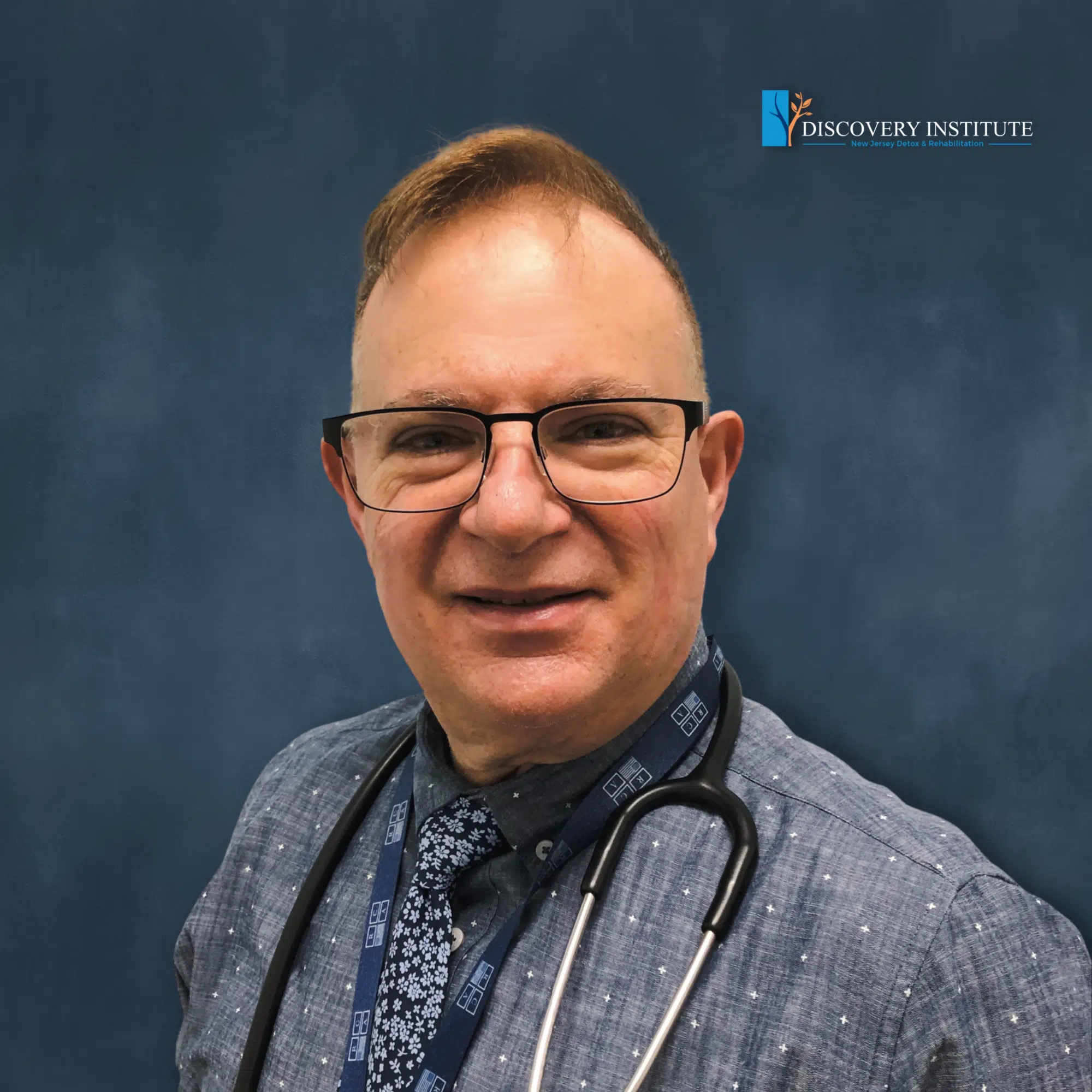 Dr. Joseph Ranieri D.O. earned his BS in Pharmacy at Temple University School of Pharmacy in 1981 and His Doctorate Degree in Osteopathic Medicine at the Philadelphia College of Osteopathic Medicine in 1991. He is Board Certified by the American Board of Family Medicine and a Diplomate of the American Board of Preventive Medicine Addiction Certification. Dr. Ranieri has lectured extensively to physicians, nurses, counselors and laypeople about the Disease of Addiction throughout New Jersey and Pennsylvania since 2012.