Drugs aren't just what seedy men with long trenchcoats sell in alleyways. They are a common breakfast beverage and guilty snack. A drug is a substance that changes someone physically or mentally. Caffeine is a drug. Tobacco is one, too.
Some legalized drugs are controversial. A few states made legal weed news during the last election. One even passed legal mushrooms. There are two sides to whether this was the right move or not.
What Has Happened To States With Legalized Drugs?
To put it another way, some drugs are legal. Yet, some states have taken a liberal approach to controversial substances. Marijuana is one of them. Legal mushrooms are another. Since November 4, 2020, more states have loosened their legal stance on it. Although this may be true, the federal government still has a war on drugs.
As of now, 35 states have legalized/decriminalized marijuana for either recreational or medicinal purposes. Oregon decriminalized small amounts of hard drugs. Also, Oregon approved legal mushrooms with psilocybin in them. As of the last election, these are the 15 states with recreational marijuana:
Alaska
California
Colorado
Illinois
Maine
Massachusetts
Michigan
Nevada
Oregon
Vermont
Washington
Arizona
Montana
New Jersey
South Dakota
Recreational marijuana is old legal weed news to some states. Using weed as medicine is even older. To illustrate, PubMed Central (PMC) states California has used cannabis for medical purposes since 1996. States that have legalized drugs like marijuana first can indicate long-term effects.
Colorado
To begin with, Colorado is one of the first states to legalize recreational marijuana. Furthermore, a bill passed in 2012 to make it official. This state served as a test drive in some sense.
To continue, this state decriminalized marijuana for medical purposes before recreational. However, recreational was taboo not even a decade ago. At present, its capital, Denver, totes $320.8 million in revenue from marijuana sales taxes. Unsurprisingly, it's been rated the state with the best economy.
On the other hand, Denver Public Health reports that hospitalizations possibly due to marijuana have gone up. As a result, there were around 550 pot-related hospitalizations per 100,000 in 2020 in Denver. In 2011, this number was under 400.
Washington
Also, Washington state made legal weed news in 2012. It was passed in 2011 before a governor partially vetoed it. This bill was labeled I-502. The Drug Policy alliance paints a pretty picture for statistics tied to marijuana legalization.
In summary, one year into pot legalization, this state saw $83 million generated from taxes. In addition, it saved millions on resources for law enforcement. Traffic violations and youth use didn't increase. But, violent crime decreased since it was passed.
Oregon
In 2014 Oregon passed retail marijuana into law. In more recent times, they decriminalized small amounts of hard drugs. More notably, in 2020's election they passed legal mushrooms with psychoactive effects into law. This makes it the first state to do so.
Oregon uses revenue from marijuana taxes to fund drug addiction treatment. Their position around drugs is that it is a medical disorder instead of a criminal offense. In this way, those with a substance use disorder are offered an alternative to jail time: lasting recovery.
Massachusetts
Moreover, Massachusetts legalized weed in 2016. Massachusetts Public Health projected that pot would boost state revenue by $215.8 million within the first two years. It comes as no surprise that it has the seventh-best economy. This state was one of the first to have recreational dispensaries.
In contrast, what are the health implications? Since its legalization, rates for fatal car accidents where the post-mortem results showed THC increased. With this, 34% of citizens in Massachusetts that consume pot drive while high. Young adults make up the bulk of those who use marijuana.
Legalized Drugs and Addiction Rates
At the present time, research indicates that cannabis use disorders have increased from 2008-2016. An independent study by JAMA Psychiatry surveyed 505,796 participants. They did this before recreational pot was legal and afterward. This is what their research found:
Ages 12-17: cannabis use disorder went from 2.18% to 2.72%
Ages 26 and older: cannabis user disorder went from 0.9% to 1.23%
Frequent use by ages 26 and older went up by about 23%
Social benefits increased along with public health concerns
Hence, a more lax approach to marijuana has increased drug dependency. The study went on to say that it was unclear whether or not it had to do with medical marijuana or retail. However, adolescent cannabis dependency went up by almost 25%. This number is higher for adults 26 and over. Calculations show that addiction rates went up by about 37%.
JAMA Psychiatry notes that these spikes might be due to newfound availability, a price decrease for pot, and unperceived risks. Cannabis use disorder in youth, in particular, leads to health complications. It also leads to economic and social obstacles.
This presents a tricky question. Should drugs be legalized even when they are known to increase addiction rates? How can our country avoid higher addiction rates in lieu of criminalization? Addiction treatment programs may be the answer.
Legalized Drugs and Incarceration
In short, recently legalized drugs may hurt public health but help social justice. In the distant past, people with alcohol dependencies were thrown into mental asylums or in jail. But, psychiatric research ultimately showed it was a medical condition, not a moral impairment. While alcohol is socially acceptable across the USA, recently legalized drugs aren't.
In contrast, those who use them recreationally or who have a substance use disorder are treated as criminals. This applies to states who have a rigid approach to drugs. Alcohol and other substances can impair those who are dependent upon them. Yet, alcohol is legal federally while others aren't.
Besides, both Oregon and Washington found that legalizing marijuana improved incarceration rates. According to the Oregon Health Authority, Marijuana arrest rates in Oregon went from 31 per 100,000 adults arrested in 2011 to 3. Combined studies show how incarceration for drug dependency hurts citizens:
Hurts chances of employment
It disproportionately affects minorities
They never learn how to cure their substance use disorder
More funds need to be allocated towards prisons and law enforcement
Children are taken away from their parents
Young adults are removed from school
Non-violent arrests that have to do with substance use are common. Americans have had their entire lives derailed because of drug possession. Recent legislation surrounding legalized drugs has taken this into account.
Pros of Recently Legalized Drugs
Proponents of recently legalized drugs like legal mushrooms and marijuana argue the pros outweigh the cons. States who have legalized it have had a boost by the millions in terms of revenue. They can take this money to fund addiction treatment centers. In this way, people who have a substance use disorder can recover healthily.
Treating drug dependency as a medical disorder instead of a criminal offense has multiple benefits. It has to do with the fact that people within treatment centers are certified professionals. Community support specialists, doctors, therapists, wellness coaches, and psychiatrists make up teams. They are equipped to handle substance use disorders within a healthy environment.
Drug legalization has benefits:
Statewide economic boosts
Fewer funds and less time needed for the war on drugs
Adolescents can have a realistic education over abstinence
Those with addictions to hard drugs can have a softer alternative
People with medical conditions can opt for a natural alternative
Use or dependency won't derail their lives from a legal POV
People with a drug dependency can get help without fear of incarceration
Employers can't discriminate against employees who use legalized drugs without cause
Treats substance use disorders as a medical condition instead of a criminal offense
Hence, those who argue in favor of recently legalized drugs see these benefits. That isn't to say they don't believe in any repercussions for risky use. Many would like to see criminal charges towards those who are a threat to society. For example, driving under the influence should end in a criminal offense.
Cons of Recently Legalized Drugs
On the contrary, others argue there are more cons than pros. Studies show that addiction rates have risen as a whole for drugs that were recently legalized. Car accidents that are related to THC have risen with it. Advocates of this side see the danger in a lax approach to drugs.
Drug legalization has cons:
Adolescents have easier access
Public opinion on its dangers lessens
Chronic use in adults will increase
Increased availability can lead to frequent use
Health issues related to smoking will increase
Hidden health issues may surface that would have otherwise not
Addiction rates for legalized drugs will increase
Hospitalizations for legalized drugs will increase
Although the Center for Disease Control has said otherwise, many see legalized soft drugs as a gateway. In some cases, this is the truth. A person who smokes pot might end up smoking crack by accident. This could lead to a lifetime of addiction.
Legalized Drugs Can Result In Addiction
Legal or not, people can develop a dependency on anything classified as a drug. Just because a legalized drug is socially acceptable, it doesn't mean there is no danger. Habitual use creeps on without notice.
At Discovery Institute we know that drug dependency is a medical disorder. We would never judge anyone for a substance use disorder, even if it's illegal. If you or a loved one can't live without drugs and alcohol, contact us now for a permanent solution.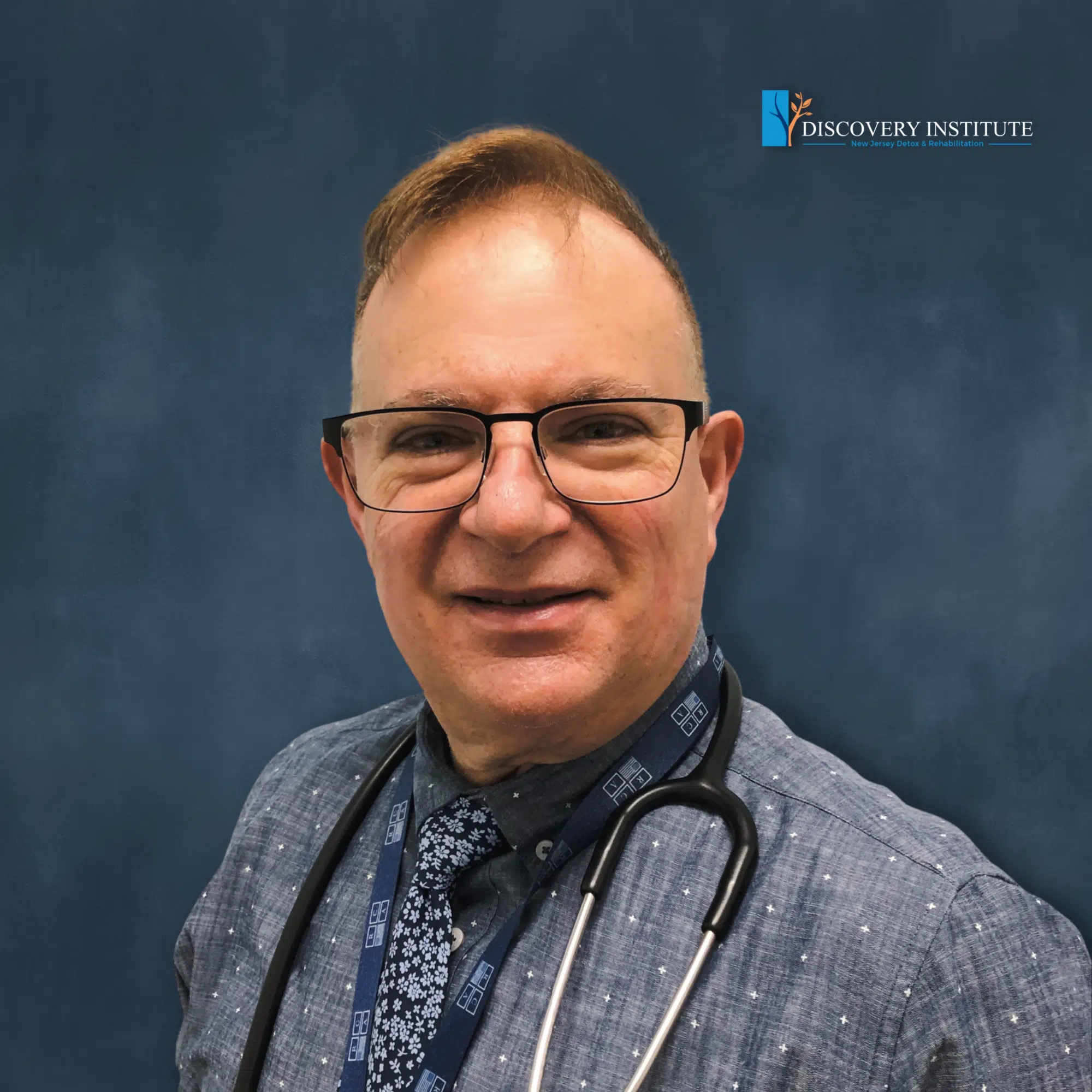 Dr. Joseph Ranieri D.O. earned his BS in Pharmacy at Temple University School of Pharmacy in 1981 and His Doctorate Degree in Osteopathic Medicine at the Philadelphia College of Osteopathic Medicine in 1991. He is Board Certified by the American Board of Family Medicine and a Diplomate of the American Board of Preventive Medicine Addiction Certification. Dr. Ranieri has lectured extensively to physicians, nurses, counselors and laypeople about the Disease of Addiction throughout New Jersey and Pennsylvania since 2012.