Heroin is a dangerous substance that has many detrimental short and long-term effects. Not only does it cause severe issues in physical health, but mental health becomes immensely impacted as well. As a result of heroin addiction, individuals may find themselves suffering from mental chaos.
We offer a variety of programs that exclusively treat heroin drug use. Each treatment program is tailored to the individual's needs. We customize all of our treatment plans ensuring that the recovering individual receives the help that they deserve.
Our programs at our heroin addiction treatment center range from outpatient to inpatient rehabilitation. Both offer a range of flexibility and commitment. Together, we'll create a treatment schedule that suits your needs best.
What is Heroin?
Heroin is a highly addictive drug derived from morphine, a psychoactive substance derived from the opium poppy plant and used to treat chronic pain. Heroin is categorized as an opioid. Other opioids include prescription pain relievers, such as codeine, oxycodone, and hydrocodone.
Heroin is a powerful narcotic and one of the most popular to ever be used by those with substance use disorder. It is also a potent depressant, almost immediately slowing down all functions of the nervous system. This system slowdown also extends to the respiratory system, slowing down breathing gradually. Once the substance is further absorbed, it slowly brings down the core temperature of the body and blood pressure as well.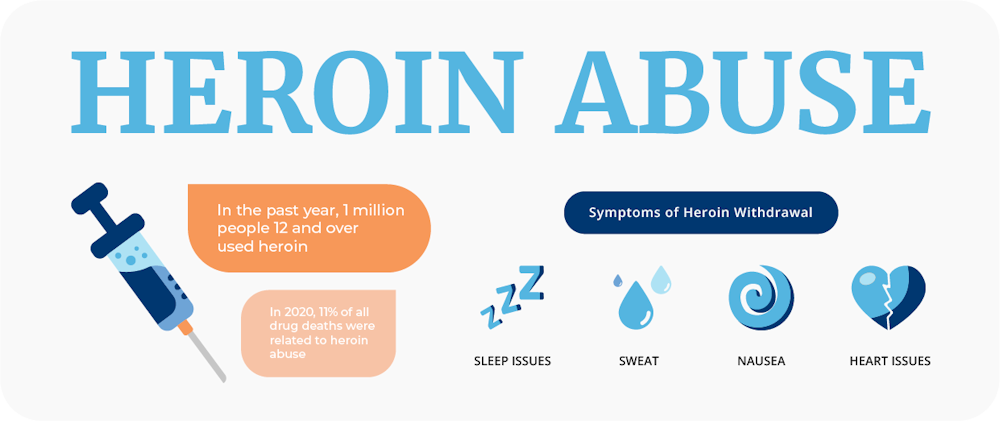 What are the Consequences of Heroin Addiction?
There are many negative consequences of heroin addiction. These include physical, mental, and emotional damage, with most of these effects staying for quite a long time. It is not uncommon for many to overdose on this substance, with the effects ranging from prolonged stupor, compromised physical coordination, coma, and even death.
Becoming aware of the consequences of heroin addiction can help you or a loved one stop drug abuse in its tracks. This is important to note, as the sooner the addiction is stopped, the greater the likelihood that the damage could be kept to a minimum. It is a certainty that the longer heroin treatment is put off, the more difficult the rehabilitation process would be. Below, are some of the many negative effects resulting from heroin addiction.
Chronic heroin users who share unsterilized heroin paraphernalia may experience:
Liver disease (from hepatitis C or otherwise)
Chronic constipation
Depression
Kidney disease
Infection of heart valves and lining
Skin abscesses or infections, possibly due to collapsed or scarred veins
Increased risk of contracting hepatitis
The National Institute on Drug misuse has also proven that long-term heroin use can change the chemistry of the brain. As a result, individuals could not function normally anymore. This can cause acute withdrawal symptoms and heroin withdrawal. There are many cases wherein the heroin abuser's behavior and personality are hardly recognizable even to those who know them quite well.
Short-Term Health Effects of Heroin
Using heroin can result in short-term health effects such as:
Euphoria, often known as the rush
Flushing of the skin
A feeling of heaviness in the arms and legs
Lessened pain, anxiety, and stress
Decreased breathing rate, heart rate, and blood pressure
Pinpoint pupils
Dry mouth
Problems with judgment and rational thinking
Long-Term Health Effects of Heroin Addiction
There are major complications associated with heroin substance abuse. The severity of these issues can vary greatly from person to person, depending on the degree of misuse and personal factors.
Medical complications as a result of heroin use include:
Problems as a result of injecting heroin, such as collapsed veins, cardiovascular issues, heart disease or heart infections, and the contraction of blood-borne diseases like hepatitis or HIV due to needle sharing.
Respiratory issues due to suppressed breathing rates.
Liver damage.
Severe mood swings and lack of emotional/mental stability
Problems experiencing pleasure from activities that once brought you joy.
Organ damage, including brain damage due to hypoxia (decreased oxygen delivery to organs).
Lower levels of achievement, problems with personal relationships, financial problems, and legal issues.
Inability to think clearly
Change in behavior, to the point where heroin addicts appear to have mental health issues
How Do Individuals Begin Using Heroin?
Dangerous health consequences resulting from the misuse of opioid medications that are prescribed for the treatment of pain, such as Oxycontin, Vicodin, and Demerol, have drastically increased in recent years. For instance, almost half of all opioid overdose deaths in the U.S. now involve a prescription opioid.
A common misconception is that these drugs are safe because they're prescribed by a doctor. However, they're highly addictive and can easily become misused. Prescribed narcotics or painkillers are drugs that are regulated, hence the prescription. Heroin is not regulated as the effects are simply too potent for safe use, it stays in the system longer than most other substances, and the side effects are just too dangerous and long-term.
Research now suggests that the misuse of prescription painkillers can lead to heroin use and addiction. Other instances show how individuals have switched to heroin because it is cheaper and easier to obtain than prescription opioids. Opioid receptors
CONTACT US
Find out how we can help
Our compassionate counselors are standing by to answer any questions you may have. After helping thousands of people over the last 50 years, we have the resources to help you and your family and all your individual needs.
Seeking a Heroin Addiction Treatment Center: You're Not Alone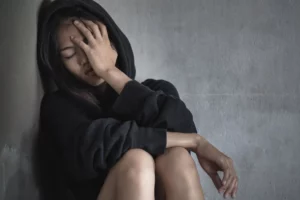 Heroin is a very potent and very addictive drug with long-lasting and highly damaging effects. Tolerance to the drug develops quickly, leading to physical drug dependence and a potential opioid use disorder. The high tolerance also results in the person taking even more of the substance just to get high, which in turn, creates more damage.
The withdrawals associated with heroin are uncomfortable enough to spur individuals to keep using the drug. Treatment for heroin misuse involves medical detox, intensive counseling, treatment of co-occurring disorders like depression or anxiety, and a long-term commitment to abstinence.
Medication-assisted treatment (MAT), methadone maintenance, is offered to individuals who have made numerous unsuccessful attempts at recovery. These individuals receive prescribed medications as a substitute for heroin. The goal is often to gradually wean people off prescribed medication, but some people remain on it for years or even for the rest of their lives.
Relationships, careers, and family life suffer because of heroin addiction. Choosing to take that first step towards heroin addiction treatment can save you or a loved one's life. With the highest quality of resources and support, our recovery center can help you make strides in overcoming addiction. Treatment centers like Discovery can help you and your loved ones get to a better place, free of addiction.
Heroin Withdrawal Symptoms
Frequent drug use can lead to intense withdrawal symptoms. This is especially true when it comes to heroin use. Withdrawal symptoms occur as a result of heroin no longer being in an individual's system./ Withdrawal symptoms range from mental fatigue and insomnia to migraine and muscle weakness.
Detox for Heroin Addiction
Heroin detox allows you to cleanse your body of toxins accumulated through substance use. It is crucial to be medically supervised during the heroin detox process. Without medical supervision, withdrawal symptoms can worsen and result in severe complications. While there might be no way to minimize withdrawal symptoms, our dedicated addiction treatment staff is here to help you through each step, making the process as comfortable as possible for you.
Partial Hospitalization Treatment for Heroin Addiction
PHPs are a great in-between for those seeking flexibility in treatment, while still receiving intensive care. Individuals will be able to attend treatment based on their unique scheduling needs. Sessions will take place throughout the week.
These sessions will incorporate a wide range of therapies to treat heroin addiction and any underlying disorders. Treatment methods in a PHP often include:
Medical support
Mental health counseling
Multiple forms of therapy, such as traditional and holistic options
Relapse prevention planning
Education about mental health conditions
Ability to enjoy indoor and outdoor amenities, as medically appropriate
Outpatient Treatment for Heroin Addiction
Perhaps you have a child at home that you must take care of. In other cases, you may be working five days a week. Either way, let's say you have serious obligations outside of treatment that you attend to during the week. Outpatient treatment works around your schedule, ensuring you get the help that you deserve.
Recovering individuals will travel to our recovery center for treatment sessions and have the opportunity to return home after. Treatment sessions can be scheduled on any day, based on what's most convenient for the individual. Sessions will include a combination of evidence-based therapies, such as cognitive-behavioral therapy and group therapy.
Inpatient Treatment for Heroin Addiction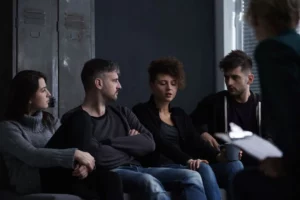 Inpatient treatment, also referred to as residential treatment, offers the highest level of care for recovering individuals. Individuals will take part in 30-90 day programs, receiving structured daily care. Daily care will include a routine that involves a combination of evidence-based treatment methods.
Residential treatment offers the highest level of care for individuals suffering from heroin addiction. Throughout treatment, recovering individuals will address the underlying mental and emotional roots of addiction.
What Kind of Therapy Can I Expect for Heroin Addiction Treatment?
At Discovery Institute, we treat heroin addiction using a wide range of evidence-based therapies. These therapies range from individual sessions to group therapy sessions.
Dual diagnosis is the presence of both an addiction and mental health illness. There are often underlying mental and emotional roots of addiction. Depression, anxiety, post-traumatic stress disorder (PTSD), and others can all have a dangerous and complex synergy with substance use. Dual diagnosis treatment addresses the causes of addiction.
CBT therapy helps to address negative thinking patterns. In CBT, you'll work through your negative thinking patterns and replace them with more positive ones. You'll also develop a toolkit of healthy coping mechanisms.
Behavior is one of the first things affected by heroin abuse, as the person starts exhibiting signs of paranoia and aggression towards others, even loved ones. Fostering a better mindset will also help to minimize or even prevent heroin relapse.
Family therapy encourages creating a stable and healthy family dynamic. All members of the family will be able to express their thoughts and feelings. Any issues the family is working through will be addressed. This is a supportive space that aids in creating stability in the recovering individual's life.
People with substance abuse issues often feel neglected, rejected, and isolated. Being with family in therapy provides the emotional support to remove these feelings and helps the person feel accepted once more.
This form of psychotherapy involves a group of clients working with one or more therapists together. The group dynamic can be a great asset to someone in recovery. In this motivating environment, individuals can give and get support.
Being able to share one's experience with drug addiction freely and without fear of being judged goes a long way to not only help in seeking closure but also in affirming that kicking the habit was the right thing to do.
Seek Help for at Our Heroin Addiction Treatment Center
If you're a struggling individual, addiction treatment can turn your life around. No matter how lost you feel, it is possible to overcome the shackles of addiction. Our center offers a wide range of resources, treatment options, and support along your recovery journey.
Once you become a member of our center, you also become a member of our family. Drug abuse treatment doesn't have to be a stressful battle you fight on your own. Our treatment plan will guide you from the beginning through the end of your recovery journey.
Please don't hesitate to contact us here with any questions, comments, or concerns regarding heroin addiction treatment. We're here to help!
Discover
Your Potential
Finding a life of happiness and sobriety is possible. You are not alone! All you need to do is take the first step.