Couples Treatment for Addiction
What is couples treatment for addiction? How can you and your partner get help today? Find out more information here.
Addiction is something that can affect anyone and everyone involved. It is not uncommon to see families and relationships torn apart by addiction. But what happens when both partners in a relationship are suffering from addiction? When both members of an intimate relationship suffer from addiction, it can create a complicated and dangerous cycle of drug misuse and dependence. The best way to tackle the problem is to attend couples treatment in a professional environment like Discovery Institute.
Suffering from addiction as a couple can be a complex and stressful experience. This holds true even when going to couples drug rehab. This is because both members of the relationship must commit to getting help, if only one person gets the treatment it can end up leading back to relapse quickly. This is why it's crucial for both people to tackle their addictions together through couples treatment.
How Addiction Affects a Relationship
Relationships, where both members use drugs, are a very common sight. Every year millions of Americans misues substances or alcohol, many of which are in relationships. Substance misuse can end up causing stress and problems in a relationship, even if the couple is actively trying to make it work. There are a few red flags when it comes to relationship troubles and substance use disorder, these include:
The need to be drunk or high to show affection or to talk to each other
Using drugs or drinking is the only activity the couple enjoys doing with each other
Both partners ignore or neglect their responsibilities and obligations (housework, school, childcare, etc.)
Domestic abuse between one or both partners (due to drug use disorder)
The deeper a couple goes into substance use and addiction the harder it becomes to resolve the problems in the relationship. Additionally, drug addiction can create an emotional distance between the couple which only adds more fuel to the fire. The only way to truly repair the relationship and move towards a better life is through couples' treatment. While it may seem like a long and grueling journey ahead, in the end, it'll allow for a happier life for you and your partner. It is possible to stay together and enjoy your lives completely free of addiction.
The Ins and Outs of Couples Treatment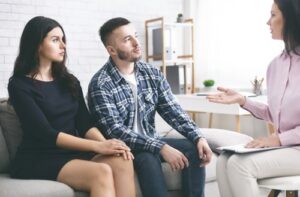 In cases where a couple has a strong and tight relationship with each other, it is recommended to go through recovery together. Working as a couple can strengthen the power of the relationship as they strive towards getting clean. There are a variety of ways that couples drug rehab can be personalized for both partners together.
Each couple is different, no two treatments will look the same. Several factors are taken into account when dealing with couples' treatment for addiction such as the severity of the addictions, the relationship dynamic, how long the addiction has been present, and other underlying factors. With this in mind, research has shown there is a great benefit to working together during couples' drug rehab.
Behavioral couples therapy (BCT) is often used to empower the relationship for sobriety and abstinence. A healthy and communicative couple has a much lower chance of relapse than those who don't. If you and your partner are both struggling with addiction, don't hesitate to take the first step towards couple treatment for addiction and substance use disorder.
Attending Couples Treatment for Addiction Together
One of the prime ways to get couples treatment together is to attend the same rehab center. Centers like Discovery Institute offer couples treatment so both partners can get help together. However, before treatment is started, it's important to have a strong, clear relationship between you and your partner. This means that both members of the relationship are equally motivated and committed to recovery and sobriety.
Being motivated and committed to changing one's habit is essential for all addiction treatments – this is no different for couples. If you and your partner go in with a motivated mentality, the chances of success increase substantially. Make sure to work through the struggles together while dedicated your time to long-term or short-term treatment as suggested.
As with all types of addiction treatment, there are many different options on a person's road to recovery. What will work best for you may not work best for your partner. This all depends on different factors (severity, needs, the drug being used, treatment needed, etc.). However, rest assured, you will be able to work together with your partner regardless of the treatment path.
Couples Residential Treatment Program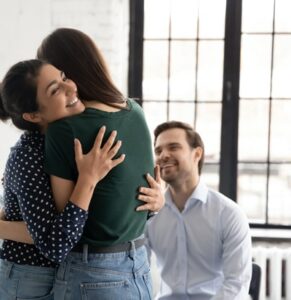 Residential treatment is a widely used method of addiction treatment for many different types of substance use disorder. Inpatient treatment usually involves a person staying at a drug-free facility for a period of time (depending on the level of care needed). This can be a few weeks or months. During this time a person typically attends therapy sessions (group or individual) and has 24/7 support from professional staff.
When attending inpatient treatment with a partner, both of you will be able to attend together while continuing a supportive commitment to each other. Couples may also have the option to attend therapy sessions together. This can help both partners work together towards addiction treatment. While different levels of care may be needed, it is still possible to go through recovery together.
Progressing Through Recovery Separately but Together
There may be few times where a couple may not be able to attend treatment together. This may be due to different levels of care and preferences. There are also certain factors that may not be best for a couple getting treatment together. An example of this may be a relationship where violent behavior or other medical issues are involved. These cases should be handled separately.
However, it is still possible to communicate and interact through therapy. There are therapy options that can involve both partners together. These can be attended through a regular schedule a few times a week. This can allow for a chance to catch up and talk through their journey so far. This can continue strengthening the bond while creating a sense of team-work as both individuals make their way through treatment.
Couples Treatment and Mental Health
Substance misuse can wound a relationship so much that it can be tough to go back to the way things used to be. After treatment has ended, there is also a chance to relapse, especially if there are still emotional scars in the relationship. Not to mention the problems with codependency and enabling behaviors before treatment. These issues should be tackled before either individual moves on to treatment.
Behavioral Couples Therapy teaches better communication and helps create a more positive and productive bond in a relationship. BCT helps to achieve the following objectives:
Create a happier and healthy relationship; fewer cases of separation and divorce when compared to individualized therapy
Lower costs for treatment by attending couples treatment together
Lowers risk and cases of domestic violence and abuse after BCT
Helps couple work together and figure out a common ground moving forward during recovery together
Overall, BCT attempts to raise the standards of a relationship and helps create a stronger bond altogether. Learning new behaviors and practicing better communication can make a huge difference during and after treatment.
CONTACT US
Find out how we can help
Our compassionate counselors are standing by to answer any questions you may have. After helping thousands of people over the last 50 years, we have the resources to help you and your family and all your individual needs.
Cases Where Couples Treatment for Addiction May not be Recommended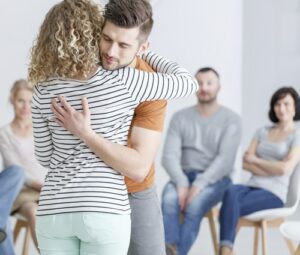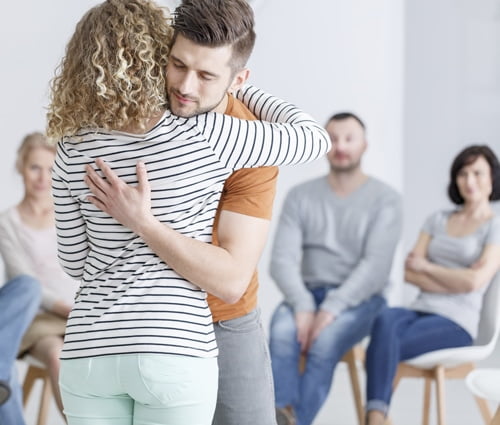 When it comes to addiction treatment, certain cases are better off not attending couples drug rehab together. A few examples of this include:
A partner is diagnosed with an antisocial personality disorder
Case of ongoing domestic abuse
Only one of the partners is willing to get the addiction treatment
Plans to end or discontinue relationship after treatment has ended
In cases where a special facility is required (for specific treatment)
In some cases, one of the individuals in a relationship may not be ready to get help. This can be a complicated situation because you can't force someone to want to change. The best course of action is to go for treatment even if it's alone. This can help you turn your life around while setting an example for your partner.
Recovering As a Couple
After a couple has completed treatment together they can continue to support each other for future endeavors. Having another person to hold you accountable and help you steer clear of triggers can be vital to avoiding relapse. Unfortunately, if one partner relapses the other may follow in their footsteps as well. This is why aftercare, relapse prevention programs, and sober living for couples is important.
Getting Help at Discovery Institute in New Jersey
Addiction can have irreparable effects on both partners in a couple. Fortunately, couples treatment is a way to break free from addiction and rebuild your relationship. No matter how bad things may appear, it is never too late to take the first step. Together, you and your partner can recover as a couple and start living a better, cleaner life for years to come. Contact us today to learn more about our treatment options and how to start your journey today.