Tele-treatment is a way for an individual with a substance use disorder to receive help through online communication. Tele-treatment is the most convenient way to receive treatment. All a person needs is a phone, computer, or laptop with internet service.
With Coronavirus bringing the world to a stop and the need for addiction treatment increasing, laws and treatment options had to adjust. State and federal governments have changed the laws, and insurance companies changed coverage policies. Addiction treatment centers have taken advantage of all online resources available to continue providing excellent patient-centered care. 
What is Tele-Treatment?
Tele-treatment uses technology to seek and receive treatment for substance use disorder. Before our current situation, Tele-treatment is used for individuals who don't have easy access to treatment. With stay-at-home orders keeping people apart, Tele-treatment is almost the only option besides inpatient treatment.
Technologies used in Tele-treatment include:
Phone-based care
Video conferencing
Smartphone apps
With 90% of Americans having smartphones or internet devices, addiction treatment and recovery is achievable no matter your situation.
How Is Insurance Changing With the Increased Need of Tele-Treatment?
Many factors have hindered the use of tele-treatment in addiction treatment. State and federal laws, HIPPA, and insurance companies have had difficulty finding protocols to cover all tele-treatment methods.
When Coronavirus started spreading and states closed down, addiction treatment specialists called for the government and the insurance companies to make changes.
Many of the states already had laws in place that require commercial health plans and Medicaid to cover tele-treatment. The laws widely vary in what services are covered. In response to Coronavirus, Eighteen states and D.C. issued emergency orders increasing the use of tele-treatment. In some states, individuals can seek treatment via phone.
Insurance companies offered minimal coverage for tele-treatment compared to in-office treatments. Only a few tele-treatment options were covered, and the co-pays for these treatments were higher than services in the office. With the need for tele-treatment for addiction on the rise during the pandemic, insurance companies are covering tele-treatment the same as in-office visits.
The Centers for Medicare & Medicaid Services updated their tele-treatment guidelines and coverage during the pandemic. And Health and Human Services updated HIPAA requirements for tele-treatment.
It is essential to check with your insurance company to verify what addiction tele-treatment services your policy covers.
What Are my Options For Addiction Services Via Tele-Treatment?
There are multiple ways to treat substance use disorder through tele-treatment. Some people have found it easier to seek treatment because of the extra feeling of privacy. Tele-treatment options include:
Phone-Based Care
Phone-based care is the oldest form of tele-treatment for substance use disorder. An individual suffering from addiction can receive support and guidance day or night via the phone. Therapists, counselors, and sponsors can continue their sessions during the Coronavirus with very little disturbance using this method.
Pre-pandemic days, laws prevented the full use of phones for addiction treatment. The biggest threat to this treatment is the fear of breaking HIPPA laws. Stay-at-home orders made the government make emergency changes. These changes allow individuals to trade in-person appointments for phone-based appointments.
Video Conferencing
Social distancing orders have caused many outpatient programs, after-care and 12-step programs to be canceled. But every person suffering from addiction knows that without these programs, continued sobriety is difficult.
Video conferencing for substance use disorders occurs through secure, confidential internet portals. Video conferencing to treat addiction has many benefits.
Convenient
Comfortable
Never miss an appointment
Closest treatment to in-person care
Insurance companies favor and reimburse video conferencing over all other forms of tele-treatment for substance use disorder. They understand the long-term health benefits of video conferencing. 9 out of 10 people have access to a smartphone or internet. This makes seeking care for SUD easier. Insurance companies understand that if seeking help is easy and private, then more people find and achieve sobriety.
Smartphone Apps
There are a plethora of apps that a person can download on their phones to aid in substance use disorder treatment. Individuals can connect with people all over the world to help on their road to continued sobriety. This is great for those who live in small areas and do not want everyone to know their business.
Why Tele-Treatment For Substance Use Disorder Increases Recovery
For many people, their substance use disorder is a private matter. They hide it from their family, friends, and co-workers. So the fear of seeking treatment and someone finding out prevents them from seeking help. Tele-treatment eliminates the fear of being exposed by allowing a person to seek help from the privacy of their home.
Not everyone has reliable transportation to get to treatment. And not everyone drives. If you live in remote areas, it can be difficult to get to treatment appointments and support meetings. With tele-treatment, you don't have to leave your house. Just pick up your phone or computer and get online. Support and treatment are only a click away.
Tele-treatment takes away many of the excuses as to why a person can't get help. Just reach in your pocket and pull out your phone.
Discovery Institute: Treating Addiction Through Tele-Treatment and More
At Discovery Institute, we understand the challenges of Substance Use Disorder. We also grasp the increasing need for addiction treatment. Our staff has embraced the challenges we face during the Coronavirus pandemic and increase our tele-treatment capabilities.
At Discovery Institute, we know that every addiction is different. For some, they require inpatient treatment to beat their substance use disorder. We are taking all precautions to keep our staff and clients safe during the Coronavirus.
Our caring staff is waiting to speak to you. Contact us today and start your new life.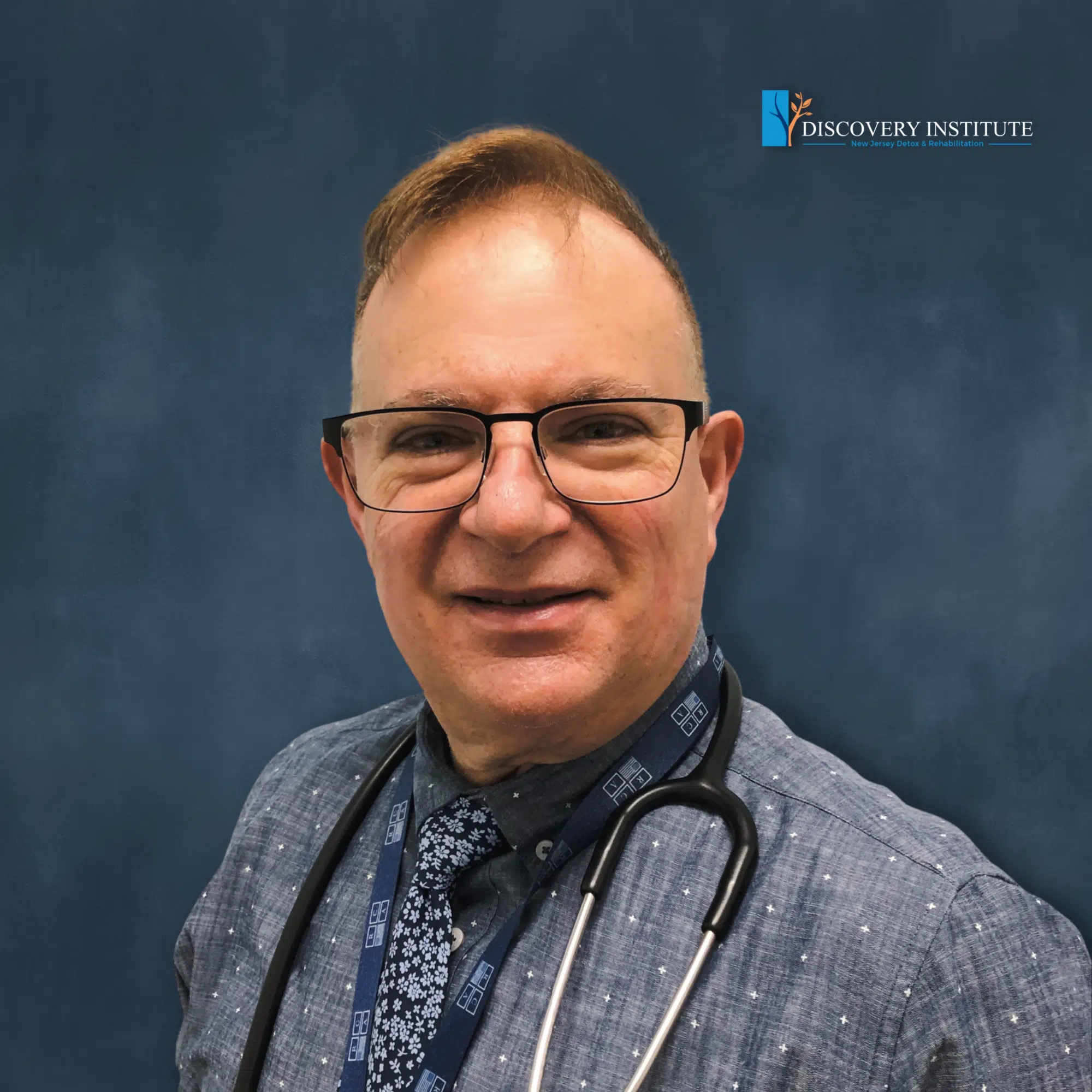 Dr. Joseph Ranieri D.O. earned his BS in Pharmacy at Temple University School of Pharmacy in 1981 and His Doctorate Degree in Osteopathic Medicine at the Philadelphia College of Osteopathic Medicine in 1991. He is Board Certified by the American Board of Family Medicine and a Diplomate of the American Board of Preventive Medicine Addiction Certification. Dr. Ranieri has lectured extensively to physicians, nurses, counselors and laypeople about the Disease of Addiction throughout New Jersey and Pennsylvania since 2012.