Drug addiction is a serious illness that affects almost 20 million Americans. Not only can it cost people their lives, but it also leaves people feeling isolated and alone. People who struggle with a drug addiction believe that they are facing it alone.
Yet, that's also not true. No matter where you are, you can reach out for help. It doesn't matter if you're looking for treatment resources in Jersey City or beyond. If you suspect you're an addict and want to get help, you're going to find it.
Keep reading below to learn more about your treatment options, and what you can do to combat drug addiction!
Drug and Alcohol Treatment Resources in Jersey City
If you're located in Jersey City, then you have several options to choose from to get help. It's a city of over 270,000 people; that means you're never alone. Keep reading below to learn more about the resources you have at your disposal to get help in Jersey City.
How Many Treatment Centers Are in Jersey City?
There are dozens of treatment centers located throughout Jersey City. Some of them are high-profile and well-known treatment centers, such as the Sunset House. Most of them also focus on inpatient treatment programs, which remove people from their lives so that they can focus on getting better.
What types of Treatment Centers Are in Jersey City?
Most of the treatment centers in Jersey City focus on inpatient treatment. That means you will need to spend a few weeks in a treatment facility. A few weeks is a small sacrifice for recovery though!
What Programs Are Offered in Jersey City?
There are programs for every kind of addiction in Jersey City. While most facilities focus on major addictions, including alcohol or opioid addictions, many will help you with other kinds of addictions, also! All you need to do is call a treatment facility and ask.
CONTACT US
Find out how we can help
Our compassionate counselors are standing by to answer any questions you may have. After helping thousands of people over the last 50 years, we have the resources to help you and your family and all your individual needs.
Jersey City Drug Abuse Statistics — You're Not Alone in This Struggle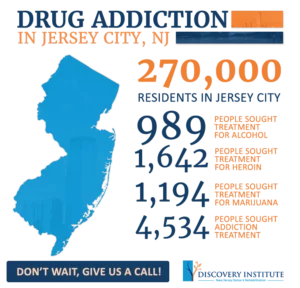 The city has around 270,000 residents, meaning you're not alone. Many people are going through the same struggles that you are. And if you don't believe it, here's a list covering some of the basic statistics surrounding drug addiction in Jersey City:
People That Sought Treatment for Alcohol: 989
People That Sought Treatment for Heroin: 1,642
People That Sought Treatment for Marijuana or Hash: 1,194
Total Amount of People That Sought Addiction Treatment in Hudson County: 4,534
As you can see, many individuals have reached out for help in Jersey City! You can do the same.
General Statistics About the History of Drug Abuse in Jersey City
Like everywhere throughout the country, opioid addictions skyrocketed following the opioid crisis. And the outbreak of substance abuse wasn't helped by Jersey City's location. The city is in between two major drug trafficking and consumption hubs: New York City, and Philadelphia.
As a result, Jersey City was one of the hardest-hit areas when the opioid crisis began.
Statistics About Mental Health and the Connection to Drug Abuse
It's well known that mental health is closely related to substance abuse. Dual diagnoses are common when treating substance abuse. Keep reading below to learn more about the connection between drug use and mental health.
People Admitted for Substance Abuse with a Known Mental Health Issue in New Jersey: 19,803
People with a History of Suicide Admitted for Substance Abuse in New Jersey: 929
People with a History of Physical or Sexual Abuse Admitted for Substance Abuse in New Jersey: 6,540
Substance abuse rarely develops on its own. Instead, it's usually the result of a deeper issue.
Statistics About Demographics of Users in New Jersey
Addiction does not discriminate between age, gender, race, or socioeconomic factors. Learn more about the different types of people struggling with substance use disorder in New Jersey.
People aged 31-44: 17,734
Caucasian People Admitted for Substance Abuse: 50,479
Black People Admitted for Substance Abuse: 18,196
People Not in the Labor Force Admitted for Substance Abuse: 35,876
People with an Independent Living Situation Admitted for Substance Abuse: 64,764
Developing a substance use disorder is not uncommon, regardless of what you may think. Many types of people of different backgrounds and ages end up fighting substance use disorder.
Jersey City Recovery Meeting Options
You have several choices to recover from substance abuse, on your terms, in Jersey City. Several organizations hold AA meetings and similar, other kinds too. Some of these are faith-based, and plenty focuses on keeping people in a group setting.
If you're with a group, you have a higher chance of recovering, after all. Keep reading below to learn more about where to find these meetings:
Northern New Jersey Alcoholics Anonymous: (908) 687-8566, 2400 Morris Ave, Union, NJ 07083
The Barrow Mansion: (201) 604-5981, 83 Wayne St, Jersey City, NJ 07302
Christ the King Church: 768 Ocean Avenue, Jersey City, NJ
There are several other options you can find near you. All you need to do is call and ask for help finding a place right for you!
Get Help in Jersey City: How to Find the Right Treatment Center
Choosing the right facility in Jersey City comes down to your unique situation. If you're able to spend some time away from your day-to-day responsibilities, you should look into a residential treatment program. These programs are the most intense and have the highest rate of long-term recovery.
Unfortunately, not everyone can leave their family, job, or school. There are also many types of outpatient programs available. Make sure you review a centers credibility before making a choice.
Mental Health Services in Jersey City
There are numerous mental health facilities in Jersey City, with a throng of mental health experts to staff them. Seven facilities are located throughout the city, and most of them are designed to help the general public. There are also several mental health experts within the city, each with expertise in different types of mental health.
You can contact an expert in Jersey City to find out more about the expertise. Most doctors and experts would be happy to speak with you regarding any questions you may have.
Addiction is an Illness, and You Will Get Better
Struggling with substance abuse is a grueling, challenging struggle. It's isolating, it's confusing, and it's dangerous. Luckily, there are several treatment resources in Jersey City that you can use to get help!
Recovery can feel scary and make you feel alone. However, you are not. Many people are available to help. Contact us if you're ready to make a change and focus on a newer and healthier you!
Discover
Your Potential
Finding a life of happiness and sobriety is possible. You are not alone! All you need to do is take the first step.