Addiction is no stranger to most people here in the state of New Jersey. Sadly, many people in this area of the country suffer from various types of illicit drug addiction, including heroin use. In fact, the statistics of heroin use in New Jersey are certainly alarming. However, these numbers are precisely the reason why our team here at Discovery Institute is committed to serving those who are dealing with addiction in our community. We offer heroin addiction treatment in NJ.
What is Heroin and How Do People Become Addicted to It?
Heroin is an opiate drug that is derived from the opium poppy plant. More specifically, this extremely strong, illicit, and addictive drug comes from another substance called morphine. Heroin often comes in the form of a white powder. But, if it isn't pure heroin, it will likely be found in the form of a sticky substance that is very dark in color.
People use heroin in various ways. Different methods of heroin use usually include snorting and injecting. This illegal drug is often sold on the streets and might be called several nicknames, such as "dope", "smack", "snow", "China white", and "brown".
Unfortunately, many people become addicted to heroin as a result of prescription misuse. In many cases, people who use medications to treat various problems, such as pain, become dependent on these drugs after using them for a while.
As a result of this dependence, people often resort to drug abuse, using their medications more often or in higher doses than they're supposed to. This is dangerous because it can cause the body to become addicted to the effects of the drugs being used.
Since the body craves the substances a person uses frequently and heavily, the individual will likely feel the need to continue to use the drugs in order to feel "normal". The outcome of this continued substance use often leads people to spend more time and money trying to get ahold of prescription drugs so that they can feed their cravings.
Of course, this eventually becomes a very expensive and difficult habit to keep up. So, in order to continue getting the desired pain-relieving, euphoric effects of prescription drugs, many individuals resort to using heroin, a more affordable and easily accessible drug.
Using heroin in its pure, powdery form is often thought to be less harmful or dangerous than injecting it. But, this is far from true and individuals who use heroin are at risk for developing addictions that are very difficult to break.
Heroin Overdoses in New Jersey
Heroin addictions can lead to serious physical and mental consequences. Many people even become so dependent on this substance that they use it multiple times per week, even multiple times per day.
Sadly, in cases of heroin abuse and addiction, people are placed at risk for a heroin overdose. The Centers for Disease Control and Prevention (CDC) reports that over 15,000 people died from heroin overdoses in 2017.
A 2017 study by the National Institute on Substance Abuse states that about 70,000 people died from a drug overdose here in New Jersey. The report states that 47,600 of those fatal overdoses were the results of opioid abuse.
According to the CDC, the number of males in the United States who lost their lives to heroin overdoses was greater than the number of females who suffered fatal overdoses. These males ranged in age from 25 to 44 years old.
Demographics for Heroin Addiction in New Jersey
According to a 2017 statewide report by the Division of Mental Health and Addiction Services gives much information about the ages and sexes of those who were admitted to treatment for heroin abuse during that year.
The report says that 2,106 admissions were by females and 2,980 males between the ages of 18 and 24 were admitted for heroin use. Among those who were 25-59 years old, over 10,000 of those admissions were females and over 20,000 were males.
Finally, the admissions of individuals 60 years old and older included 248 female admissions and 671 male.
The New Jersey counties which had the most cases of heroin use admissions were: Monmouth, Middlesex, Essex, Camden, Atlantic, and Ocean. These counties had 4,951 or more admissions for heroin addiction treatment.
Sussex, Warren, Hunterdon, and Salem counties had the lowest number of admissions, having between 729 and 1,280 cases of heroin abuse treatment admissions.
The Statistics: Heroin and Overall Drug Use in the State
The 2017 report by the Division of Mental Health and Addiction Services states that there were 36,917 admissions to treatment for heroin abuse that year. Of all of the drugs which led to substance use treatment admissions during the year 2017, heroin was the most common. In fact, this drug accounted for 45% of the addictions that treated.
Alcohol came second to heroin in the list of primary drugs that were misused, accounting for 27% of drug use admissions. With 21,980 admissions for alcoholism treatment, alcohol use was the cause of nearly 15,000 fewer admissions than heroin addiction in NJ.
Clearly and unfortunately, heroin has been quite common throughout this state and has lead to many addiction problems in New Jersey. Thankfully, however, this state has worked to provide hope and help to those who are dealing with this problem. Several treatment facilities, including ours here at Discovery Institute, are here to serve citizens of New Jersey who need help in overcoming addiction, whether to heroin or another substance.
Breaking the Cycle: Getting Rehab for Heroin Addiction
It's difficult to overcome addiction. It's especially hard without proper support and counsel from professionals who understand the journey of recovery from substance abuse. Those who are dealing with the effects of addiction in their lives should attend treatment at a rehab center. This will help them to overcome drug dependence.
While in treatment, individuals should first go through a detox process. Withdrawal occurs when a person stops using a drug or alcohol after having become dependent on the substance.
The symptoms of withdrawal can be very serious. Some heroin withdrawal symptoms are:
Irritation
Anxiety
Nausea
Vomiting
Diarrhea
Runny nose
Pain in muscles
Excessive sweating
Sometimes, withdrawal symptoms can be very intense and uncomfortable. They cause people to relapse, resorting back to substance use in order to eliminate the discomfort they're feeling.
Levels of Care for Heroin Addiction Treatment
Medically supervised detox programs help people to safely end substance abuse. It provides individuals with the opportunity to end heroin use in a more comfortable manner. This is due to the fact that it involves the use of medications. They can help people to get through the symptoms of withdrawal.
Detox can help those who are looking for heroin addiction treatment in NJ. But, detox isn't the only important part of treatment. It mainly works to help end physical dependence on drugs or alcohol. Although this is absolutely critical to a successful recovery, there's more to the treatment process. Physical recovery is only one part of the journey.
In addition to the physical effects of addiction, addiction causes emotional and mental effects. So, people in recovery require physical healing and they also need to work on their emotional and mental health. This is where the next few levels of care come in.
After going through the detox process, individuals can begin their treatment program. Here at Discovery Institute, we offer a residential treatment program, which is sometimes called an inpatient program. During the rehab program, individuals live at their treatment facility. They have access to 24/7 clinical supervision in a safe, drug-free atmosphere.
Residential treatment is also beneficial because it allows people to move toward their goal of sobriety without having to deal with the urges or triggers that might exist in their home environments.
Some of those who suffer from addiction don't have the support they need at home. Support is helpful in making recovery successful. In some cases, loved ones (parents, siblings, etc.) also suffer from addiction. Being around active substance users can cause people to relapse.
Thankfully, those who begin their recovery journey in a professional residential program can become more stable in their sobriety before leaving their program to return to life outside of their treatment facility.
After the residential program is over, clients can move into an intensive outpatient program, also known as an IOP. This kind of program is designed to help people transition from a life of addiction into a life of sobriety.
In an intensive outpatient program, individuals begin to work their way back into "normal" life. Generally, people do not live at their rehab center while going through an IOP. Instead, they may live in a sober living facility and attend therapy sessions several times a week.
Treatment for Those Who Are Struggling
As mentioned earlier, when it comes to substance abuse treatment, people must receive guidance regarding their emotional and mental health. It's important to eliminate one's emotional dependence on drugs, too. Thankfully, therapy can help with this.
There are many types of therapies that can help people to overcome addiction. Here at Discovery Institute, we offer both individual and group therapy approaches. Some of the therapies we have here at our facility include the following:
Writing Therapy
One of the best things people can do as they work to recover from addiction is to engage in self-awareness. It's also important for individuals to develop an understanding of themselves. It's easy to lose touch with oneself while suffering from addiction. Writing therapy gives people in recovery the time they need to reflect on and work through their emotions.
Art Therapy
Much like writing therapy, art therapy helps people to reflect on their own emotions and needs as they go through their recovery journey. Art brings healing and enables people to express themselves in ways that words simply don't allow.
Fitness Class
As individuals work to improve their emotional and mental health, it's important to keep track of their physical health, too. Treatment often involves fitness classes that encourage physical activity and engagement. Treatment should focus on helping the whole person, not just one aspect of a client's life.
Focus Group
This type of group therapy offers people the chance to engage in meaningful conversations and discussions with their peers. It's helpful because it allows people to discuss their feelings, thoughts, and ideas with one another. They can feel safe, knowing that all of their peers are working toward the same goal: life-long sobriety and freedom.
Cognitive Behavioral Therapy
Also called CBT, this type of therapy helps individuals to identify and work through their negative and harmful thought processes. These thought patterns often encourage addiction and addiction-related behaviors. So, it's important to address them and change them. CBT helps people to learn how to replace those negative thinking patterns with positive ones.
Heroin Addiction Treatment in NJ
If you or someone you know needs heroin addiction treatment in NJ, know that we are here to help. At Discovery Institute, our mission is to help our clients gain the joy and freedom that comes with recovery from addiction.
In many cases, people who have an addiction feel ashamed or afraid to ask for help. Sometimes, the guilt of having suffered from an addiction or the stress of having lived so long without getting help prevents people from feeling comfortable about reaching out.
But, if you're dealing with the effects of heroin addiction, you don't have to be afraid of getting treatment. Here at Discovery, we understand the challenges and obstacles people face when trying to end and recover from addiction.
Since we understand, we offer guidance and support to each of our clients. We encourage them as they detox and attend therapy in order to safely and effectively work their way through recovery.
You don't have to fight against substance abuse alone. You can get the help you need today by contacting us. Call (844) 433-1101 to learn more about our services and how we can help you begin your journey to recovery.
References:
https://www.drugabuse.gov/publications/research-reports/heroin/what-heroin
https://www.drugabuse.gov/opioid-summaries-by-state/new-jersey-opioid-summary
https://www.nj.gov/humanservices/dmhas/publications/statistical/Substance%20Abuse%20Overview/2017/statewide.pdf
https://medlineplus.gov/ency/article/000949.htm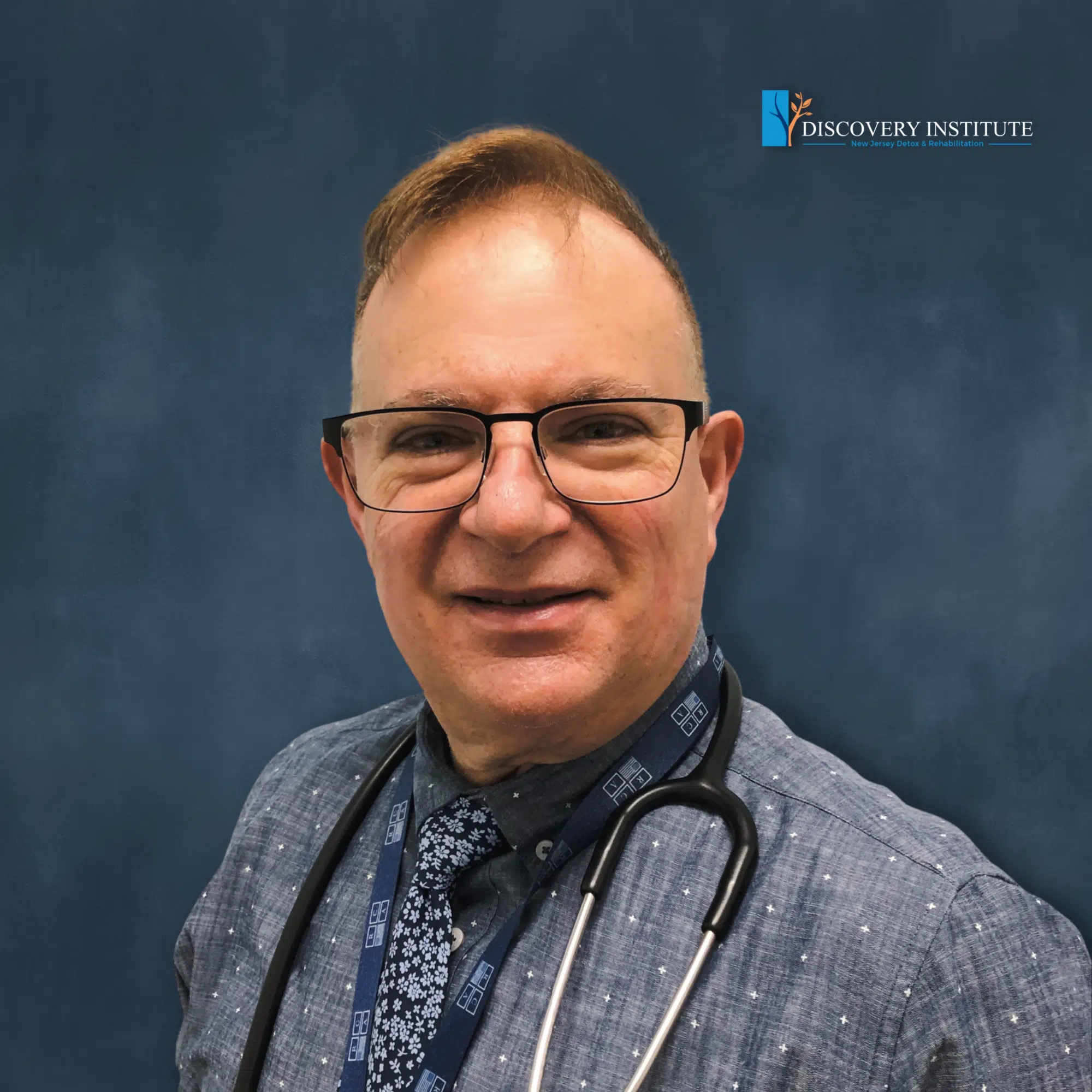 Dr. Joseph Ranieri D.O. earned his BS in Pharmacy at Temple University School of Pharmacy in 1981 and His Doctorate Degree in Osteopathic Medicine at the Philadelphia College of Osteopathic Medicine in 1991. He is Board Certified by the American Board of Family Medicine and a Diplomate of the American Board of Preventive Medicine Addiction Certification. Dr. Ranieri has lectured extensively to physicians, nurses, counselors and laypeople about the Disease of Addiction throughout New Jersey and Pennsylvania since 2012.